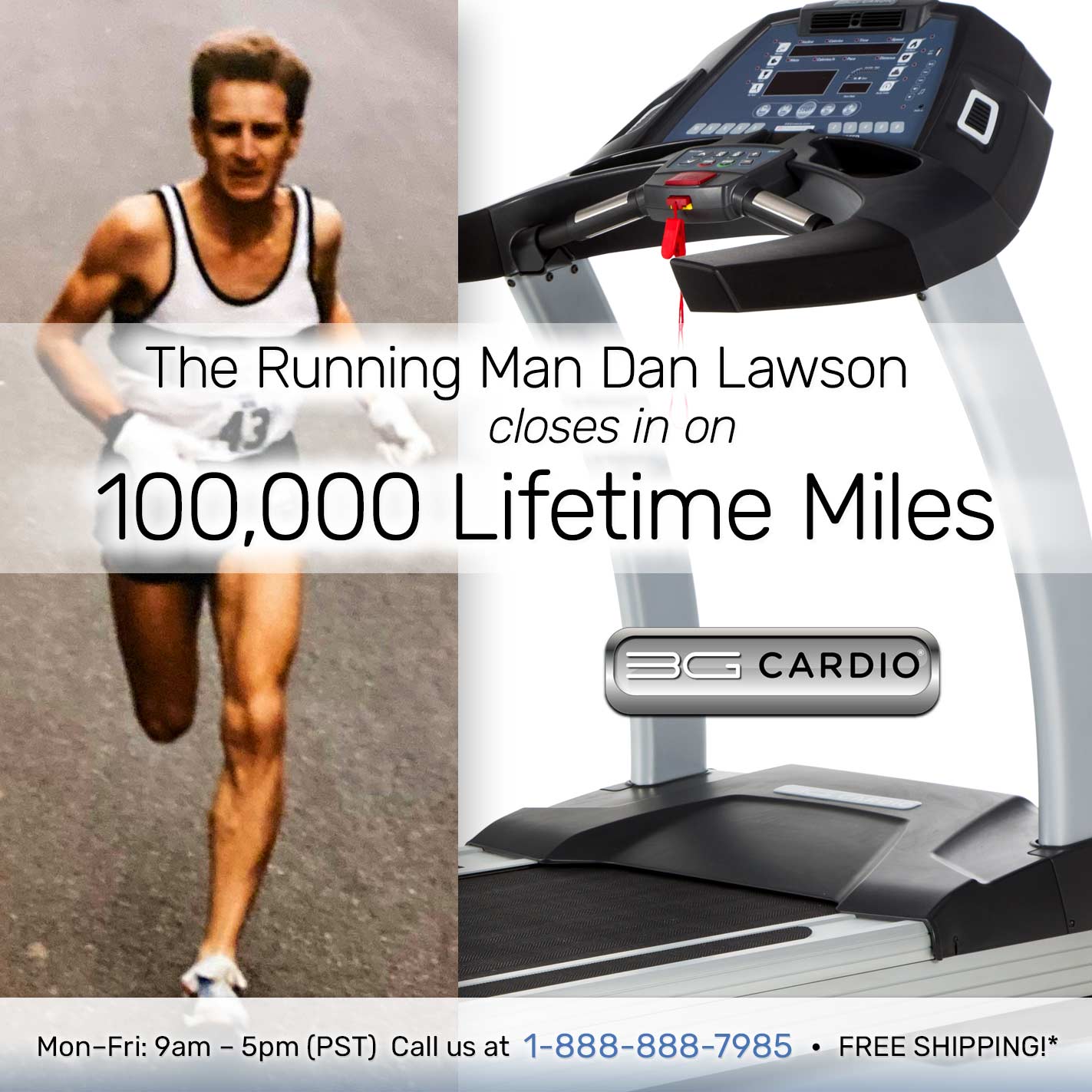 Dan Lawson closes in on 100,000 lifetime miles – credits 3G Cardio Elite Runner Treadmill for helping him on journey
There are no gold medals awarded for reaching 100,000 lifetime miles of running. The rare people who reach the milestone do it in relative anonymity. To rack up 100,000 miles, a person would have to run 2,500 miles per year – for 40 years! That's an average of almost 50 miles a week, about 7 a day.
The 3G Cardio Company based in Phoenix, Arizona, would like to salute Dan Lawson of Tennessee for closing in on the 100,000-mile mark!
Lawson has proven that running is truly a lifetime sport, dating back to his days as a school-record setting miler in the early 1970s at Aledo High School in Illinois, to running cross country and track at Blinn Jr. College in Texas and Colorado State, to being a nationally recognized road racer and currently as a coach.
"I'm at about 98,500 miles, give or take a few" said Lawson, who previously lived in Maryland for many years. "I've probably got another year, maybe a little less even to cross the threshold.
"It was never a goal of mine. My focus was always about racing and times. As you get older, you pick different goals and about six or seven years ago, I thought, 'Geez. I'm at about 90,000 miles. I might make 100,000.' Then, you start freaking out and worrying a little about getting injured when you're getting close. I just keep going, though, logging six miles a day like clockwork. Running is not for everyone, but I love it."
The fact that Lawson, 67, credits the 3G Cardio Elite Runner Treadmill for being a key part of his training regimen is one of the greatest compliments we could ever imagine receiving. Who's going to know more about running and treadmills than someone like Lawson?
Lawson used the same self-driven Sport Tech Treadmill for 25 years. When that machine finally wore down three years ago, Lawson understandably did a great deal of research before picking his next treadmill. He's thrilled with his decision to go with the 3G Cardio Elite Runner.
"I've only had two treadmills in my lifetime," Lawson said. "I was very happy with the old self-driven treadmill. It did everything I needed it to do for training. I'd grease up the joint areas in about six places every year and it never failed, but when we moved to Tennessee I felt it was finally time for a new one.
"I'm very picky about what I buy and I did a lot of research when it was time to look for a new treadmill. For the money, the 3G Cardio is the best. It's really, really good."
Dan Lawson said he most appreciates the 3G Cardio Elite Runner's sturdiness and simplicity.
"I'm an older guy and I'm not into the video screens and all the bells and whistles," Lawson said. "I get on a treadmill because I want it quiet and I want it solid.
"I don't want it to shake, it needs to be smooth. I want to be able to put the miles on. It has the heart rate monitor that I use and all the basic readouts and that's all I really need. It's rated to work for someone who weighs up to 400 pounds and it's plenty solid. I also really like the belt action, cushioned bed and the motor is plenty strong enough for interval training. It's really nice to be able to have the 3G Treadmill during the winter months, or other times I'm not able to run outside."
The 3G Cardio Elite Runner Treadmill is a full-size, commercial quality machine that sells for thousands less than comparable models. It's 3G's biggest and best model, taking up a footprint of 84 inches (length) x 35 1-2 (width).
The Elite Runner has a 22-inch x 62 running surface that features an upgraded Ortho Flex Shock suspension system, a 12-mph max speed powered by a 4.0 HP motor, outstanding entertainment and programming options and one of the best warranties in the category.
IN IT FOR THE LONG HAUL
On January 13, 2023, Lawson was inducted into the Mercer County (Illinois) Sports Hall of Fame.
A 1974 Aledo H.S. graduate, Lawson broke school records for all three distance races (880, 1-mile and 2-mile).
At Colorado State University, Lawson was a member of the nationally ranked cross country team and also competed in middle and long distance races on the track team.
Lawson has been an elite road racer since graduating from college, specializing in 5K and 10K races. He has also found the time to run several marathons.
He was named the Illinois Runner of the Year by the United States of America Track and Field organization in 1991.
For several years, Lawson was sponsored by various shoe companies such as Nike, Reebok, Saucony, Etonic, Mizuno and Brooks, while competing throughout the country in many of the top road races. He placed in the top 20 in the Bix 7 road race and won the Masters Division in 1997 and 1998. He's also the holder of 11 different Illinois and Kansas master road racing records.
In 2006, Lawson was named to the Road Runners Club of America Eastern Region masters of the year.
"My high school mile record of 4:29 lasted for 43 years until it was broken a few years ago," Lawson said with a laugh. "I ran on a cinder track and gave the guy who broke it a bunch of flak because he ran a 4:26. I told him that people say, 'Cinder is worth 1 second per lap compared to a faster all-weather track.'
"When I got into college, I ran longer distances like 5,000 meters and after graduating I got into the road racing scene."
Lawson bounced back and forth over the years to see how he'd do in marathons and he ran a career-best time of 2:21.50.
"I would run a marathon every couple of years and did pretty decently, but my focus was 5K and 10K road races," Lawson said.
Dan Lawson managed to have a successful running career while also raising two daughters with his wife and working a full-time job for the U.S. Department of Agriculture with a long commute.
"It's all about whether you want to run or not," Lawson said. "I've had kids come to me and say, 'Well, I can't find time to do this.' I tell them, 'You know something, you don't really want to do it. If you really want to do it you'll find the time. Don't give me that excuse.'"
Lawson continues to race competitively while approaching the milestone of 100,000 Miles. He also gives back to the sport and is coaching high school track and cross country in Johnson City, Tennessee.
"I started running back when it was considered kind of weird, we had cinder tracks and the culture was just different," he said. "I coach now and the kids are different, the culture is different and we're all on all-weather tracks that are unbelievable and spikes are feather light.
"It's been quite a journey running over the last 60 plus years."
Our team at 3G Cardio is thrilled to be able to help support Dan Lawson on that journey! Here's to reaching 100,000 miles soon and many more years of healthy, fun times running.
Buy Elite Runner Treadmill