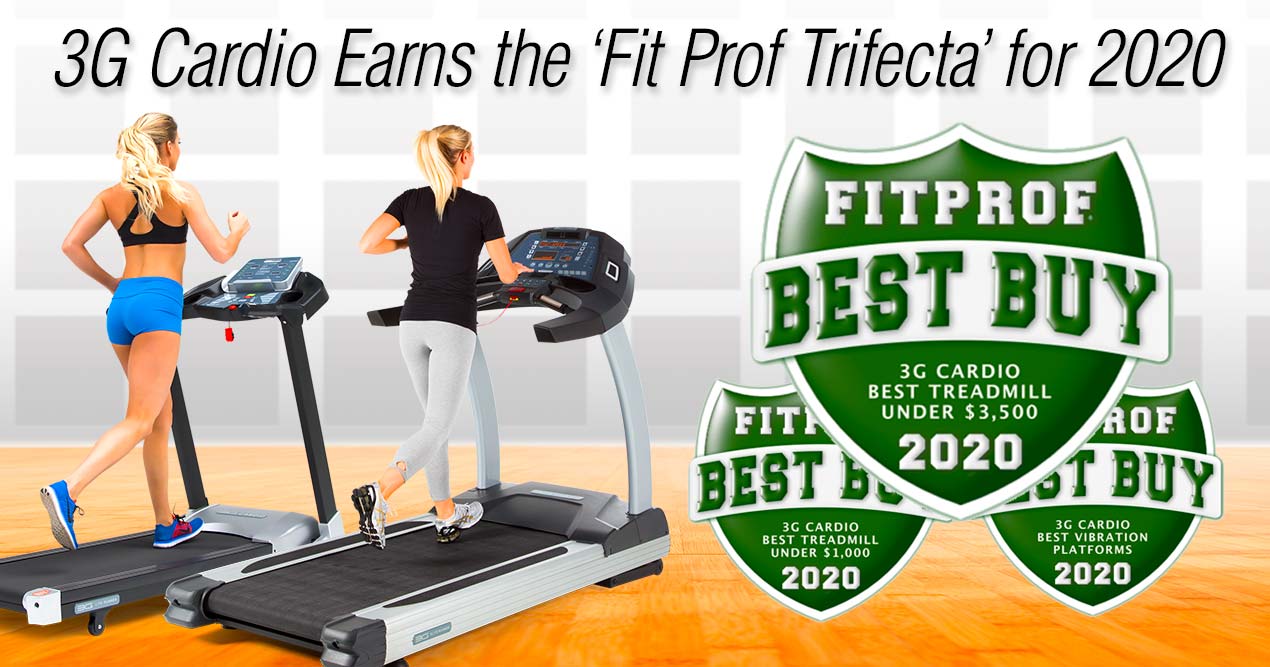 Elite Runner and Lite Runner Treadmills, Vibration Platforms all earn Best Buy Awards
The 3G Cardio fitness lineup has earned a rare trifecta in 2020.
The 3G Cardio Elite Runner and Lite Runner Treadmills, along with 3G Cardio Vibration Trainer Platforms have all earned Best Buy Awards from The Fit Prof.
ELITE RUNNER
Click to view reviews: http://fitprof.net/Product-detail/3g-cardio-elite-runner/
When it comes to bringing health club quality to your home gym at an unbeatable price, it's hard to match the 3G Cardio Elite Runner Treadmill. The FitProf named it the Best Treadmill priced under $3,500.
"The Elite Runner is 3G's top of the line treadmill and is unquestionably one of the very best treadmills on the market when it comes to the 'nuts and bolts,'" The Fit Prof stated in his review. "While many mid-to-high priced units are nothing more than lower grade treadmills with excessive programming and built-in 'entertainment' options, the 3G Elite is incredibly robust.
"With one of the largest running surfaces available, walking and running feel comfortable and smooth at any speed thanks to the natural feeling ortho-flex shock absorption system and industrial strength 4.0HP motor."
The Elite Runner is 3G's biggest and best model, taking up a footprint of 84 inches (length) x 35 1-2 (width). The Elite Runner has a 22-inch x 62 running surface that features an upgraded Ortho Flex Shock suspension system, a 12-mph max speed powered by a 4.0 HP motor, outstanding entertainment and programming options and one of the best warranties in the category.
This is the sixth straight Best Buy award for the Elite Runner.
"Add one of the best warranties in the industry (lifetime on frame and motor, 10 years on parts and 2 years on labor), and it becomes very clear why the 3G Cardio Elite Runner treadmill is our 2020 FIT PROF Head of the Class BEST BUY Treadmill under $3,500," the Fit Prof added.
LITE RUNNER
The 3G Cardio Lite Runner Treadmill ($999) is a small, compact and extremely well built treadmill. It feels like a machine you would use in the gym.  The frame and handlebars are very solid and surprisingly stable for a treadmill at this price point. Its footprint measures 67 x 29.75 with a height of 52.5.
"The Lite Runner is 3G's smallest treadmill and a wonderful 'contradiction' in that it is truly a compact treadmill that still delivers a super study feel," The Fit Prof explained of his Best Buy winner for treadmills priced under $1,000. "When it comes to 'space saving', the Lite Runner beats out nearly every other treadmill in its class with one single feature – it can be easily rolled through a standard doorway. No twisting. No turning. No pinched fingers. Just fold, roll, and go!"
Watch the Elite RB Recumbent Bike
Watch the Elite Runner Treadmill
Watch the Lite Runner Treadmill
VIBRATION PLATFORMS
View the review: http://fitprof.net/product_type/best-buy-vibration/
When it comes to vibration training, the 3G Cardio 6 AVT ($4,999) and 5 AVT ($3,999) Vibration machines offer great value for their price points. The award-winning 3G Cardio AVT vibration machines can give users strength training and cardio benefits. Accelerated vibration training, also known as whole body vibration training, allows people to have the best of both worlds.
You can improve your muscle tone, physique and even overall health while performing AVT in less time and often with better results than through traditional exercise methods.
An article from bulletproofexec.com explained the numerous benefits of vibration training. It pointed out that athletes such as Rafeal Nadal, Serena Williams, Olympian Rebecca Romero, and the whole NFL Broncos team get an extra edge through WBV Training.
"3G Cardio's line of Accelerated Vibration Training (a.k.a. whole body vibration) units offers two fantastic options for consumers looking to invest in a vibration platform built around quality components and user friendly software," the Fit Prof stated. "Compare and you will find that 3G over-powers the competition with class leading platforms, commercial grade components, dual consoles plus their proprietary iTunes Vibration Training app.
"Whether it is the robust 5.0 ATV or commercially rated 6.0 AVT, 3G Cardio cannot be beat and is our 2020 FIT PROF Head of the Class BESY BUY vibration platforms – its eighth consecutive win!"
To learn more about 3G Cardio fitness products or to order visit www.3gcardio.com, call 888-888-7985, or visit one of the many fitness stores in North America that proudly carry 3G Cardio products.