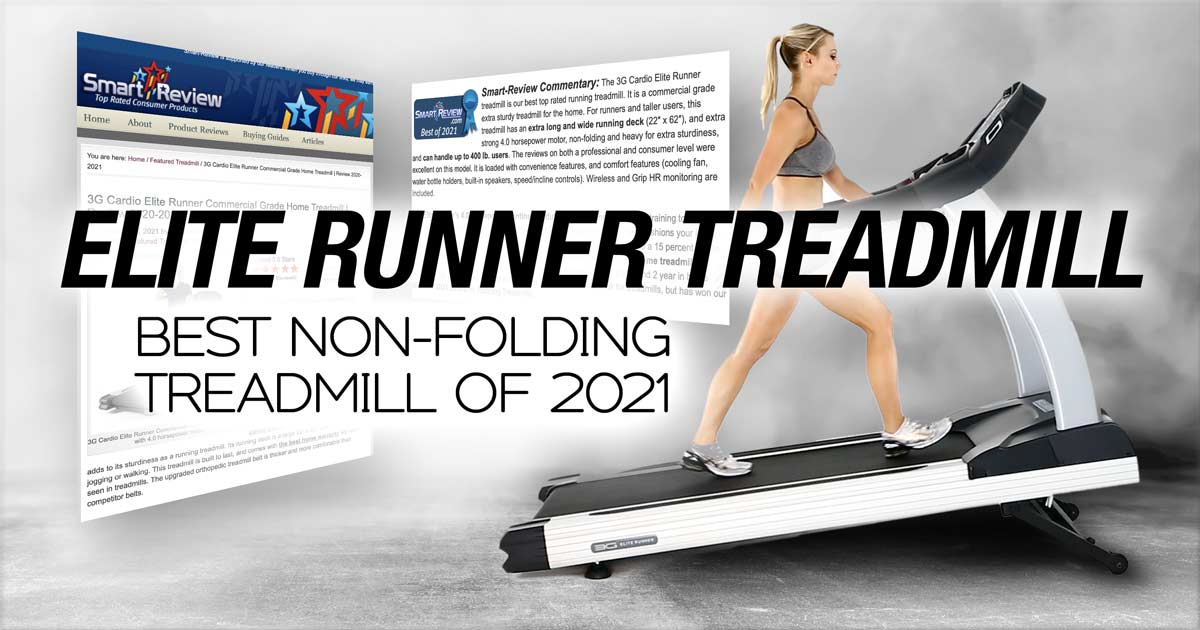 Smartreview.com Top Rated Consumer Products has given the 3G Cardio Elite Runner Treadmill a 5-star review and named it the "Best Non-Folding Treadmill of 2021."
It its Smart-Review Commentary, the reviewer stated, "The 3G Cardio Elite Runner treadmill is our best top rated running treadmill.
"It is a commercial grade extra sturdy treadmill for the home," the review continued. "For runners and taller users, this treadmill has an extra long and wide running deck (22″ x 62″), and extra strong 4.0 horsepower motor, non-folding and heavy for extra sturdiness, and can handle up to 400 lb. users."
Reviews from both commercial and consumer users of the 3G Cardio Elite runner Treadmill were all excellent.
"It is loaded with convenience features, and comfort features (cooling fan, water bottle holders, built-in speakers, speed/incline controls)," Smartreview.com reported. "Wireless and Grip HR monitoring are included."
The Elite Runner's 4.0 horsepower motor will keep up with even the top runners. The OrthoFlex Suspension System will cushions the impact while running, walking, or jogging.
The award-winning 3G Cardio Elite Runner Treadmill goes up to 12 mph, and has up to a 15 percent incline grade with power incline.
"(The 3G Cardio Elite Runner Treadmill) is built to last and has the best home treadmill warranty we have seen, with lifetime frame and motor coverage, 10 year parts, and 2 year in home labor," Smartreview.com commented. "The 3G Cardio Elite Runner is not only a Smart-Review Top Pick for treadmills, but has won our BEST of 2021 award for Running Treadmills."
3G Cardio Treadmills are available at many specialty fitness stores across the country, at Amazon.com and at 3GCardio.com.
Led by co-owners with more than 50 years of combined experience in the health and fitness industry, 3G Cardio's mission is simple, yet innovative. The Arizona-based company's "simple by design" philosophy means that they provide everything a person needs when it comes to fitness equipment — and nothing they don't.
The emphasis is on the superior parts and function of our treadmills and vibration machines, not on fancy electronic "extras." 3G Cardio still include outstanding entertainment and programming options, which can easily be upgraded with iPads or tablets, but they don't add the unnecessary "bells and whistles" of competitors whose comparable machines cost thousands more.
For more information on 3G Cardio treadmills, exercise bikes or vibration machines, call 1-888-888-7985 or email Support@3GCardio.com.
Read Smartreview.com
Buy Elite Runner Treadmill