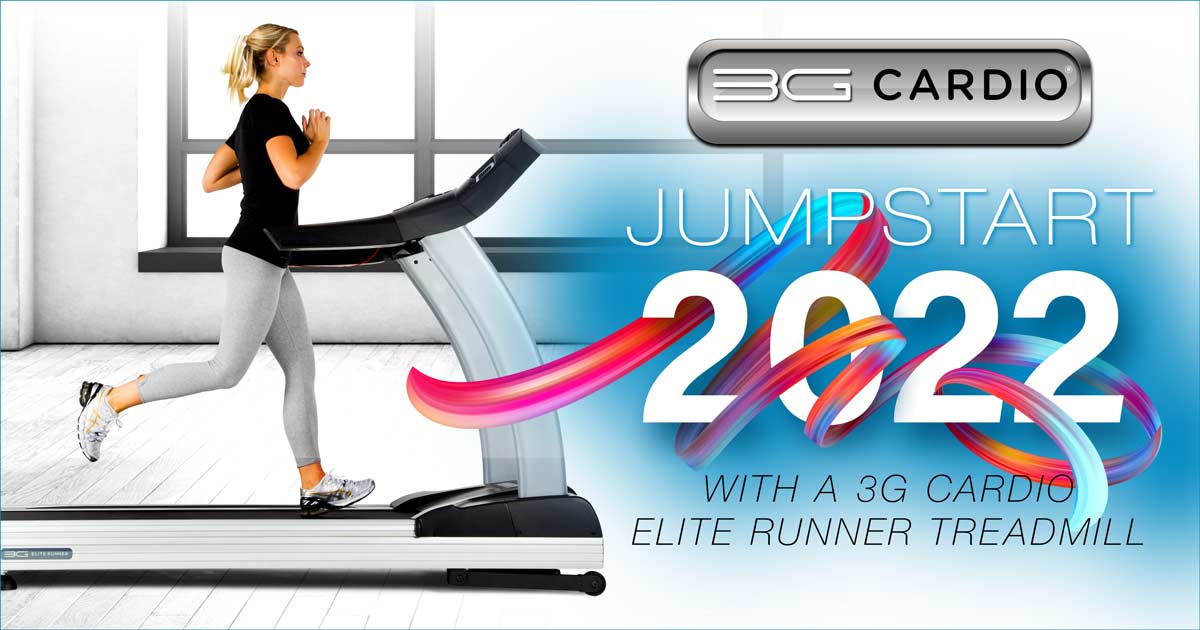 Commercial quality treadmill sells for a home gym price
If you are planning to set up a fitness room in 2022, or upgrade your existing workout space, the 3G Cardio Company has the perfect treadmill.
The 3G Cardio Elite Runner Treadmill is a commercial quality machine that sells for a home gym price. It's ideal for a home gym or small commercial gym.
With competitive pricing, the 3G Cardio Elite Runner Treadmill is a highly rated, commercial quality machine. Your investment will be protected by one of the best warranties in its class.
*Residential Warranty: Lifetime motor, lifetime frame, 10 years parts, 2 years in-home labor.
*Commercial Warranty: 5 years motor and frame, 5 years parts, 1 year in-home labor.
Order now by calling 1-888-888-7985 and take advantage of 3G Cardio Holiday Super Savings. The best prices of the year are available, along with six months / 0 percent financing and a money back guarantee. White glove delivery and in-home assembly is also available.
The 3G Cardio Elite Runner Treadmill has won numerous Best Buy Awards and top ratings on amazon.com.
There is no belt slippage or shaking of the frame when using the Elite Runner Treadmill.
It features the best in class deck and belt: an upgraded, commercial Ortho Flex Shock suspension system and oversized 22" x 62" running platform.
A club-rated 4.0 horsepower motor comes with a lifetime warranty. The overall treadmill weighs 386 pounds.
3G Cardio is pleased to be able to price its top-of-the-line treadmill for $1,000s less than comparable commercial treadmills because the designers made functionality the priority instead of fancy electronic "extras."
The investment is in top quality parts and elite performance. The electronics still give users everything they need and can easily be enhanced by someone plugging in their iPad or smart phone.
In addition to being extremely popular among homeowners, the 3G Cardio Elite Runner Treadmill has also been the choice for Hotel or Motel Gyms, Personal Training Studios, Homeowners Association Fitness Centers and more.
Read Smartreview.com
Buy Elite Runner Treadmill
REVIEWS
The 3G Cardio Elite Runner Treadmill was recommended on RunnersWorld.com for being among Amazon's Best Black Friday Deals. It will fit in most exercise rooms.
Runner's World praised the 3G Cardio Elite Runner Treadmill by writing: "Get this gym-rated treadmill to turn up your home gym. It features details catering to runners with an oversized deck, 4.0 HP motor, thick and soft orthopedic belt, and pre-programmed courses."
BusinessInsider.com stated, "The Elite Runner is the best treadmill for quiet workouts."
FitProf.net praised, "Elite Runner Treadmill is the Head of the Class Best Buy winner for Treadmills under $3,500."
TreadmillReviews.net reported, "This treadmill gives a comfortable and reliable workout experience that is easy on the joints."
NEW YEAR'S RESOLUTION BONUS TIPS
Taking the first step is often the hardest part when it comes to making healthy lifestyle changes.
After consulting with a doctor or licensed athletic trainer to assess your fitness level, come up with a plan.
If you have struggled to improve your fitness level, here's a "Great Eight" list from the Mayo Clinic of suggestions to design a successful fitness program:
*Consider your fitness goals
*Create a balanced routine
*Start low and progress slowly
*Build activity into your daily routine
*Plan to include different activities
*Try high-interval intensity training
*Allow time for recovery
*Put it on paper
Also important is assembling your equipment, the Mayo Clinic emphasizes.
"If you're planning to invest in exercise equipment, choose something that's practical, enjoyable and easy to use," the Mayo Clinic reported in a recent news article.
The 3G Cardio Company based out of Phoenix, Arizona has award-winning treadmills, exercise bikes and vibration training machines to help you reach your fitness goals. 
NOTE: Consult a doctor or certified fitness trainer before starting any new workout program to determine if it's right for your needs.