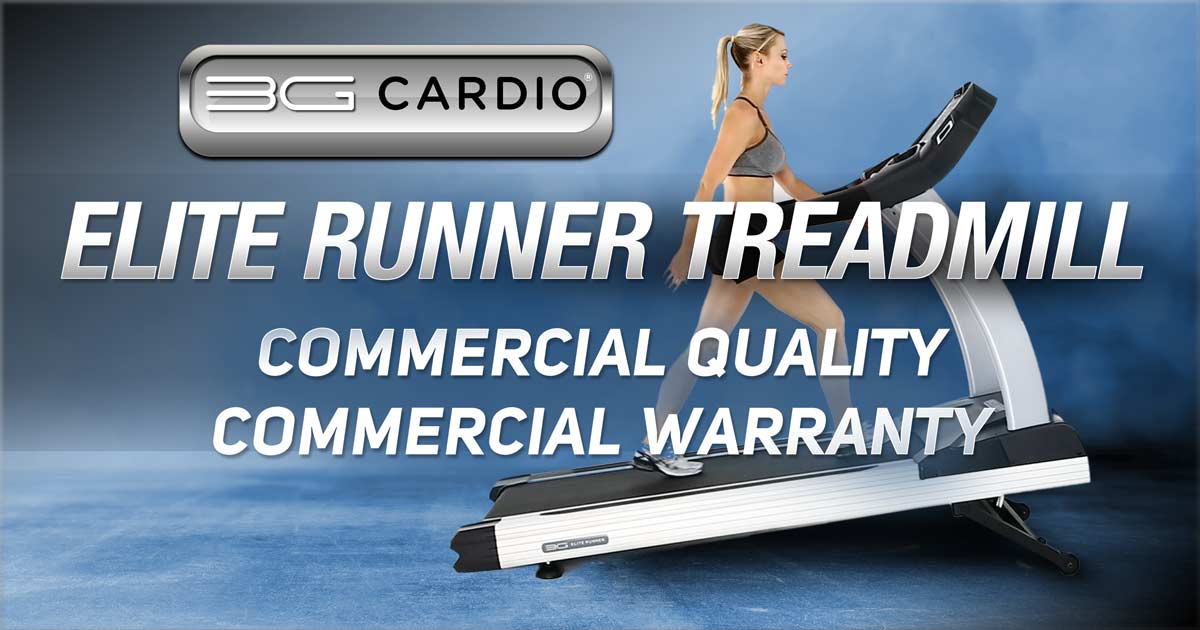 Have you ever exercised in a public gym and wished you had a treadmill of similar quality in your home gym? Without breaking your bank?
The 3G Cardio Elite Runner Treadmill is a commercial quality machine perfect for a home gym or small commercial gym, and it comes with a light commercial warranty.
3G Cardio's design team has won numerous awards for the amazing combination of quality and value that the Elite Runner Treadmill delivers. It's a commercial grade machine that's priced more like a home gym treadmill. Despite a great MSRP of $3,499 compared to similar commercial models, the Elite Runner Treadmill is just as durable and smooth to run on.
Despite being priced like a home gym treadmill, the 3G Cardio Elite Runner comes with a light commercial warranty:
*Residential Warranty: Lifetime motor, lifetime frame, 10 years parts, 2 years in-home labor.
*Commercial Warranty: 5 years motor and frame, 5 years parts, 1 year in-home labor.
There will be no belt slippage or shaking of the frame with the Elite Runner Treadmill. It is driven by a heavy duty 4.0 HP motor that powers a 22" x 62" running surface comprised of an innovative and upgraded Ortho Flex Shock belt and suspension system. With a weight of 386 pounds, it will give runners and walkers alike great stability.
3G Cardio was able to price its top-of-the-line treadmill for $1,000s less than comparable commercial treadmills because the designers made functionality the priority instead of fancy electronic "extras." The investment is in top quality parts and elite performance. The electronics still give users everything they need and can easily be enhanced by someone plugging in their iPad or smart phone.
In addition to being extremely popular among homeowners, the 3G Cardio Elite Runner Treadmill has also been the choice for Hotel or Motel Gyms, Personal Training Studios, Homeowners Association Fitness Centers and more.
3G Cardio treadmills, exercise bikes and vibration training machines are carried by respected dealers all over the nation. Award-winning 3G Cardio products are also available online at www.3GCardio.com.
Read Smartreview.com
Buy Elite Runner Treadmill