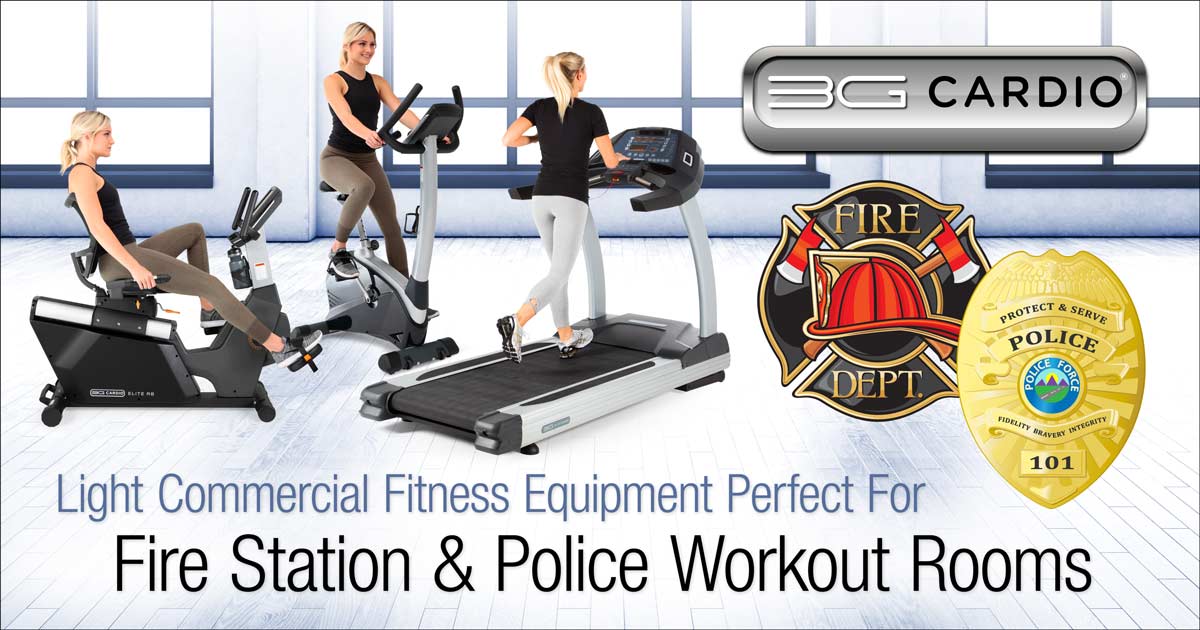 29 Oct

3G Cardio Light Commercial Fitness Equipment Perfect For Fire Station, Police Workout Rooms
A police department or fire fighters workout room is a great place for our finest and bravest to stay in shape.
Fire fighters and police officers need good, reliable specialty fitness equipment, but deciding what to buy can be tricky.
Don't make the mistake of an "under buy" or "over buy."
A workout room for public service workers needs to have equipment that's better than a personal gym, but it doesn't need to be full commercial grade. A supervisor shouldn't be spending $2,000 or less on a treadmill for the fire or police station treadmill, for example, nor should they be forking out in excess of $5,000 or $6,000.
The 3G Cardio Company, based in Arizona, is the best choice for award-winning, light to medium duty commercial exercise equipment, which is backed with a full corporate warranty.
There aren't a lot of fitness equipment manufactures that produce light to medium duty commercial exercise equipment. 3G Cardio is the perfect middle ground for police and fire stations, rehab centers, condo associations, hotels and motels, etc.
3G Cardio commercial fitness equipment is rated for 6-8 hours usage per day, which is more than a personal gym and less than a busy public gym. 3G Cardio commercial equipment is perfect for "non-membership" corporate spaces like apartment buildings and smaller gyms.
The 3G Cardio Elite Runner Treadmill, Elite UB Upright Bike and Elite RB Recumbent Bike provide great value in performance and price. They fill a hard-to-find, in-between niche remarkably well.
The 3G Cardio Elite Runner Treadmill performs and feels like treadmills that sell for $1,000s more. It's powered by a 4.0 HP motor, hits speeds of 0.5 – 12 mph and has an incline range from 0 – 15 percent.
Space can be an issue for police and fire station workout rooms and the Elite Runner Treadmill should fit in nicely. It has a footprint of 84 length x 35.5 width x 58 inches height. The orthopedic belt is 62 length x 22 width. There's a unit weight of 386 pounds and max recommended user weight is 400 pounds.
Get peace of mind with a great commercial warranty: 5 years motor/frame and 2 years parts / 1 year labor.
The 3G Cardio Elite Runner Treadmill has earned numerous 5-star and Best Buy Awards. Here's a sampling of what reviewers are saying:
TreadmillReviews.net: "The Elite Runner Treadmill is a well-made piece of equipment that is more like something you would find in a gym rather than at home. You can easily save over $1,000 and go with the 3G Pro Runner model, but the durability and stability of this elite model is well worth the money."
Forbes.com: "3G Cardio Elite Runner is Best Treadmill for Big and Tall Users."
BusinessInsider.com: "3G Cardio Elite runner is Best Treadmill for quiet workouts."
Watch our Elite RB Recumbent Bike Video:
Watch the Elite Runner Treadmill