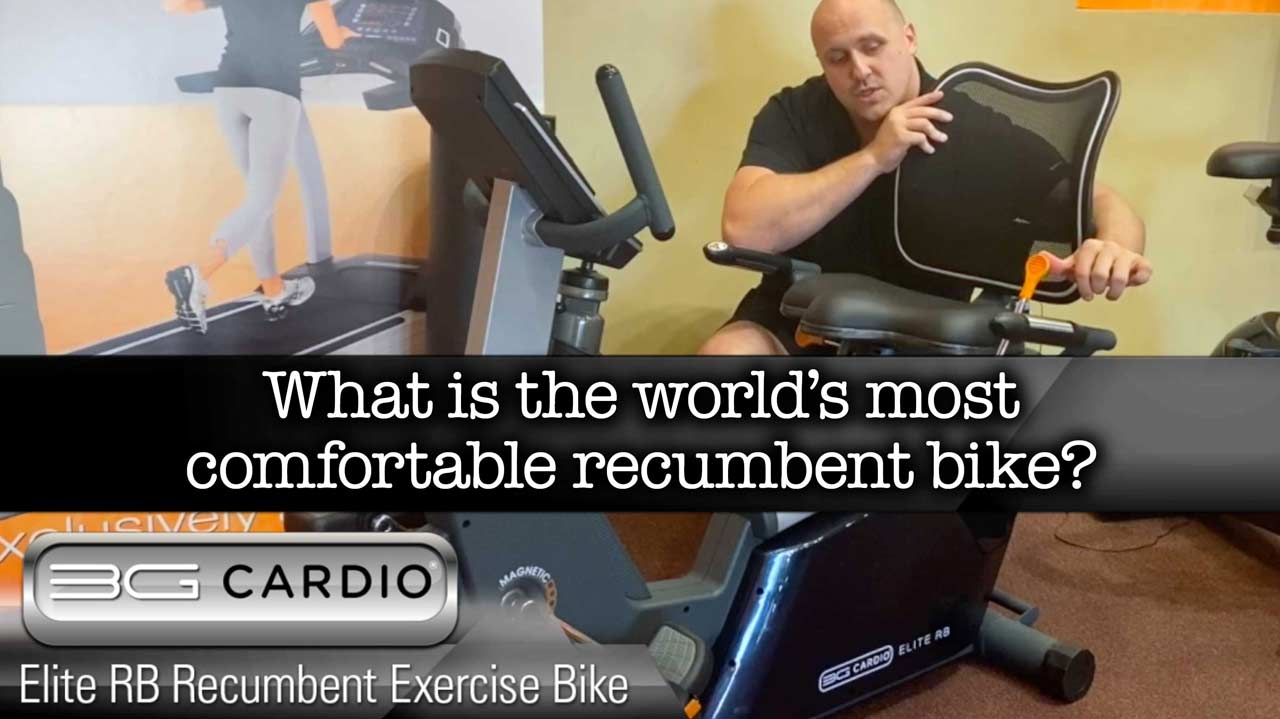 03 Mar

Arizona's leading specialty fitness company gives top ranking to Elite RB Recumbent Bike
'Big' Mike Sullivan calls 3G Recumbent Bike 'Most comfortable on the market'
The 3G Cardio Elite RB Recumbent Bike is one of the best-selling machines at At Home Fitness stores in Arizona.
The reasons are simple according to sales associate "Big" Mike Sullivan, who's been a longtime fixture at Arizona's leading company for specialty fitness equipment.
"The 3G Cardio recumbent bike has been called the most comfortable recumbent bike ever and it also comes at a great price," said Sullivan, during a YouTube review of the 3G Cardio Recumbent Bike.
"Recumbent bikes are typically used for people who are nursing ailments, but you can also get a killer workout on them as well," said Sullivan, who works out of the At Home Fitness-Gilbert store located at 2810 S. Market St. Gilbert, Arizona. "Comfort is king with the 3G Cardio Recumbent Bike and it also comes at a great price," Sullivan said.
That combination of attributes makes the 3G Cardio Recumbent Bike a joy to sell, Sullivan said.
The 3G Cardio Recumbent Bike typically lists for $1,899 on 3GCardio.com, but Sullivan suggested calling At Home Fitness at 480-855-6044 to get current sale pricing and special incentives on delivery, financing, etc.
"With a recumbent bike, you get a lot of back support and really smooth pedaling, which is outward instead of downward on an upright bike," Sullivan said.
Sullivan wants people to know that the 3G Cardio Recumbent Bike stands out as the most comfortable in its category that he's seen on the market. Customer feedback, fitness reviewers and Sullivan's own experiences lead him to highly recommend the 3G Cardio Recumbent Bike.
"One of the reasons that this bike is the most comfortable on the market is because of the way that the drive train is designed," Sullivan said. "The drive train is actually below the seat, allowing the space between the pedals to be much narrower.
"3G Cardio also designed oversized pedals, and there's curvature in the crank arms that keeps your heel from slipping as your pedal. It provides a smoother pedal and a much more comfortable ride."
Most recumbent bikes have the fly wheel under the pedals, which requires a wide space. However, the 3G Recumbent Bike's Q-Factor spacing has the fly wheel under the seat, so the width between the pedals is narrower and provides better comfort.
Watch our Elite RB Recumbent Bike Video:
Top Ranking To Elite RB Recumbent Bike
Sullivan praised the seat as "incredibly unique."
"We have a three-way adjustment, to accommodate different heights and the mesh back offers great support and comfort," he said.
The 3G Cardio Elite RB Recumbent Bike offers the best combination of comfort, performance and value on the market.
It's a small and compact bike with an assembled size of 49 inches length x 27" width and a height of 43."
The unit weight is 137 pounds and it will support a user weighing up to 350 pounds.
Get extra peace of mind with a seven-year parts warranty.
NOTE: Consult a doctor or certified fitness trainer before starting any new workout program to determine if it's right for your needs. This is especially true if you (or your family) have a history of high blood pressure or heart disease. If you experience faintness, dizziness, pain or shortness of breath at any time while exercising you should stop immediately.