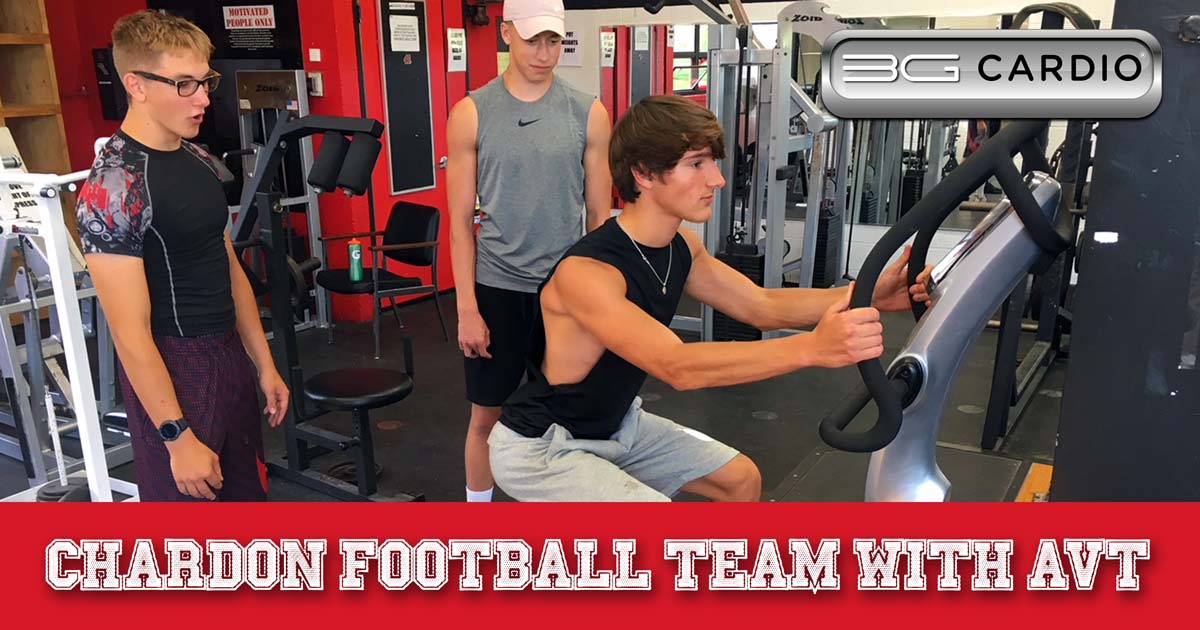 By AARON DORKSEN – 3G Cardio Fitness Editor
NOTE: This is the second in a three-part series on how the Chardon (Ohio) High School football team has incorporated accelerated vibration training into its strength and conditioning program. Today, here's a look at how the team performs strength training and rehabs from injuries using the machine. Click here for Part 1 »
CHARDON, Ohio – The Chardon High School football team is using a training method that's becoming more and more popular with an incredible cross-section worldwide – everyone from elite athletes and celebrities, to average everyday people, and even those suffering from chronic health problems and senior citizens.
If you haven't heard of accelerated vibration training machines made by manufacturers such as 3G Cardio, Power Plate or BH Fitness yet, you're about to learn about the fastest growing genre of the specialty fitness industry since elliptical machines in the early 2000s.
Accelerated vibration training might sound questionable, but it's no late-night TV tummy jiggler fad.
More than half the NFL teams and lots of college football programs use vibration machines. It's also very popular with NBA teams. The Chardon High football team is using its 3G Cardio 6 AVT Vibration Machine for stretching, strength training and even injury rehab.
Keaton Ziegenfuss, a junior defensive back tells us why he loves the AVT Machines:
I love this machine, I do pushups on it and it makes me work way harder than I would – it pushes me to my limits basically. I have one of these machines at my house because I love it so much. I'll just hop on it when I need a recovery, or I just need a simple workout.
Myles Mendeszoon, a sophomore/split end-defensive end, also uses the 3G Cardio 6 AVT machine on a regular basis.
"I like it for core workouts," Mendeszoon said. "It makes your core workouts more intense.
"I do planks on it and also do things for my shins and calves."
NEAR INSTANTANEOUS FATIGUE
Best described as looking like an oversized, fancy doctor's scale, a person stands on the vibration machine platform and sets the G-Force at the desired power.
The body adjusts to the instability caused by the vibrations as people perform static or compound exercises and it forces the muscles to fire faster than any other form of exercise.
The faster your muscles tire, the faster they fatigue. That means you can complete a total body workout in less than 15 minutes. The vibrations activate muscles much more efficiently and safely than traditional methods — up to 95 percent of muscle fibers are utilized compared to 20-40 percent, according to some studies.
Basically, it increases the G-Force, rather than the MASS (weights) as in most traditional strength and resistance training. That makes it much easier and safer on joints and ligaments than free weights or even home gyms.
The 3G Cardio machine also was very effective last year for Chardon players who were dealing with injuries, including Michigan State signee Chase Kline, getting them back onto the field faster.
Chardon head coach Mitch Hewitt has his players perform strength training on the machine, as well as use it for stretching and massage.
"I really like to use it following games when we can use it both as a recovery tool for sore muscles from a massage standpoint, as well as isolated exercises if a kid is nursing an injury," Hewitt said.
Assistant coach David Toaddy said the vibration machine is a good way to work the muscles without the wear and tear of loading up a bar with free weights.
"Some of the injured players use it when they want to recover and they can't use the big weight, but they still want to get that good workout and get sore after," Toaddy said. "It helps you make sure you're still training."
Basically, every basic exercise a person can do for strength training with free weights can be done on a vibration training machine. Squats, bench presses, bent over rows, tricep presses, calf raises and countless other exercises can be performed on a vibration machine.
Click this link for a sample vibration training leg workout: https://www.3gcardio.com/strength-training-tips-for-legs-on-3g-cardio-vibration-machine/
Click this link for a sample vibration training upper body workout: https://www.3gcardio.com/strength-training-tips-for-chest-arms-on-3g-cardio-vibration-machine/