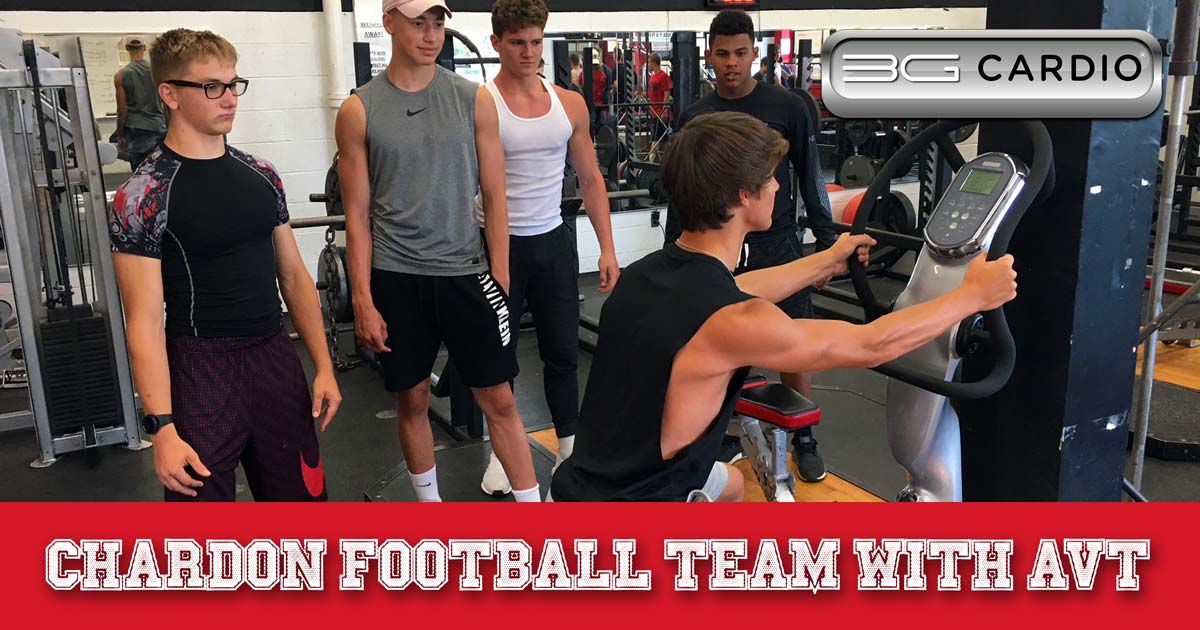 By AARON DORKSEN – 3G Cardio Fitness Editor
NOTE: This is the first in a three-part series on how the Chardon (Ohio) High School football team has incorporated accelerated vibration training into its strength and conditioning program. Today, here's an introductory look at vibration training.
CHARDON, Ohio – The Chardon High School football program has gone high tech in its weight room since last summer and the positive results have literally reverberated through the entire program.
Everyone wearing the Hilltoppers' Red and Black it seems has become a fan of accelerated vibration training since an alum donated a 3G Cardio 6 AVT Vibration Machine in the summer of 2017.
"On a day-to-day basis, I use it as a finisher for our workouts," said eighth-year Chardon head football coach Mitch Hewitt, a runner-up for Ohio's Mr. Football Award at CHS in 1998, who went on to play at Bowling Green State University for an up-and-coming young coach named Urban Meyer. "It's an excellent machine for completely fatiguing the muscles."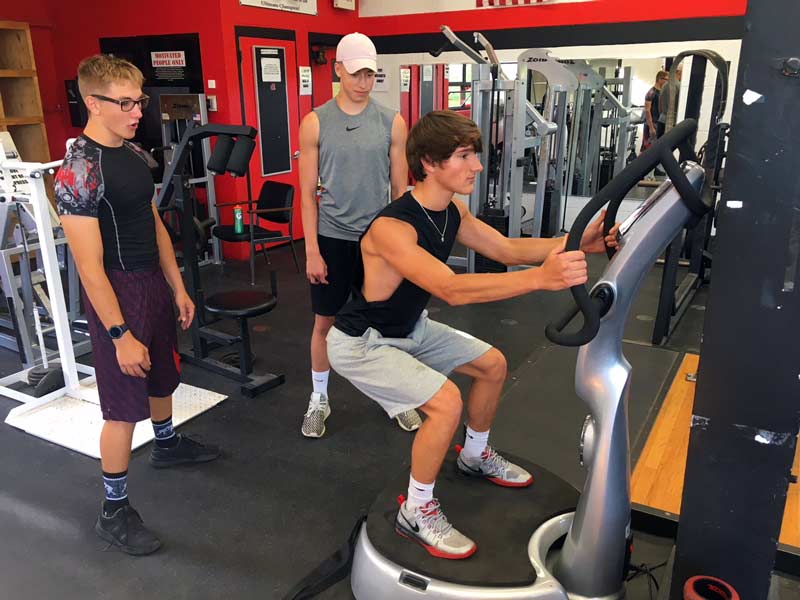 Chardon High School junior defensive back Keaton Ziegenfuss performs a squat on a 3G Cardio 6 AVT machine while teammates look on during a June 14, 2018 workout.
What exactly is a vibration machine? How do you use it?
Well, it's a lot easier to start by explaining the "what." As for the "how" there are countless ways people seemingly from age 9 to 99 have used these machines. Everyone from pro athletes and Olympians, to the average couple next door, to senior citizens can benefit from using them.
Many people have described a vibration machine as looking like an oversized, fancy doctor's scale. A person stands on the vibration machine platform and sets the G-Force at the desired power.
The body adjusts to the instability caused by the vibrations as people perform static or compound exercises and it forces the muscles to fire faster than they would as a result of any other form of exercise.
The faster your muscles tire, the faster they fatigue. That means you can complete a total body workout in less than 15 minutes. The vibrations activate muscles much more efficiently and safely than traditional methods — up to 95 percent of muscle fibers are utilized compared to 20-40 percent, according to some studies.
Lots of NFL and college teams, basketball players, Olympians and more use vibration machines, but they've also been very popular with trainers or therapists as a way to help senior citizens and people battling chronic health issues work their muscles in a way they never thought possible. Just about everyone can find their own value in vibration training.
I wrote an article several years ago about Chris James, a personal trainer who owns Vimtrim in Chandler, Ariz., who helped an elderly client reach an extraordinary goal using a 3G Cardio Vibration Training machine. Irene, a resident of Gilbert, Ariz., was able to not only stand up at her 100th birthday party in December, 2015 but also then enjoyed a celebratory dance with her trainer.
https://www.3gcardio.com/vibration-training-helps-arizona-woman-dance-at-her-100th-birthday-party/
Click this link for more on how a vibration machine works: https://www.3gcardio.com/how-does-vibration-training-work/
Stretching
Let's get back to football and explain how the Chardon football team uses its vibration machine.
One of the biggest things the Chardon football team has used its 3G Cardio Vibration machine for is stretching. It's a great way to loosen up the muscles before or after a workout, said longtime assistant coach David Toaddy.
"It's mostly used for stretching here," Toaddy said. "Before and after workouts, the kids jump on and stretch out muscles that are tight or sore.
"Even I use it … (to stretch) hips, thighs and legs mostly. We also use it for kids who have an injury and can't do our normal workouts. We incorporate the workout that the other kids will do around them with the machine."
The machines can be used in countless other ways, such as strength training, for massage and injury rehab (more on this in the next blog in my series).
Skylar Sullivan, a sophomore defensive end, was curious about the odd-looking workout machine as soon as he saw it set up last August.
"When I saw it I was like, 'Oh, what is this? I just wanted to jump on there,'" Sullivan said. "I like using the vibration machine because it stretches you and works you real good.
"When you do pushups on it you can't hardly move your arms and especially when you do core (exercises) it just shakes all the time."
Of course, Chardon's football coaches took some time to research vibration training and its effectiveness before turning their players loose on the machines.
They found vibration training is an ancient technique – it started with the Greeks using vibrational instability to train soldiers – that's really caught on again in the 2000s thanks to high tech machines from award-winning companies such as Power Plate and 3G Cardio.
"I'd never used (a vibration training machine) before we got it and I was a little leery on what it would do and how it would work," Toaddy said. "The kids were also asking a lot of questions about it with it being a new machine.
"Once they got on it and used it they noticed that it's different, it's unique and now the kids love it."
It takes some time to get used to exercising on a vibration machine, especially while performing strength training workouts, Toaddy said.
"You really don't notice it working (the muscles) while you're on it, but after you get off of it you notice a huge improvement," he said.
ON DECK: In upcoming blogs, I'll report on how the Chardon football team uses vibration training to build strength and in helping with recovery and injury rehab.