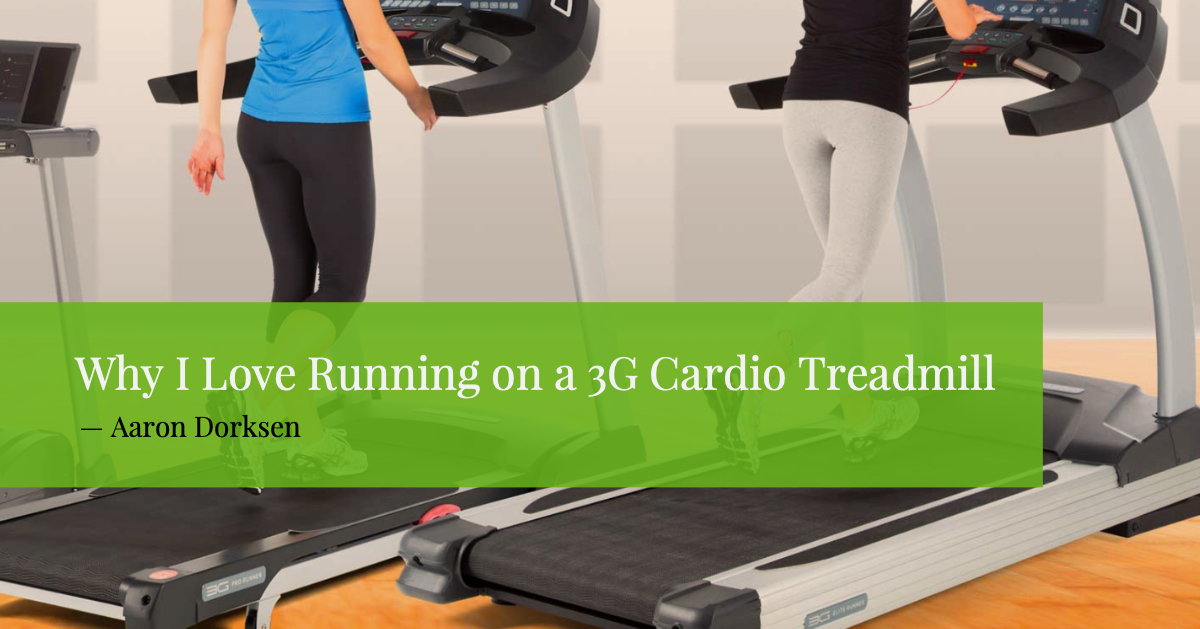 By AARON DORKSEN — 3G Cardio Fitness Editor
There are many things that I love about running.
It's my favorite way to get a cardio workout in and stay fit. It's also a good way to relieve stress of the day as I just focus on my breathing and feet continuously hitting the ground – or treadmill.
Like countless Americans, I really enjoy running outside, as well as inside on a treadmill.
Shop 3G Treadmills
I don't understand how anyone can call a treadmill a "dreadmill."
Sure, my dream run would take place on a beautiful day, along a picturesque trail.
However, lots of times that's not possible due to the time of day, weather, or simply a lack of time.
That's why I love to also have the option to run on a treadmill in my home, or in a professional gym like the local YMCA that I belong to. There's a lot to love about a treadmill.
And, there's no treadmill I like better than a 3G Cardio machine.
The award-winning 3G Cardio treadmill lineup consists of the 3G 3G Cardio Elite Runner Treadmill ($3,399), Cardio Pro Runner Treadmill (MSRP $1,899), 3G Cardio 80i Fold Flat Treadmill ($1,799) and 3G Cardio Lite Runner Treadmill ($999).
The designers of the 3G Cardio Company, which is headquartered in Phoenix, Arizona, build their treadmills the way most people would: They provide everything you need, and nothing you don't. The emphasis is on superior function of the treadmill, not on fancy electronic "extras" that drive up the price even though you can add them yourself for a lot less cost by hooking up an iPad or smart phone.
Just as important is that 3G Cardio Treadmills are sturdy. Nothing will turn someone off quicker to running on a treadmill than using a cheap or inferior model, like those sometimes found in big box store mega sales, that shakes or lags as soon as you run on it.
The 3G Cardio Elite Runner Treadmill features a DC 4.0 hp motor, an oversized belt and can be used by people weighing up 400 pounds. It has an assembled weight of 386 pounds and an outstanding warranty of 10 years on parts and two years on labor. This 3G Cardio Elite Runner feels like the top models at the club to run on. It's 3G's top model and a treadmill you'll want to use day after day.
Shop 3G Treadmills
EVEN MARATHON RUNNERS USE TREADMILLS
Did you know that many elite runners, like those who compete in marathons, find great value in training on a treadmill?
Some marathon runners say that beyond getting an escape from extreme weather – like freezing temperatures, or heat and humidity – treadmills give their bodies a break from the pounding of running outdoors.
Running on a treadmill can help you pace yourself to the exact second and speed you desire. It's safer than running outdoors – no cars, potholes or bad weather to watch out for- and you can run any time of the day or night.
If you want to turn on music or the TV, you can control your environment the way you want.
If you're running a long distance on your treadmill, you can keep drinks or snacks like apples or protein bars handy.
One of the arguments against running on a treadmill is that due to the belt turning it does some of the work for you. For those who say a treadmill is a lot easier, though, guess again.
"You can't totally replicate outside running inside, but research suggests that setting the treadmill to a one percent grade more accurately simulates outdoor running, offsetting the lack of air resistance and the moving belt," according to RunnersWorld.com. "And another study found that your VO2 max (how much oxygen your body can use during physical activity) is the same when running on a treadmill compared to outside. So while running outside may feel harder, what's going on inside your body is similar."
WORTH THE PRICE
There might be a little sticker shock for some people when they see that a good treadmill can cost between $3,000-$5,000 or more. However, a typical high-end treadmill should last 10 -15 years, while a $50 per month gym membership for two people can easily cost $1,200 or more a year.
In the long run, setting up a home gym with a treadmill is a lot less costly than paying a monthly gym membership.
3G Cardio offers award-winning treadmills at a variety of sizes and price points to match just about anyone's exercise and budget needs. Just as importantly, the quality 3G Cardio treadmills are machines that you'll want to keep using, unlike many cheap big box store models that are flimsy and won't offer much stability.
The 3G Cardio Elite and Pro Runner treadmills are commercial quality, but come at a price that won't break the bank. They are comparable to runner's treadmills that sell for thousands more.
3G Cardio fitness editor Aaron Dorksen's blog deals with a variety of fitness topics, ranging from workout tips, motivational ideas and feature stories on how exercise impacts people's lives. Consult a doctor before making any significant changes in your exercise routine or diet. E-mail him with comments, questions or ideas for future blogs at aaron@3Gcardio.com.
Shop 3G Treadmills