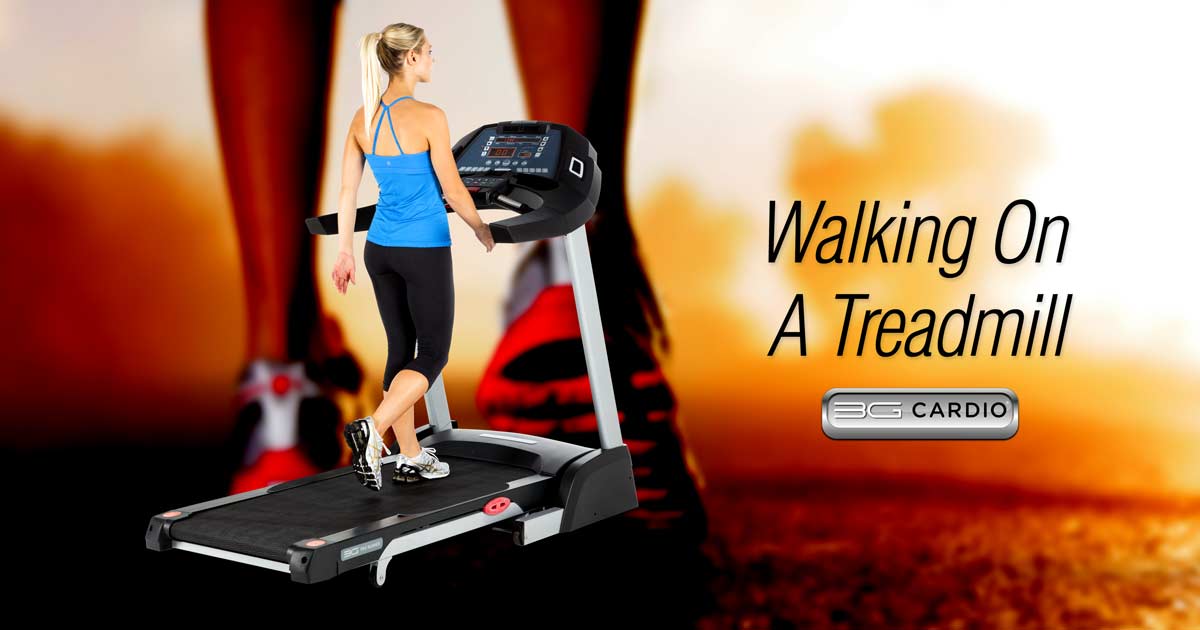 By AARON DORKSEN – 3G Cardio Fitness Editor
Some people just hate to run. Others would like to run, but can't due to injuries, pain or the fear of hurting themselves.
If running isn't for you, is just walking on a treadmill good cardio exercise?
Walking most certainly does provide a wide array of health benefits.
According to LiveStrong.com, "Walking on a treadmill at a moderate-intensity 3.5 mph for 30 minutes per day, or 2.5 hours per week, offers substantial health benefits, and walking for five hours per week provides even greater benefits."
Some people don't follow a walking regimen because, sadly, they don't think it will make much of a difference in their health.
That couldn't be further from the truth.
According to www.betterhealth.vic.gov, "Walking is a great way to improve or maintain your overall health. Just 30 minutes every day can increase cardiovascular fitness, strengthen bones, reduce excess body fat, and boost muscle power and endurance. It can also reduce your risk of developing conditions such as heart disease, type 2 diabetes, osteoporosis and some cancers."
Just about anyone can walk.
If you own a treadmill in your home, you can walk day or night and control everything in your environment. If exercising is boring to you, put on music or a movie while you walk.
Just about everyone would correctly predict that running burns more calories than walking, but sometimes it's not as a big a difference as one might think.
You can set the treadmill on an incline and walk at a fast pace and get a comparable workout to someone who jogs at a slow trot.
In a medical trial published in "British Journal of Sports Medicine," and a study published in "Journal of the American Medical Association," it was revealed that moderate-intensity aerobics may provide equivalent weight loss benefits to vigorous-intensity exercise in overweight people.
The "British Journal of Sports Medicine" trial evaluated the effects of moderate and vigorous exercise on fat oxidization in obese boys, finding that more vigorous exercise did not burn more fat.
Researchers theorized that the muscles of obese people may have a more limited capacity to burn fat than those of lean people. The "JAMA" study, which examined the effects of moderate and vigorous exercise on overweight women, also found that vigorous and moderate activities provided equivalent weight loss benefits.
HOW FAST SHOULD YOU WALK?
A simple "talk test" is a good way to evaluate if you're exercising hard, or too hard.
If you can carry on a conversation, but would have trouble singing then you are most likely working out at a moderate intensity.
If you're unable to speak more than a few words without pausing for a breath, you are working out vigorously.
PICK THE RIGHT TREADMILL
When it comes to treadmills, there are a lot of choices on the market.
Few brands compare to 3G Cardio, based out of Phoenix, Ariz.,which combines quality and value and has won countless Best Buy awards.
The 3G Cardio Elite Runner Treadmill and 3G Cardio 80i Fold Flat Treadmill were recommended on RunnersWorld.com for being among Amazon's 2017 Best Black Friday Deals.
3G Cardio treadmills are solid, reliable machines, which have earned positive customer feedback in order to receive accolades like being recommended by "Runner's World."
RunnersWorld.com praised the 3G Cardio Elite Runner Treadmill by writing:
"Get this gym-rated treadmill to turn up your home gym. It features details catering to runners with an oversized deck, 4.0 HP motor, thick and soft orthopedic belt, and pre-programmed courses."
When it came to the 3G Cardio 80i Fold Flat Treadmill, Runner's World wrote:
"Runners living in tight quarters will love this super compact treadmill that folds down to almost nothing (can even fit under a bed!) and has wheels so you can easily push out of the way."
The 3G Cardio Elite Runner Treadmill ($3,399) is a full-size, commercial quality machine that sells for thousands less than comparable models. The 3G Cardio 80i Fold Flat Treadmill sells for $1,799 and there is also a Pro Runner ($1,899) and Lite Runner ($999) model to choose from.
3G Cardio fitness editor Aaron Dorksen's blog deals with a variety of fitness topics, ranging from workout tips, motivational ideas and feature stories on how exercise impacts people's lives. Consult a doctor before making any significant changes in your exercise routine or diet. E-mail him with comments, questions or ideas for future blogs at aaron@3Gcardio.com
Click here to see some of our many reviews »
Full Comparison Chart