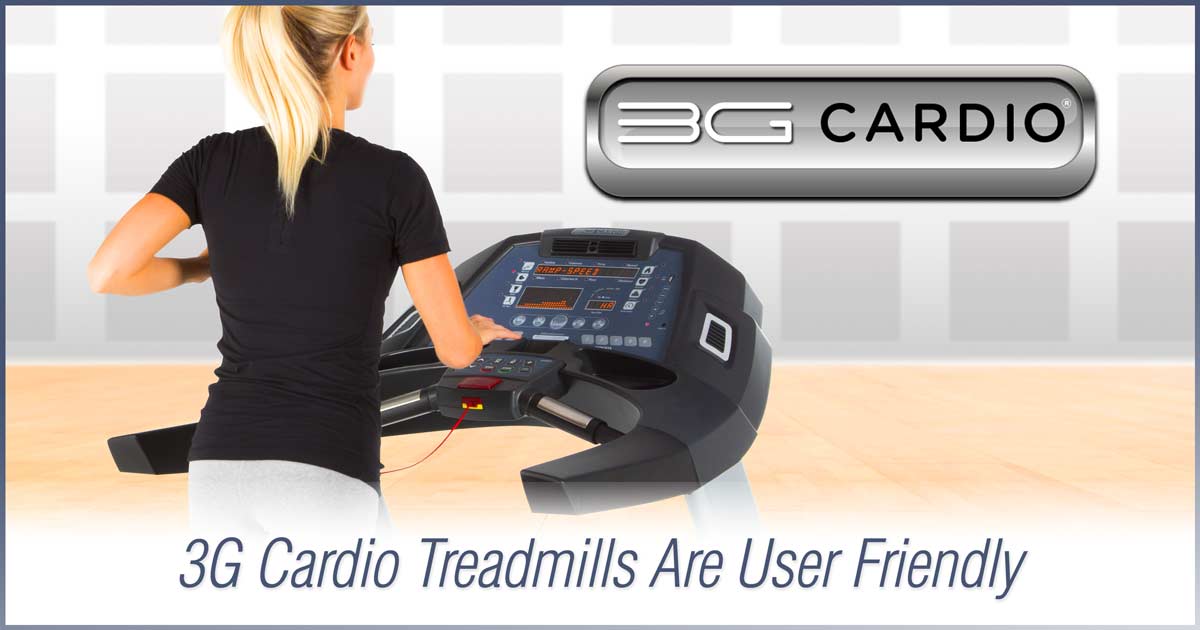 By AARON DORKSEN – 3G Cardio Fitness Editor
If you're anything like me, when you get something new reading the instruction manual is not an enjoyable task. It can also get confusing in a hurry.
People want to start using their new product as soon as possible.
There are some common differences between using a commercial treadmill in a gym and a personal treadmill in your home. Oftentimes, a home treadmill has a lot more "bells and whistles" and is much more complicated to use.
Some people get pretty confused how to use their home treadmill console, but with a 3G Cardio treadmill it's extremely user friendly.
Simple and effective is the 3G Cardio motto. You will have all the necessary built-in programs you need and nothing you don't. That also helps keep the price reasonable, allowing a person to get a commercial quality treadmill for $1,000s less than comparable models.
Take the 3G Cardio Elite Runner Treadmill, for example. The console is the definition of efficiency.
At the top of the console is an adjustable speed fan, which allows you to feel a relaxing breeze that will help you push through the toughest workout.
Moving to the right of the console, there's an MP3 input jack. Motivate yourself with your own tunes when you plug into the MP3 USB input jack. The console provides play and control features for your USB enabled device.
For a quick connection below that, simply use the audio auxiliary input port for your smart phone or music device. Convenient built-in speakers on both sides of the treadmill let you find your groove while running down a perfect workout.
Moving over to the center of the console, get the latest heart rate information with an easy to read Heart Rate Indicator Graph.
With several pre-programmed courses, fitness tests, one touch speed and elevation settings, heart rate control and the ability to custom create your own workouts, you will never become bored or overwhelmed when it comes to your programming options.
Easy to use keys allow you to jump to the next level with easy Speed and Incline Quick Keys.
The Speed Range controls allow you to easily move the treadmill at anywhere from 0.5 mph – 12 mph. A One-Touch Speed control can automatically adjust the treadmill to 2, 3, 4, 6 or 8 mph.
An incline range of 0-15 percent is easily adjusted and once again a One-Touch-Incline button can adjust from 2, 4, 6, 8, 10, or 12.
With the high end Zero-Glare™ matte finish display, you can put your Elite Runner Treadmill next to a window or under bright lighting without any reflective glare.
Quench your thirst during the most vigorous runs with the Elite Runner dual bottle holders.
All of these console amenities will entertain you while walking or running on a spacious 22" x 62" Ortho Flex Shock treadmill belt, which is as good as it gets. A heavy duty, club-rated 4.0 HP motor powers 3" rollers on a machine that can accommodate users up to 400 pounds.
With a long history of high quality products and an impeccable record for service, 3G Cardio products are carried by stores throughout the U.S.
A 10-year parts warranty and lifetime guarantee on the motor provide added piece of mind for your investment on the 3G Cardio Elite Runner Treadmill.
Exercising in your home gym should be a stress-free experience. With a 3G Cardio treadmill, the console will take away any anxiety of operating the controls.
All you have to do is put in the work walking or running.
The award-winning 3G Cardio treadmill lineup consists of 3G Cardio Pro Runner Treadmill (MSRP $1,899), 3G Cardio Elite Runner Treadmill ($3,399), 3G Cardio 80i Fold Flat Treadmill ($1,799) and 3G Cardio Lite Runner Treadmill ($999).
For the home, office, professional gym or elsewhere, 3G Cardio sales associates can help you find the right treadmill. Call 1-888-888-7985 or email support@3GCardio.com for more information.