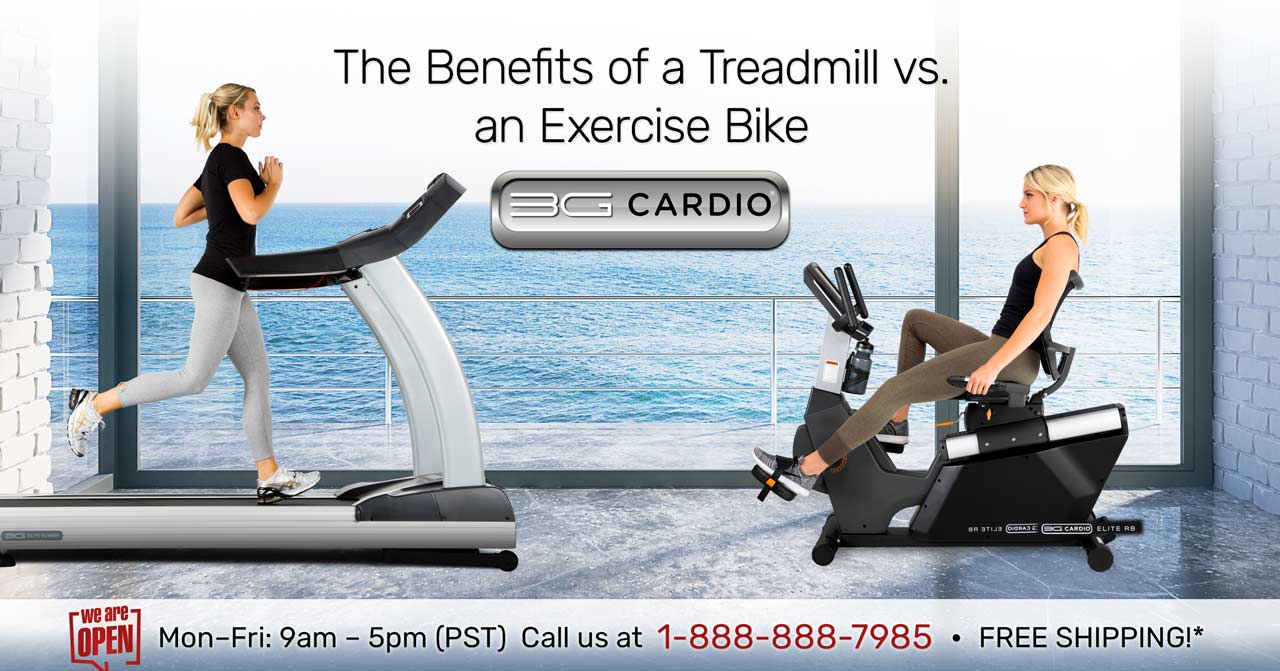 01 Feb

The Benefits of a Treadmill vs. an Exercise Bike
If you only have the space or budget to pick a treadmill or exercise bike for your gym it can be a tough decision.
In general, both the treadmill and exercise bike offer excellent low-impact cardio exercises.
The 3G Cardio Company based out of Phoenix, Ariz., has a great selection of award-winning treadmills and exercise bikes to fit nearly all fitness and budget needs.
Transform your body and watch the pounds melt away as you set up a home gym or upgrade your current space.
The convenience that comes with having a personal workout area in your own house is incomparable. Give yourself more flexibility by jumping out of bed and breaking a sweat, exercising during midday or at night – it's totally up to you!
With so many options available, there's no excuse not to get fit today.
However, thinking about setting up a home gym can lead to lots of questions.
Treadmill or exercise bike?
How big a space is required?
Where should they be set up?
How much should you spend?
3G Cardio has you covered with highly trained sales associates available by phone 888-888-7985 or email support@3gcardio.com to answer questions before and after the purchase.
Visit 3gcardio.com or call and talk to a highly trained sales associate to find award-winning equipment at a variety of price points to fit most needs and budgets.
When comparing treadmills vs exercise bikes there are certainly some distinct advantages to each.
For those looking for a good aerobic workout with varying intensity options, the treadmill typically offers more flexibility.
The option to increase speed or incline allows users to adjust the intensity of their workout. Additionally, running on a treadmill provides more of a full body workout as it engages the upper body, arms and core muscles.
On the other hand, exercise bikes offer exceptional cardiovascular exercise with less stress on joints and ligaments. The resistance can be easily adjusted to increase or decrease intensity while allowing users to remain seated.
Additionally, exercise bikes offer users a great way to monitor their progress with easy-to-read displays and metrics that track time, distance, speed, calories burned and more.
When deciding between the treadmill vs exercise bike, bear in mind that both offer exceptional cardio options.
Depending on your preferences and fitness goals, either option could be the right choice. As with any form of exercise, it is important to consult with a medical professional before beginning any new fitness routine.
Additionally, talking to experienced users and doing research on each machine can help you decide which piece of equipment best fits your needs.
Ultimately, the treadmill and exercise bike both offer incredible benefits that can help you reach your exercise goals.
For those looking to mix up their cardio routine, both the treadmill and exercise bike are great options.
When used in combination with other forms of exercise such as strength training or yoga, these machines can provide an excellent full body workout.
The right machine for you will depend on your fitness goals and personal preferences, so take the time to discover which one best fits your lifestyle.
With the right combination of exercise, you can achieve amazing results and get in the shape you desire.
Furthermore, incorporating a treadmill or exercise bike into your routine can provide lifelong benefits that go far beyond physical health.
Making fitness part of your life will help you stay motivated and increase your overall well-being. So get out there and start moving!