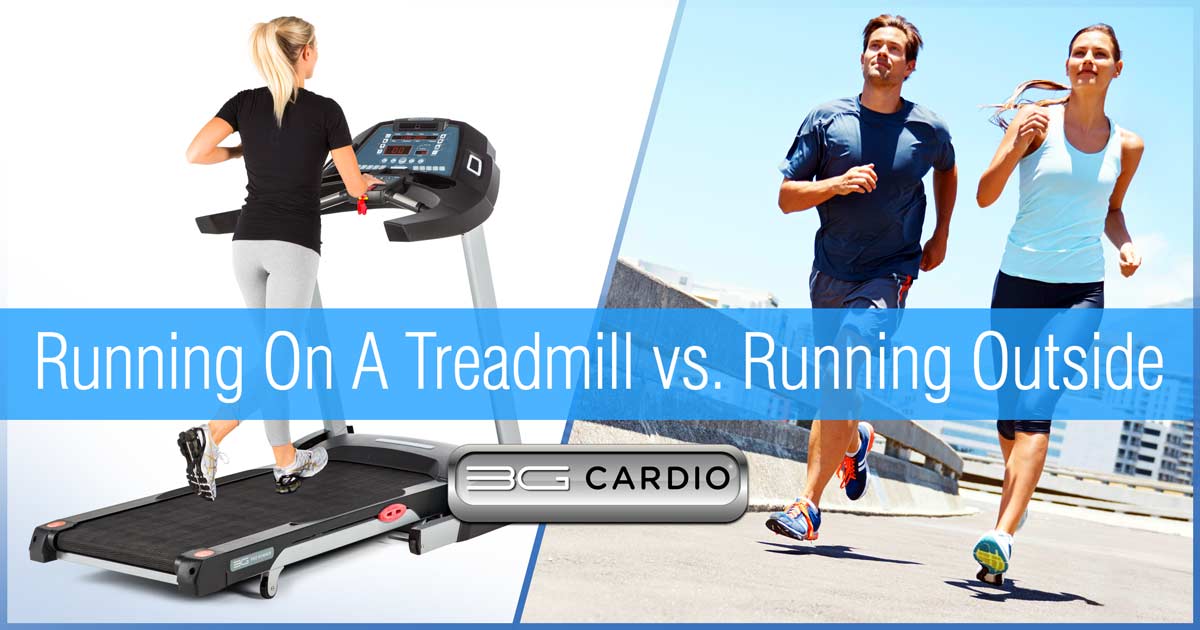 By AARON DORKSEN – 3G Cardio Fitness Editor
Running on a treadmill and running outside have key differences despite the fact that running is fundamentally the same no matter where you do it.
Many fitness enthusiasts have strong preferences when asked if they prefer to run on a treadmill or outside, but both have their advantages and disadvantages. I agree with the majority of trainers who recommend doing both.
MAJOR DIFFERENCES
*Running on a treadmill seems easier for several key reasons. The movement of the treadmill belt actually pushes a person forward and helps with leg turnover, making it easier to run faster.
When running outdoors, a person must supply all the power each time a foot is planted and pushes forward.
*A treadmill has a softer surface than running on roads and is much more forgiving to land on than concrete or blacktop.
*When exercising on an indoor treadmill, a person can create the perfect atmosphere. There's no wind, heat, rain, etc., to be concerned with. The fear factor is zero as well, with no need to be concerned about hazards such as loose dogs, pot holes or ice.
*A treadmill user can also take total control of the walk or run, adjusting the pace, incline, interval, and recovery.
WHICH IS BETTER?
Arguments can be made for running outside or indoors on a treadmill as the better option.
For those who say a treadmill is a lot easier, guess again.
"You can't totally replicate outside running inside, but research suggests that setting the treadmill to a one percent grade more accurately simulates outdoor running, offsetting the lack of air resistance and the moving belt," according to RunnersWorld.com. "And another study found that your VO2 max (how much oxygen your body can use during physical activity) is the same when running on a treadmill compared to outside. So while running outside may feel harder, what's going on inside your body is similar."
If you turn on an air conditioner or a fan, it can create a cool environment to breathe in while on an indoor treadmill, simulating the outdoors.
Running outside, especially in a park or on trails, can develop stronger ankles and flexibility.
According to verywellfit.com, running outdoors and indoors on a treadmill both have many benefits, but you should decide what your goals are to help plan your training regimen.
"If your sole intention is to meet and maintain your cardiovascular fitness goals, a treadmill may be all that you really need," verywellfit.com reported. "By pairing the exercise with an accurate pulse monitor, you can push yourself appropriately while keeping well within your maximum heart rate (MHR).
On the other hand, if training for a race event, you will clearly benefit more from running outside. While you can incorporate treadmill running to improve your cardio health, limit it to no more than 40 percent of your overall training.
Shop Treadmills
WORTHWHILE INVESTEMENT
There might be a little sticker shock for some people when they see that a good treadmill can cost between $3,000-$5,000 or more. However, a typical high-end treadmill should last 10 -15 years, while a $50 per month gym membership for two people can easily cost $1,200 or more a year.
In the long run setting up a home gym with a treadmill is a lot less costly than paying a monthly gym membership.
3G Cardio offers award-winning treadmills at a variety of sizes and price points to match just about anyone's exercise and budget needs. Just as importantly, the quality 3G Cardio treadmills are machines that you'll want to keep using, unlike many cheap big box store models that are flimsy and won't offer much stability.
The Arizona-based company has great prices for the following award-winning models: 3G Cardio Pro Runner Treadmill ($1,899), 3G Cardio Elite Runner Treadmill ($3,399), 3G Cardio 80i Fold Flat Treadmill ($1,799) and 3G Cardio Lite Runner Treadmill ($999).
The 3G Cardio Elite and Pro Runner treadmills are commercial quality, but come at a price that won't break the bank. They are comparable to runner's treadmills that sell for thousands more.
NOTE: Consult a doctor or certified fitness trainer before starting any new workout program to determine if it's right for your needs. This is especially true if you (or your family) have a history of high blood pressure or heart disease. If you experience faintness, dizziness, pain or shortness of breath at any time while exercising you should stop immediately.
Full Comparison Chart