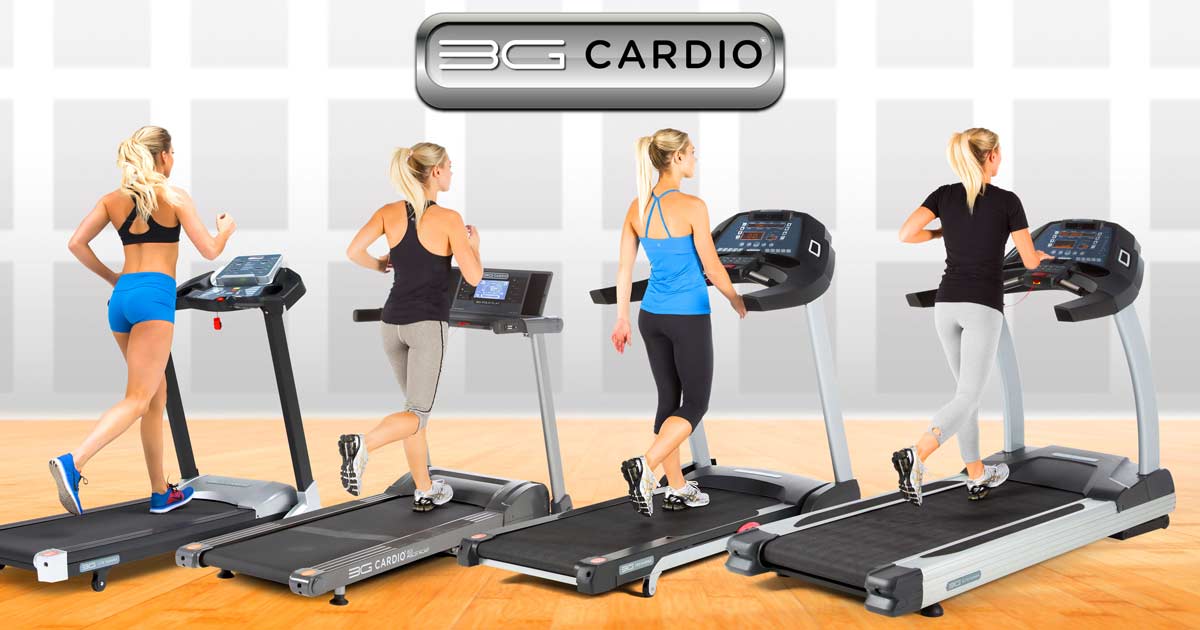 15 Mar

Is Running On A Treadmill Safe For Your Knees?
A 3G Cardio Treadmill Can Help Prevent Injuries
Running on a treadmill is a much safer alternative than running outdoors for a variety of reasons.
First of all, a good treadmill has a softer surface to land on than concrete or pavement outdoors.
A treadmill also provides a consistent surface, as opposed to being outdoors where obstacles such as holes or uneven areas can lead to twisted ankles or knees.
And, sudden adverse weather that can set it in outside is a non-factor on a treadmill in the comforts of your home gym.
Protecting Your Knees
Livestrong.com reports that treadmills are better for you than running on pavement, but cautions that not all treadmills are built alike.
"Because your knee is a primary shock absorber when you run, a treadmill can go a long way toward preventing injury," LiveStrong.com reported. "Some treadmills absorb shock better than others.
"Thicker belts or even shock absorption decks under the treadmill decrease the risk of knee injury. If you've hurt your knee before, look for treadmills with as much shock absorption as possible."
Good Form
Maintaining good form when you run on a treadmill is crucial.
"Land on the balls of your feet," LiveStrong.com recommends. "Avoid landing on the heels. Proper landing allows your body to distribute shock appropriately. Keep the knees slightly bent at all times. Consult a trainer if you're unsure your form is accurate."
Bonus Tips
*Set the treadmill on a slight incline to mimic what it's like to run outdoors. This also helps the body to line up in a natural position when running.
Philip Riches, a Scottish expert on biomechanics, conducted research and discovered that the knees can't absorb shock properly when they are on a zero incline on a treadmill.
*Wear proper running shoes. It's recommended to go to a specialty fitness store to be fitted with a shoe that's right for you. You'll pay a little more up front than with bargain shoes, but it's an investment that will be worth it in the long run.
*Make sure to gradually warm up to top speed. Know your body and how long it takes to get warmed up.
*Work with a trainer to come up with as workout plan that makes sense for you.
If you experience even the slightest pain in your knees, consider taking two days of time off to recover.
Once you're conditioned properly, expect to be able to run up to 5-6 days per week.
3G Cardio Advantage
The 3G Cardio Elite Runner Treadmill and Pro Runner Treadmill both feature the Ortho Flex Shock™ suspension system.
These thicker, orthopedic belts help you get a great workout and there's less wear and tear on your body than with traditional belts.
*The 3G Cardio Elite Runner Treadmill retails for $3,399 and has a DC 4.0 hp motor, 22×62 belt size, max user weight of 400 pounds and assembled weight of 386 pounds.
This is a high-end treadmill, which is about half the price of comparable commercial and elite treadmills. This 3G Cardio Elite Runner Treadmill has an upgraded, commercial Ortho Flex Shock™ suspension system to provide plenty of cushion over the powerful motor in the privacy of your own home.
*The 3G Cardio Pro Runner Treadmill ($1,899) also has the Ortho Flex Shock™ suspension system. It has a 20-inch x 58 folding running surface, a 12 mph max speed powered by the 3.0 HP motor, plus entertainment, fitness testing and programming options.
3G Cardio fitness editor Aaron Dorksen's blog deals with a variety of fitness topics, ranging from workout tips, motivational ideas and feature stories on how exercise impacts people's lives. Consult a doctor before making any significant changes in your exercise routine or diet. E-mail him with comments, questions or ideas for future blogs at aaron@3Gcardio.com