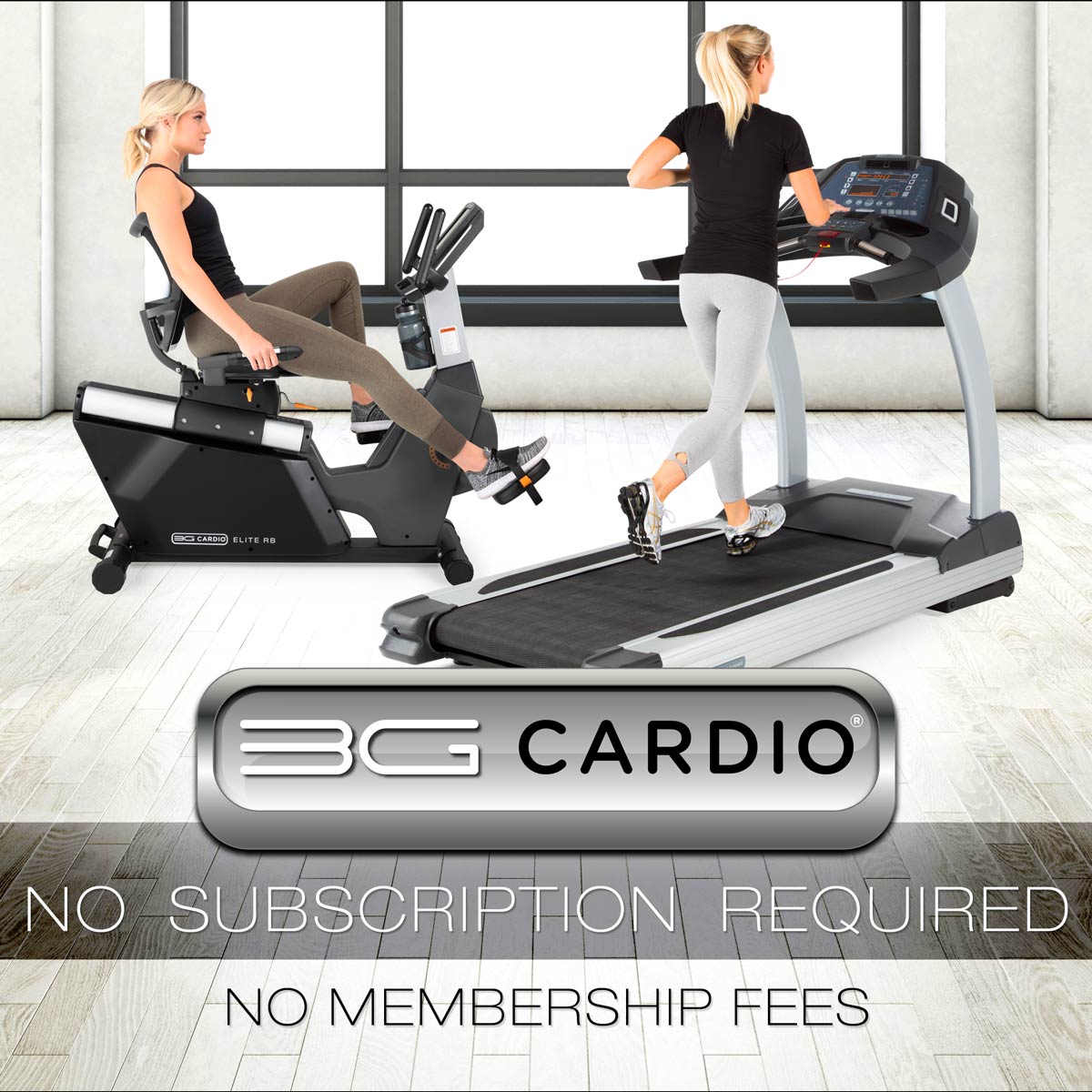 20 Jan

No Monthly Subscription Required for 3G Cardio Products
When you purchase a 3G Cardio treadmill or exercise bike, there are absolutely no additional costs or fees that come with it – guaranteed!
Assembling the machine is easy, just plug it in and start your journey to a healthier you!
Unlike some leading companies that require special software purchases or expensive membership fees for usage of their equipment, 3G Cardio does not limit customers with required monthly subscriptions.
The 3G Cardio Elite Runner Treadmill is an exceptional machine, offering a multitude of features at no cost, because there's No Monthly Subscription Required for 3G Cardio Products.
With top-notch audio speakers and fan for ultimate comfort, 8 preloaded programs with heart rate control options and one touch controls along with contact wireless heart rate monitors included – you can guarantee that your exercise experience will be second to none!
The one touch console is easy to use. You can watch any fitness instructor, workout or other entertainment you can find online after connecting your own device. No need to pay an unnecessary fee.
Those kind of FREE choices aren't the case with some other specialty equipment manufacturers, who require customers make additional purchases after the initial buy.
The fact that a membership fee isn't required is just one of many reasons that 3G Cardio machines have won a variety of Best Buy Awards and top reviews.
When you decide to invest in a 3G Cardio treadmill or exercise bike, you get more than just quality equipment. You also receive one of the most reassuring warranties on the market! The Elite Runner Treadmill comes with a lifetime motor warranty and 10-year parts & 2 – year labor residential warranty; commercial use enjoys 5 years motor/frame coverage plus 1-2 years for part replacement / labor.
The 3G Cardio Elite Runner Treadmill (check 3GCardio.com for specials), is priced $800-$1,500 lower than other comparable brands that also charge subscription fees.
The 3G Cardio Elite Runner Treadmill powered by a 4.0 HP motor, hits speeds of 0.5 – 12 mph and has an incline range from 0 – 15 percent. It measures 84 length x 35.5 width x 58 inches height. The orthopedic belt is 62 length x 22 width. There's a unit weight of 386 pounds and max recommended user weight is 400 pounds. The 3G Cardio Elite Runner Treadmill has step up height from floor to treadmill belt of only 7.5 inches and a perfect safety history.
According to TreadmillReviews.net: "The Elite Runner treadmill is a well-made piece of equipment that is more like something you would find in a gym rather than at home. You can easily save over $1,000 and go with the 3G Pro Runner model, but the durability and stability of this elite model is well worth the money."
An online search will reveal why 3G Cardio has earned more Best Buy awards than any other product in its category.
At 3G Cardio, our mission is straightforward yet inventive. Our Arizona-based business has been established and operated by co-owners with a combined fifty years of experience in the health and fitness industry—we provide customers with exactly what they need when it comes to exercise equipment while cutting out everything that isn't necessary. We are devoted to our "simple by design" philosophy which guarantees satisfaction!
Our treadmills and vibration machines prioritize the superior quality of components, rather than solely focusing on aesthetic extras. We provide cutting-edge entertainment options which can be further enhanced with tablets or iPads, without inflating our prices to include unnecessary features that many competitor products are laden with. When you choose us, you get premium performance for thousands less, and No Monthly Subscription Required for 3G Cardio Products!