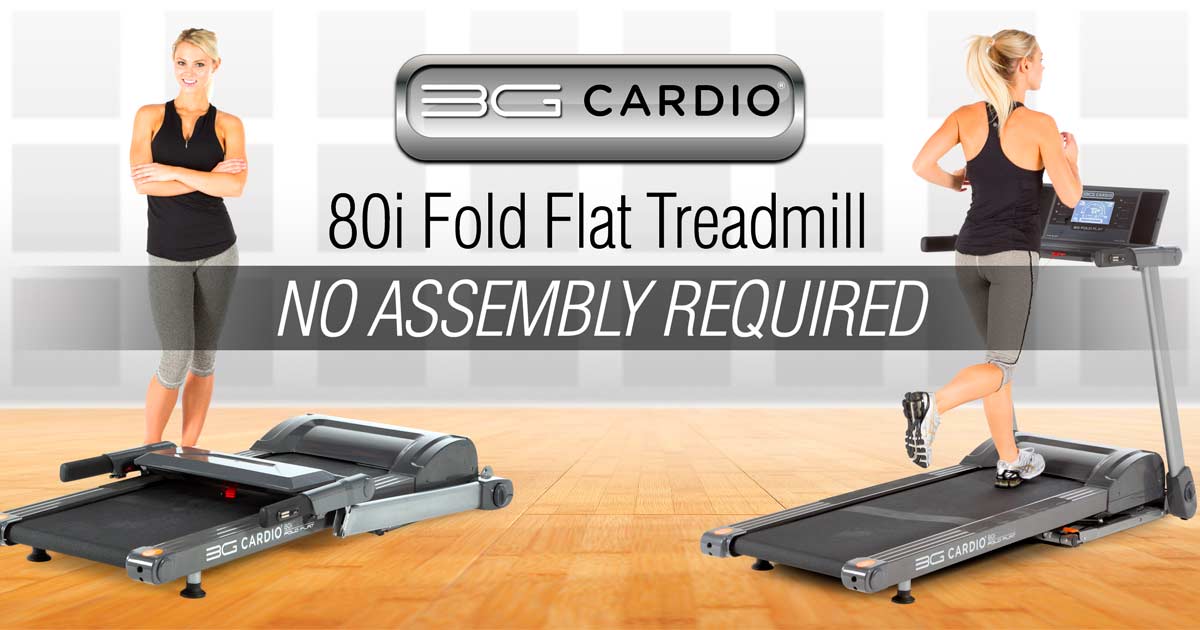 Watch the 80i Fold Flat Treadmill Video above
Simply order, unbox, unfold and start exercising!
Staying in shape has become a lot more complicated during the COVID-19 pandemic.
Clubs have been closed and if they've opened in your area there may be some apprehension about going back.
Specialty fitness stores are often out of stock on equipment.
And even if you can find the right type of large specialty equipment to purchase, such as a treadmill, the idea of putting it together yourself, or having delivery workers in your house to do it, probably isn't very appealing.
The 3G Cardio Company has three words that should be music to your ears: "No assembly required."
That's right – the top-rated 3G Cardio 80i Fold Flat Treadmill is available at a great price and there's no assembly required. Simply pull the 3G Cardio 80i Treadmill out of the box, unfold, plug in and start exercising.
When you're ready to store the 3G Cardio 80i Fold Flat Treadmill you can pick two different ways to get it out of the way. The ingenious design allows a user to not only fold the treadmill upright, but also fold the treadmill flat to the floor and store it away under a bed. When folded flat to the floor, the 3G Cardio 80i Treadmill has an extremely low height of only 9.75″.
Never would I have imagined a folding treadmill would provide such a strong motor and solid running surface, but the engineers at 3G Cardio have done just that with the space saver 80i model.
For the first time ever in the fitness industry, 3G Cardio put a dual folding treadmill on the market.
The treadmill measures 74″x33″x49″ when unfolded, which provides an excellent area to run or walk comfortably on.
When you're ready to store the treadmill, simply fold it flat to a height of just 9.75″ and roll it under a bed.
Or, fold it upright to the same height of 9.75" and roll it into a closet or corner of a room to store vertically when not in use.
Anyone who doubts whether they can get a good run in on a dual folding treadmill should know that the 3G Cardio 80i Fold Flat Treadmill's 3.0 hertz motor is the biggest in its class. And with a unit weight of 225 pounds, this treadmill is plenty sturdy.
Order the 3G Cardio 80i Fold Flat Treadmill online at 3GCardio.com.
The 3G Cardio 80i Fold Flat Treadmill is rated to be used by people who weigh up to 325 pounds. It has a sturdy belt (18.5″x58″ ) and you can run from speeds ranging from 5-11 mph and set the machine at an incline up to 15 percent.
I'm also impressed with the built-in speakers and audio iPhone/MP3 connections. The warranty covers parts for five years, along with one year labor and a lifetime guarantee on the motor and frame.
Despite all its features, the 3G Cardio 80i Fold Flat Treadmill has a MSRP of just $2,099 (check 3GCardio.com for sale prices and availability).
80i Fold Flat Treadmill SPACE SAVER
For people who previously thought their home, garage, apartment, RV camper, work place, etc., was too small to use a treadmill, think again. It's a whole new ballgame with the 3G Cardio 80i Fold Flat Treadmill.
3G Cardio's line of treadmills have been recognized with numerous Best Buy awards from leading review companies, as well as 5-star reviews on Amazon.com.
3G Cardio earns top awards for treadmills, exercise bikes, vibration trainers
The 3G Cardio lineup of treadmills, exercise bikes and vibration machines ranks among the best of the best in the industry.
Based out of Phoenix, Ariz., the 3G Cardio Company has garnered numerous Best Buy and 5-star awards because of their rare combination of quality and value.