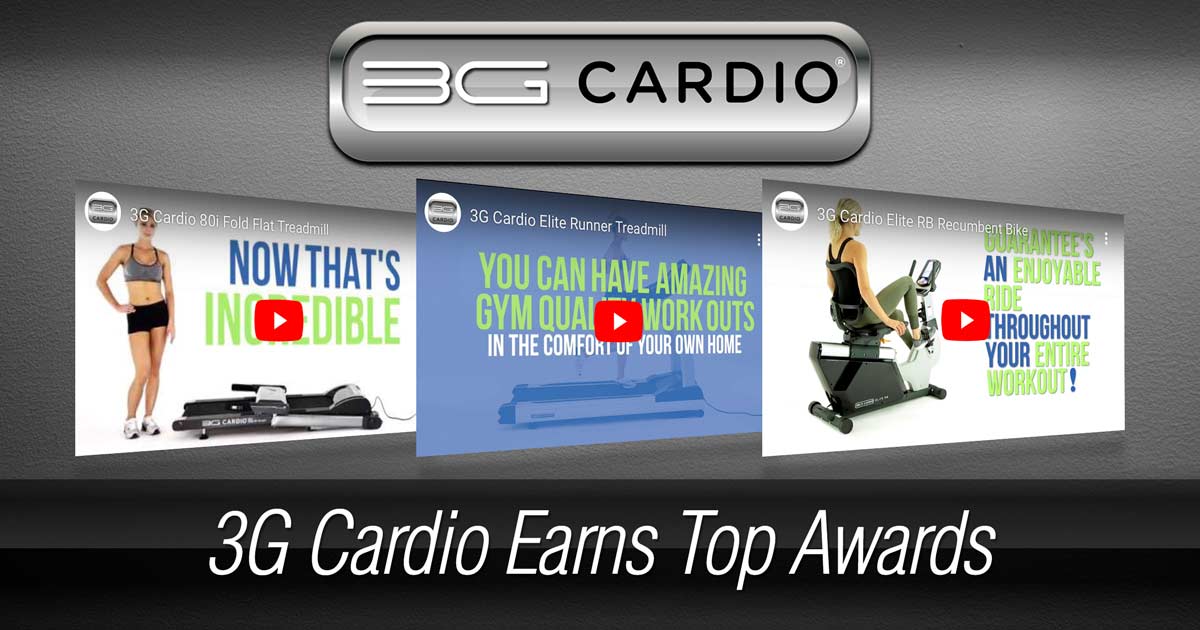 15 Nov

3G Cardio earns top awards for treadmills, exercise bikes, vibration trainers

By AARON DORKSEN — 3G Cardio Fitness Editor
It's one thing for a company to tell you how good they are, but when others say it over and over that carries more weight.
The 3G Cardio Company based out of Phoenix, Arizona loves to talk about the quality of its treadmills, exercise bikes and vibration machines and will always go the extra mile for its customers.
3G Cardio is humbled and honored that many leading consumer reviewers and websites have noticed the 3G Cardio difference.
Here's what some of them are saying:
*FitProf.net – "Head of the class 2018 Best Buy Treadmill under $3,500" for the 3G Cardio Elite Runner Treadmill. "The Elite Runner is 3G's top of the line treadmill and is unquestionably one of the very best treadmills on the market when it comes to the 'nuts and bolts'. While many mid-to-high priced units are nothing more than lower grade treadmills with excessive programming and built-in "entertainment" options, the 3G Elite is incredibly robust. With one of the largest running surfaces available, walking and running feel comfortable and smooth at any speed thanks to the natural feeling ortho-flex shock absorption system and industrial strength 4.0HP motor."
*TreadmillReviews.net – "The 3G Cardio treadmills provide a comfortable and reliable workout experience that is easy on the joints."
*A top consumer magazine – "(3G Cardio) is a recommended buy."
* At Home Fitness in Arizona – "3G Cardio is our No. 1-rated Best Buy Award winner for treadmills. You won't find a better combination for quality and value anywhere. Their customer support after the sale is unmatched by other companies. 3G Cardio machines rarely have mechanical problems, but if they do they will always take care of their customers and make the situation right."
*TreadmillReviews.net – "The durability and stability of this elite model is well worth the money."
TREADMILLS
The 3G Cardio Fitness Lineup is led by a "Big Four" of best-selling treadmills, which have been extremely popular on review sites and amazon.com.
The 3G Cardio Elite Runner Treadmill delivers health club quality at an unbeatable price. If you are looking to save even more money, or are tight on space, it's tough to beat the space saver lineup of the 3G Cardio Pro Runner, 3G Cardio 80i Fold Flat Treadmill and 3G Cardio Lite Runner Treadmill. They are all built extremely sturdy, but take up small areas and can be folded up for storage.
EXERCISE BIKES
Whether you prefer upright bikes or recumbent bikes, 3G Cardio has you covered when it comes to high-end indoor exercise bikes at a reasonable price.
Comfort is King with both the 3G Cardio Elite RB Recumbent Bike and 3G Cardio Elite UB Upright Bike.
Recumbent bikes are generally considered to be more comfortable than an upright bike, but they are both excellent options.
VIBRATION MACHINES
When it comes to vibration training, the 3G Cardio 6 AVT ($3,999) and 5 AVT Vibration machines ($2,999) offer great value for their price points. The award-winning 3G Cardio AVT vibration machines can give users strength training and cardio benefits. Accelerated vibration training, also known as whole body vibration training, allows people to have the best of both worlds.
You can improve your muscle tone, physique and even overall health while performing AVT in less time and often with better results than through traditional exercise methods.
A recent article from bulletproofexec.com explained the numerous benefits of vibration training. It pointed out that athletes such as Rafeal Nadal, Serena Williams, Olympian Rebecca Romero, and the whole NFL Broncos team get an extra edge through WBV Training.
3G Cardio fitness editor Aaron Dorksen's blog deals with a variety of fitness topics, ranging from workout tips, motivational ideas and feature stories on how exercise impacts people's lives. Consult a doctor before making any significant changes in your exercise routine or diet. E-mail him with comments, questions or ideas for future blogs at aaron@3Gcardio.com.