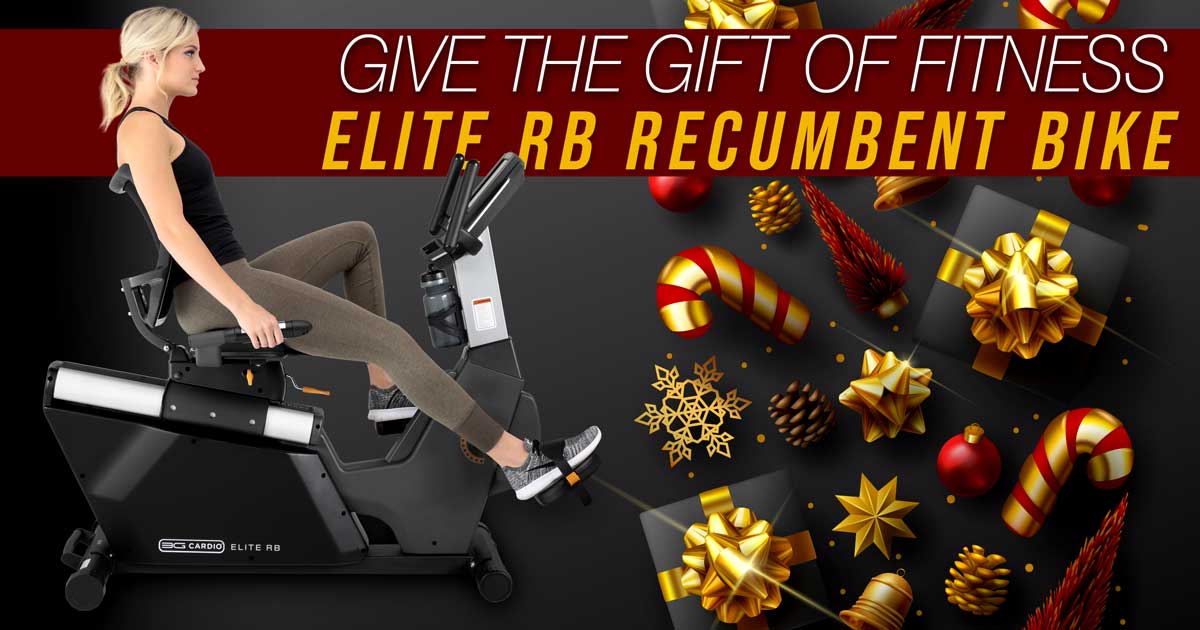 Watch our Elite RB Recumbent Bike Video:

Elite RB Recumbent Bike has small footprint
This holiday season give the gift of fitness by giving someone a 3G Cardio Elite RB Recumbent Bike.
This fantastic machine from the award-winning 3GCardio company has been called by fitness reviewers "the most comfortable recumbent bike you will ever use."
It's small and compact, but extremely heavy duty.
It's highly adjustable.
It's super comfortable.
And, the 3G Cardio Elite RB Recumbent Bike comes at a great price: view it now.
WHO USES RECUMBENT BIKES?
"Recumbent bikes are typically used for people who are nursing ailments, but you can also get a killer workout on them as well," "said "Big" Mike Sullivan, a sales associate for the At Home Fitness-Gilbert store located at 2810 S. Market St. Gilbert, Arizona. "Comfort is king with the 3G Cardio Recumbent Bike and it also comes at a great price."
That combination of attributes makes the 3G Cardio Recumbent Bike a joy to sell, Sullivan said.
"With a recumbent bike, you get a lot of back support and really smooth pedaling, which is outward instead of downward on an upright bike," Sullivan said.
Sullivan wants people to know that the 3G Cardio Recumbent Bike stands out as the most comfortable in its category that he's seen on the market. Customer feedback, fitness reviewers and Sullivan's own experiences lead him to highly recommend the 3G Cardio Recumbent Bike.
"One of the reasons that this 3G bike is the most comfortable on the market is because of the way that the drive train is designed," Sullivan said. "The drive train is actually below the seat, allowing the space between the pedals to be much narrower.
Check out Sullivan's video review at: https://www.youtube.com/watch?v=hSO14KX0Ez0
THE DETAILS
The 3G Cardio Elite RB Recumbent Bike measures just 49 inches (length) x 27 (width) so it will fit nicely into most workout spaces.
It has the electronics display at a low height so you can easily see over it and around the console.
A low height step through the center frame allows easy access on and off the bike. The narrow Q Factor distance between pedals adds to the comfort level, allowing for an extremely ergonomically correct ride
An easy lift rear handle and front transport wheels allow for easy movement of the bike.
The seat is awesome thanks to the Infinite Airflow Mesh Flex adjustable back rest reclining feature. Easily adjust this seat back to a comfortable position during your workout
This machine is rated for use by people weighing up to 350 pounds.
ENHANCED WORKOUT FEATURES
Hand held heart rate contact sensors and a wireless Heart Rate strap are included with purchase.
Remote handle electronic buttons make it extremely simple to program.
Monitoring your workout is easier thanks to a digital large format electronics display.
PEACE OF MIND
Protect your investment with one of the best warranties on the market:
Residential warranty: lifetime frame, 7 years parts, 1 year in-home labor
Commercial warranty: 3 yrs parts, 1 year labor
Watch our Elite RB Recumbent Bike Video:

Elite RB Recumbent Bike has small footprint