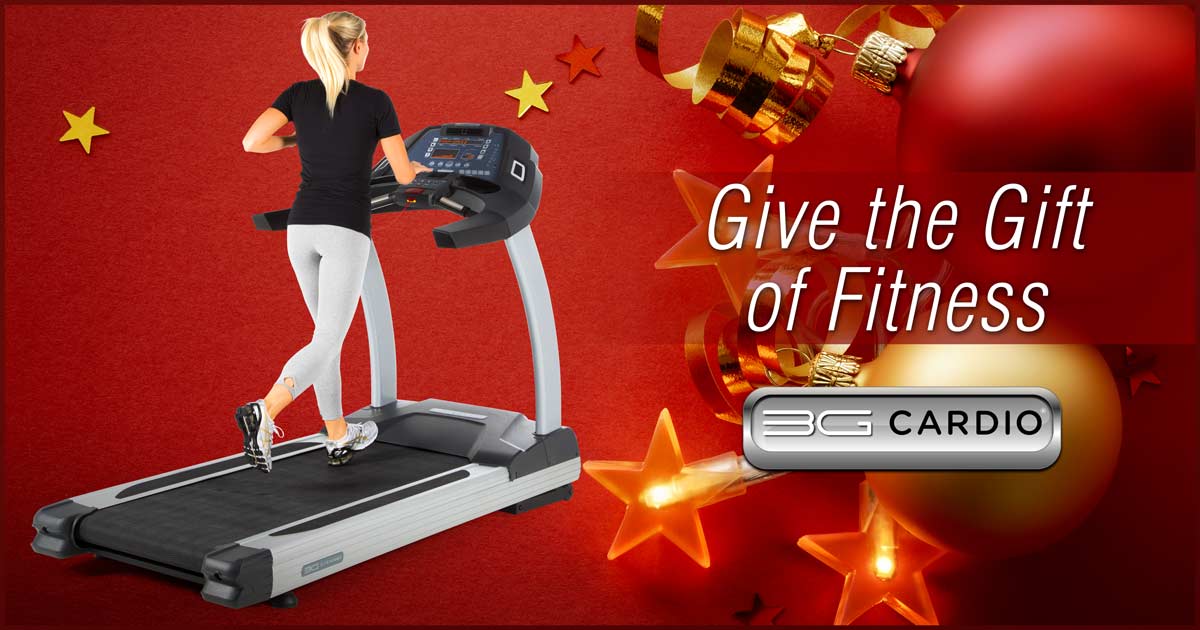 By AARON DORKSEN – 3G Cardio Fitness Editor
This holiday season I encourage everyone to consider giving a gift that will keep on giving back: the gift of fitness.
A treadmill is one of the biggest and best holiday gifts you could ever give.
Get a treadmill for a family member, friend, business, or someone or someplace else that is special to you. It's one gift that's sure to keep on giving year-round. Or, get a treadmill for yourself.
The treadmill is the No. 1 selling specialty fitness item for a reason: it gets results and just about anyone can use it.
Walk, jog or sprint on the treadmill; change incline and speed; and even walk or jog sideways or in reverse on it if you wish to work the muscles in different ways.
The award-winning 3G Cardio Company based out of Phoenix, Ariz., has four treadmills to pick from that fit all fitness levels and budgets.
If you are shopping for a treadmill, visit www.3GCardio.com to find a treadmill that suits your needs.
For the home, office, professional gym or elsewhere, 3G Cardio sales associates can help you find the right treadmill. Call 1-888-888-7985 or email support@3GCardio.com for more information.
Don't go to a "big box" department store and expect to get a treadmill you'll enjoy running on for a crazy low discount price. Chances are a "bargain" treadmill will be a flimsy machine that will wind up breaking down, or that you won't want to use. There's nothing worse when it comes to treadmills than a cheap model on which you can feel the belt lag or pause while trying to run on it.
The department stores often won't tell you that many "discount" treadmills aren't even made for running on — they're just for walking.
THE 3G CARDIO ADVANTAGE
The award-winning 3G Cardio treadmill lineup consists of 3G Cardio Pro Runner Treadmill (MSRP $1,899), 3G Cardio Elite Runner Treadmill ($3,399), 3G Cardio 80i Fold Flat Treadmill ($1,799) and 3G Cardio Lite Runner Treadmill ($999).
The designers at 3G Cardio build their treadmills the way most people would: They provide everything you need, and nothing you don't. The emphasis is on superior function of the treadmill, not on fancy electronic "extras" that drive up the price even though you can add them yourself for a lot less cost by hooking up an iPad or smart phone.
Here are some of the highlights of 3G Cardio treadmills for a variety of price points:
*The 3G Cardio Elite Runner Treadmill features a DC 4.0 hp motor, an oversized belt and can be used by people weighing up 400 pounds. It has an assembled weight of 386 pounds and an outstanding warranty of 10 years on parts and two years on labor. This 3G Cardio Elite Runner feels like the top models at the club to run on. It's is a treadmill you'll want to use!
*The 3G Cardio Pro Runner has a DC 3.0 hp motor with heavy duty belt and can accommodate users weighing up to 350 pounds. It has an assembled weight of 216 pounds.
The 3G Cardio Pro Runner and 80i can be folded up and stored away. They are ideal for people who don't have a lot of room in their living space, but still want to have access to a treadmill to walk and-or run on. It has great stability.
*The  3G Cardio Lite Runner measures just 67 inches (length) x 29 3-4 (width) x 52 1-2 (height). It can be folded up to just 32 x 29 3-4 x 62 1-2 and rolled through most standard doorways for storage without having to disassemble.
Unlike most treadmills priced at $1,000 or under, the 3G Cardio Lite Runner has an extremely sturdy frame and belt and powerful motor. It doesn't stall or lag when you walk or jog on it, which is the case for most other less expensive treadmills. The 2.5 High Torque Motor creates a strong, consistent belt speed.
NOTE: Consult a doctor or certified fitness trainer before starting any new workout program to determine if it's right for your needs. This is especially true if you (or your family) have a history of high blood pressure or heart disease. If you experience faintness, dizziness, pain or shortness of breath at any time while exercising you should stop immediately.
Full Comparison Chart