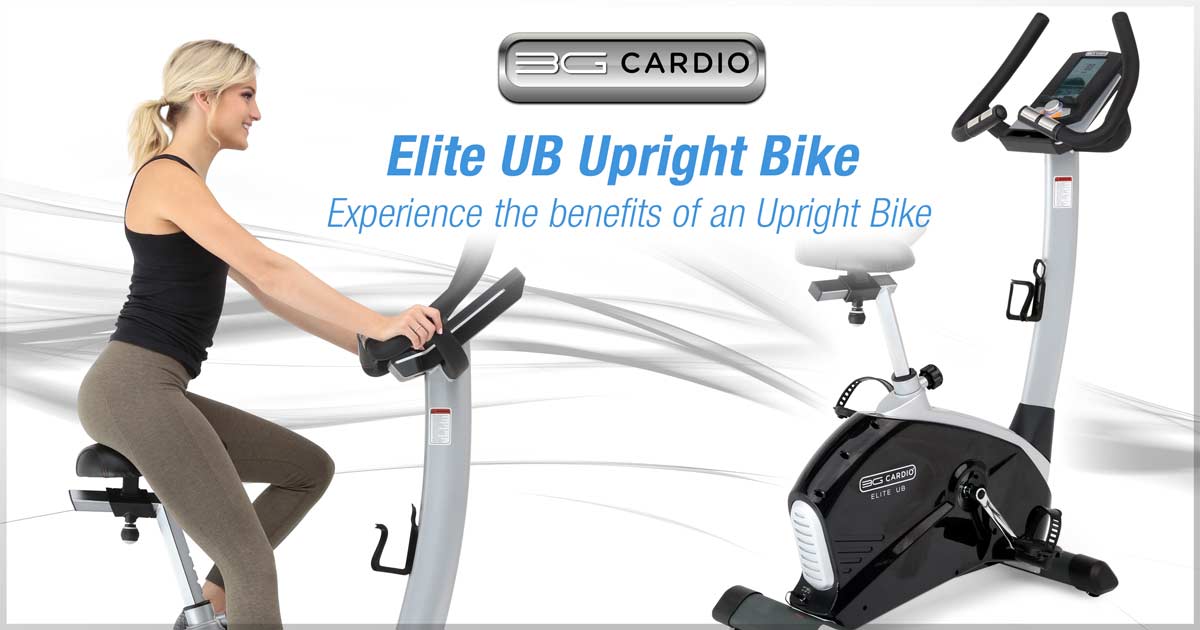 Riding a stationary exercise bike is a great way to exercise efficiently in the privacy and safety of your own workout room.
The 3G Cardio Elite UB Upright Bike has a sale price, (check 3GCardio.com for sale prices and availability). It's won numerous Best Buy Awards and 5-star reviews on sites such as Amazon.com.
Compared to many other types of exercise, an upright exercise bike puts relatively little stress on your joints.
However, an upright bike can still provide an excellent aerobic workout.
Using an upright bike is also a great way to get a good overall warmup before moving on to perform other exercises.
Among the top benefits of exercising on the 3G Cardio Elite UB Upright Bike:
Boosts cardio fitness
Burns body fat
Helps with losing weight
Enables interval training
Low-impact workout on joints
Helps tone, strengthen leg muscles
Safer than riding outside
EXPERIENCE THE 3G CARDIO DIFFERENCE
With seemingly countless options available for fitness equipment, why choose the 3G Cardio Elite UB Upright Bike?
The 3G Cardio Upright Bike has a variety of features to enhance your workout, while selling for an affordable price.
Ergonomically correctly upper handle bars and an adjustable seat make it one of the most comfortable bikes on the market.
Small upper electronic displays make it easy to see over and around the bike and, best of all, you can watch a TV on the wall. There are 12 pre-set, built-in programs and three built-in heart-rate programs. Up to four different user profiles can be saved.
The console displays time, RPM, watts, distance, calories and heart rate.
3G Cardio's Upright Bike is one of the sturdiest on the market, yet it doesn't take up a lot of room. A heavy duty, steel reinforced upright column provides strength and stability. A compact step-through frame allows users to get on and off the bike with ease. An oversized, fully adjustable seat provides optimal comfort and stability.
The dimensions are 41 inches length x 22.5" width and 55" height. The machine weight is 100 pounds.
The 3G Cardio Elite UB Upright Bike transport wheels allow it to be easily moved from room to room with the built-in transport handles. The bike also comes with heart straps compatible for wireless heart rate monitoring, and it has an integrated SmartFan for keeping you cool.
The Residential warranty covers the bike's lifetime for the frame, seven years parts and one year in-home labor, while the commercial warranty is good for 3 years on parts and one year on labor.
There are two easy assembly options for the 3G Cardio Elite RB Upright Bike:
*Put the bike together yourself in an average time of about 1 1/2 hours after delivery.
*Or, hire the 3G Cardio "White Glove" delivery service for $199. A 3G Cardio delivery person will pick up the bike at the freight terminal, deliver it to your location and put it together there. If you prefer, it can even be assembled outside and then easily rolled inside.
3G Cardio has won countless accolades for its treadmills and vibration training machines and the exercise bikes are also key machines in the Arizona based company's All-Star lineup. The 3G Cardio lineup of treadmills, exercise bikes and vibration machines ranks among the best of the best in the industry.
Based out of Phoenix, Ariz., the 3G Cardio Company has garnered numerous Best Buy and 5-star awards because of their rare combination of quality and value.
3G Cardio can answer assembly and product questions 9 am-5 pm (Pacific Standard Time) Monday through Friday. Call 1-888-888-7985 or email Support@3GCardio.com.
Order the 3G Cardio Elite UB Upright Bike online at 3GCardio.com.
FAST FREE SHIPPING
3G Cardio features a 30-day money back guarantee. Buy today and your order will leave the 3G Cardio Arizona warehouse in one business day for in-stock items.