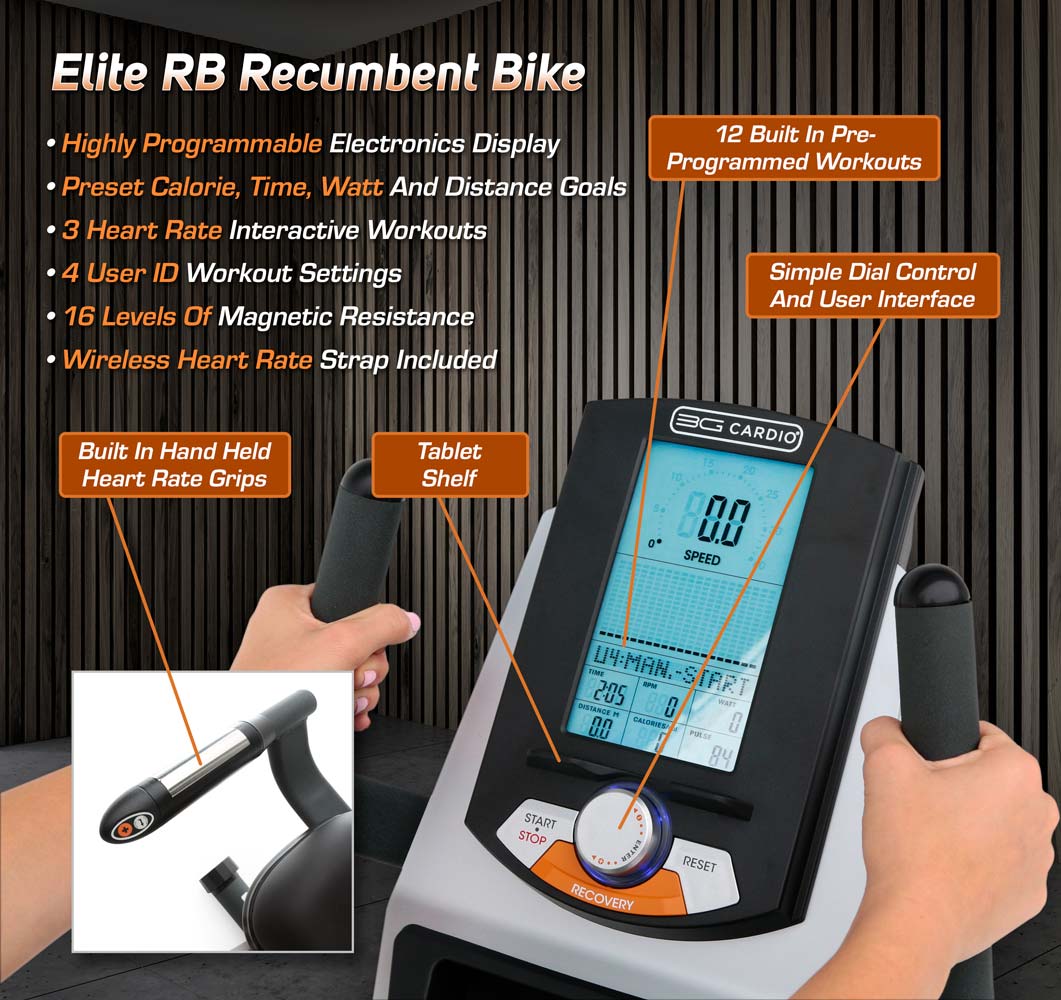 09 Mar

3G Cardio Elite RB Recumbent Bike Helps People After Cardiac Events
Watch our Elite RB Recumbent Bike Video:
Elite RB Recumbent Bike helps people after cardiac events
There are a wide variety of health benefits that people can get from using a 3G Cardio RB Recumbent Bike.
The 3G Cardio Elite RB Recumbent Bike has been widely used for people who have had cardiovascular events.
Cardio events refer to any incidents that may cause damage to the heart muscle. The heart is a busy organ, constantly pumping blood filled with oxygen and nutrients through your arteries, into the heart muscle (myocardium). Any interruption of blood flow will lead to an injury, or infarction.
It is also referred to as a heart attack, or a myocardial infarction (MI).
After a heart attack / cardiac event, patients work with their doctor on a customized outpatient program to improve overall health and recover.
A key component of cardiac rehabilitation is exercise.
The 3G Cardio Elite RB Recumbent Bike has a design that fits perfectly for most rehab patients.
The Elite RB comes with an interactive heart rate strap and hand-held heart rate contact sensors. It's great to help people who have had heart issues keep in their recommended heart rate zones.
Of course, always consult with your cardiologist before beginning any exercise program.
The 3G Cardio Elite RB Recumbent Bike is a great example of the Arizona-based company's vision.
COMFORTABLE SEAT
The 3G Cardio Elite RB Recumbent Bike has one of the most comfortable exercise bike seats on the market.
Named as the FitProf.net "Best Buy Winner for Best Recumbent Bike Under $2,000," the 3G Cardio Recumbent Bike delivers commercial gym performance, yet can fit into even small home gyms at a personal budget cost.
The 3G Cardio Elite RB Recumbent Bike is sturdy, comfortable and space friendly. It's used in commercial gyms and home gyms alike.
3G Cardio Elite RB Recumbent Bike Helps People After Cardiac Events
3G designers have used top quality parts to build an exercise bike that comes with a light commercial warranty and one of the best home warranties on the market. It's small, but mighty with an assembled size of just 49" (length) x 27" (width) x 43" (height).
The designers of the 3G Cardio Elite RB Recumbent Bike can make a strong claim to call it "the most comfortable recumbent bike ever built." Fitness reviewers and countless satisfied customers have agreed with that statement.
Elite RB Comfort Is Unsurpassed
A unique Q-factor pedal spacing helps make it a bike that people of nearly all shapes and sizes can use with great comfort.
The 3G Cardio Elite RB Recumbent Bike fly wheel is located under the seat, a design that enables the width between the pedals to be narrower than other bikes on the market. That helps provide much better comfort.
Most recumbent bikes have the fly wheel under the pedals, which requires a wider space.
Recumbent exercise bikes are recommended to avoid stress on joints and to experience better overall comfort when exercising. With that in mind, the 3G Cardio designers went all out to make it as comfortable as possible.
Because of the compact, low-profile engineering, users can easily step through to get on or off the bike. It's also more comfortable to pedal.
The 3G Cardio Elite RB Recumbent Bike is a small and compact bike, but it's also extremely sturdy and durable with a 3-way adjustable mesh back seat rest and super comfortable seat pad.
All of these features make the 3G Cardio Elite RB Recumbent Bike a great choice for people trying to rehab after a cardiac event.
Watch our Elite RB Recumbent Bike Video:
Elite RB comes with light commercial warranty