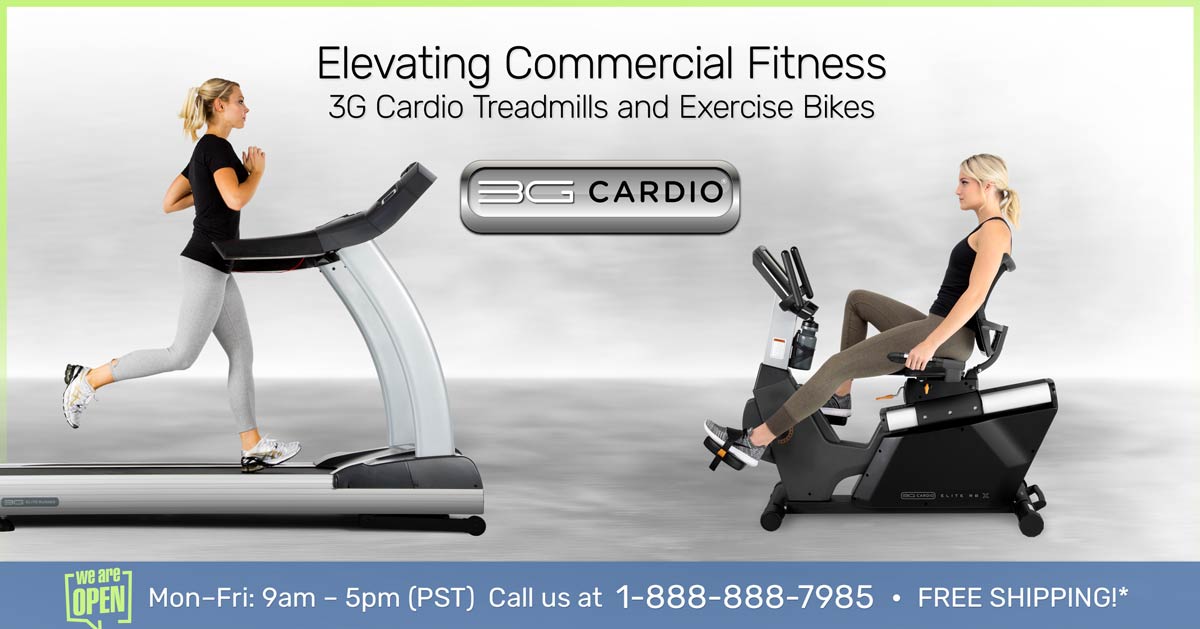 26 Sep

Elevating Commercial Fitness: 3G Cardio Treadmills and Exercise Bikes
In the fast-paced world of commercial fitness facilities, choosing the right equipment can make all the difference in attracting and retaining clientele.
3G Cardio, a renowned fitness equipment manufacturer, has gained recognition for producing high-quality treadmills and exercise bikes that are ideal for commercial facilities.
Many commercial facilities make a big mistake when purchasing fitness equipment. They either "under buy" or "over buy" their exercise equipment.
Many smaller corporate facilities, such as doctor's offices, physical therapy centers, chiropractor's offices, fitness studios, hotels, motels, homeowners associations, office gyms, schools, or universities, may not require "high-end" commercial exercise equipment.
There is no need to allocate a budget of $8,000 for a treadmill that will only be utilized for 3-4 hours per day. Nonetheless, it is imperative to invest in fitness equipment that is commercially rated and warrantied, as most residential equipment does not offer commercial warranty coverage.
The 3G Cardio Company, based in Arizona is the best choice for award-winning, light to medium-duty commercial exercise equipment, which is backed with a full corporate warranty.
Consider 3G Cardio Commercial Fitness Equipment as the perfect middle ground. There are not many fitness equipment manufacturers in the fitness industry who make light to medium duty commercial exercise equipment.
In this blog, we will explore why 3G Cardio Treadmills and Exercise Bikes are an excellent choice for gyms, hotels, corporate wellness centers, and other commercial fitness establishments.
Durability and Reliability:
When it comes to outfitting a commercial facility, equipment durability is paramount. 3G Cardio Treadmills and Exercise Bikes are built to withstand heavy usage and provide exceptional long-term performance. Their robust construction and high-quality materials ensure that they can handle the rigorous demands of a bustling gym environment, making them a smart investment for commercial fitness businesses.
Quiet and Smooth Operation:
Commercial facilities require fitness equipment that operates quietly and smoothly to create a comfortable workout environment. 3G Cardio products are known for their whisper-quiet operation, allowing users to enjoy their workouts without the distraction of noisy machinery. This creates a more enjoyable and inviting atmosphere for your clients.
Advanced Features and Technology:
3G Cardio Treadmills and Exercise Bikes are equipped with cutting-edge features and technology that enhance the user experience. From interactive touchscreens to pre-programmed workouts and customizable settings, these machines offer a wide array of options to cater to the diverse needs and preferences of your clients. The intuitive interfaces make it easy for users to navigate and track their progress.
User-Friendly Design:
Commercial facilities often cater to a broad spectrum of clientele, including beginners and seasoned fitness enthusiasts. 3G Cardio products are designed with user-friendliness in mind, ensuring that individuals of all fitness levels can use them comfortably and safely. Adjustable settings, easy-to-read displays, and ergonomic design contribute to an inclusive and welcoming fitness environment.
Space Efficiency:
Optimizing space in a commercial facility is crucial for accommodating a variety of fitness equipment and workout zones. 3G Cardio Treadmills and Exercise Bikes are designed with a compact footprint, allowing you to maximize the use of your available space. Many models also feature a foldable design for even greater space-saving convenience.
Exceptional Customer Support:
Commercial facilities require reliable customer support to ensure that any equipment issues are promptly addressed. 3G Cardio is known for its outstanding customer service, providing commercial clients with quick and efficient solutions to keep their fitness equipment running smoothly. This commitment to customer support helps minimize downtime and maximize client satisfaction.
Brand Reputation:
3G Cardio has built a solid reputation for producing high-quality fitness equipment that meets the needs of both home and commercial users. Their commitment to innovation and customer satisfaction has earned them trust and recognition in the fitness industry, making their products a reliable choice for commercial facilities.
In conclusion, 3G Cardio Treadmills and Exercise Bikes are an exceptional choice for commercial fitness facilities. With their durability, quiet operation, advanced features, user-friendly design, space efficiency, exceptional customer support, and reputable brand, they contribute to creating a positive and engaging workout environment for your clients. By choosing 3G Cardio, you're not only investing in top-notch fitness equipment but also in the success and reputation of your commercial fitness establishment.