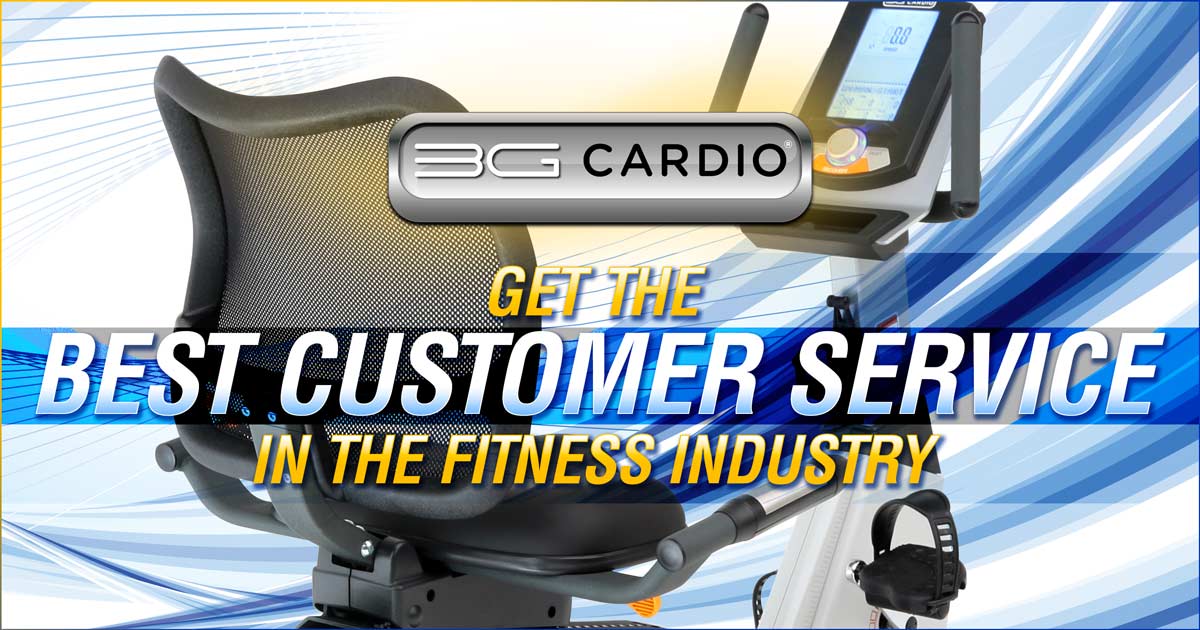 "Best Customer Service" more than just words for 3G Cardio
Every day 3G Cardio employees work to keep the title of Best Customer Service in the Fitness Industry.
A quick online search of reviews, five-star ratings from companies like amazon.com and fitness awards garnered by 3G Cardio backs up that claim.
3G Cardio answers all the Frequently Asked Customer Questions: What do I do if there is a problem? What if I need replacement parts? Will I get a refund if the product is defective?
3G Cardio, based out of Phoenix, Arizona, checks every box when it comes to being a reliable company. The award-winning 3G Cardio company covers all the bases when it comes to exceptional customer service and products. 3G Cardio treadmills, exercise bikes and vibration training machines have won numerous Best Buy Awards and garnered outstanding reviews.
Call the 3G Cardio customer service department at
1-888-888-7985

for questions about products and warranties.
3G Cardio can also assist with questions or issues that may arise with your specialty fitness equipment after it's purchased. Although customers rarely have problems with their equipment, 3G Cardio is dedicated to be there for you in the event of a question or problem.
Consumers should always try to learn something about the company they're thinking of buying from. That should go for many types of online products – not just treadmills. 3G Cardio treadmills and exercise bikes are user friendly, constructed out of high-grade parts, priced competitively and have outstanding warranties. That's a grand slam.
3G Cardio Fitness Equipment Comes with Outstanding Warranties
When it comes time to shop for a treadmill, 3G Cardio provides peace of mind with our solid warranties. We back up our quality products so you can get to losing weight, feeling great, and getting into a fitness routine without worrying about your treadmill or bike.
View 3G Cardio Warranties
Here's a quick look at 3G Cardio's All-Star lineup:
TREADMILLS
3G Cardio features a "Big Four" of best-selling treadmills, which have been extremely popular on review sites and amazon.com.
The 3G Cardio Elite Runner Treadmill delivers health club quality at an unbeatable price. If you are looking to save even more money, or are tight on space, it's tough to beat the space saver lineup of the 3G Cardio Pro Runner, 3G Cardio 80i Fold Flat Treadmill and 3G Cardio Lite Runner Treadmill. They are all built extremely sturdy, but take up small areas and can be folded up for storage.
Watch the Elite RB Recumbent Bike
Watch the Elite Runner Treadmill
Watch the 80i Fold Flat Treadmill
EXERCISE BIKES
Whether you prefer upright bikes or recumbent bikes, 3G Cardio has you covered when it comes to high-end indoor exercise bikes at a reasonable price.
Comfort is King with both the 3G Cardio Elite RB Recumbent Bike and 3G Cardio Elite UB Upright Bike. Recumbent bikes are generally considered to be more comfortable than an upright bike, but they are both excellent options.