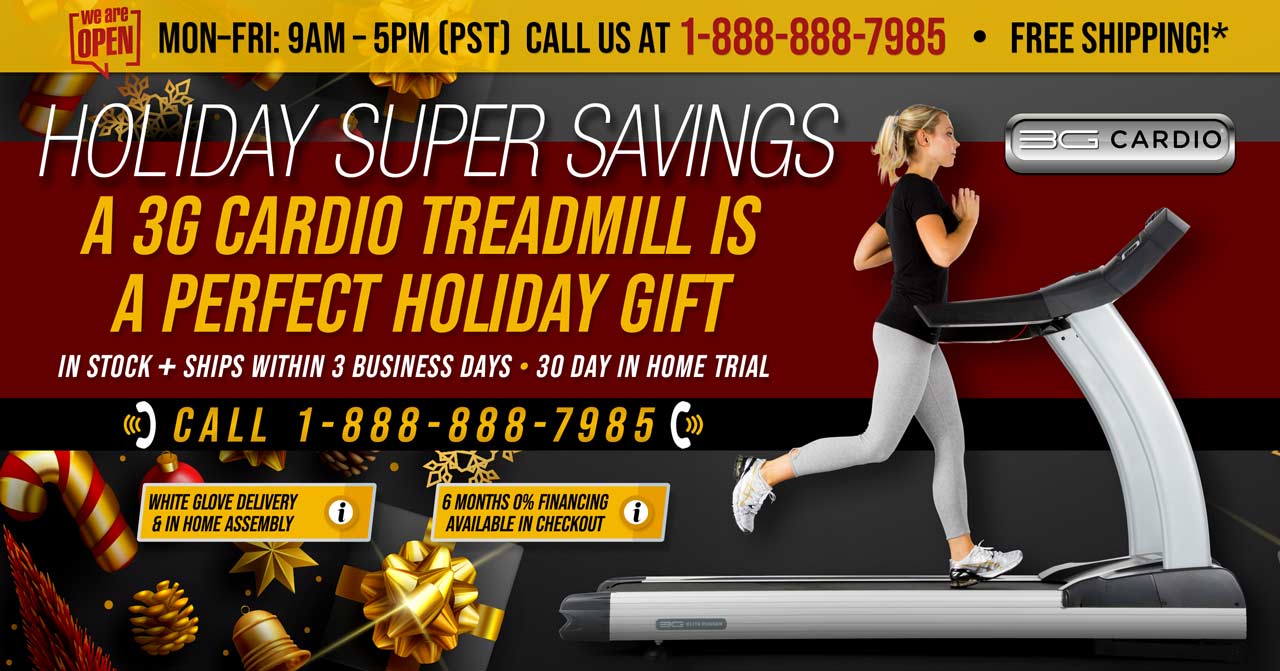 Looking for that perfect holiday present?
Look no further than the 3G Cardio Treadmill. It's a gift that will keep on giving, and your loved ones are sure to never forget it!
An award-winning 3G Cardio treadmill is a gift that will be cherished for many years. The giver can take comfort in knowing how much the recipient appreciates it – and that it didn't break the bank.
The 3G Cardio Elite Runner treadmill is a full-size, commercial quality machine that sells for thousands less than comparable models.
3G Cardio has won various Best Buy Awards every year for the last 10 years. Furthermore, Amazon.com levels 3G Cardio treadmills among some of the best that it sells–and that's saying something coming from such a large retailer.
3G Cardio treadmills are carried by retailers nationwide.
In today's society, it's more important than ever to stay fit and healthy. By investing in a 3G Cardio treadmill for your home, you're ensuring that you can work out whenever it fits into your schedule – whether that's first thing in the morning or late at night. Treadmills are one of the best ways to maintain cardiovascular fitness and health, and 3G Cardio treadmills are some of the best on the market in terms of performance and price.
Here some highlights of the 3G Cardio line of treadmills:
* Elite Runner (Best Treadmill under $4,000) — With a 22"x 62" running surface, the upgraded Ortho Flex Shock suspension, a 12mph max speed powered by the 4.0HP motor, and entertainment and programming options among many other features, the 3G Elite Runner is one of the best treadmills on the market.
* Pro Runner (Best Treadmill under $2,500) — The Pro Runner has a 20"x 58" folding running surface that features their upgraded Ortho Flex Shock suspension. The 3.0HP motor powers it to a 12mph max speed, and there are also entertainment, fitness testing and other programming options available. 3G Cardio Pro Runner is the perfect addition to any lifestyle. Its space-saving design makes it easy to store, and its durable construction can withstand even the most strenuous workouts. With a large treadmill belt and multiple programs, this treadmill has everything you need to reach your fitness goals.
* 80i Fold Flat (Best Treadmill under $2,000) — The 80i Fold Flat treadmill from 3G Cardio is a perfect example of the 3G Cardio's innovative approach to manufacturing. The 80i can fold upright into a vertical storage position (like most folding treadmills) as well as fold flat to the floor for storage under a bed, thanks to its ingenious dual action folding ability. With a 58" running surface, 11 mph max speed, 0 – 15 incline levels, audio inputs with built-in speakers and one of the best warranties in its categories, the 80i Fold Flat 3G Cardio is one of our favorite treadmills – at any price point.