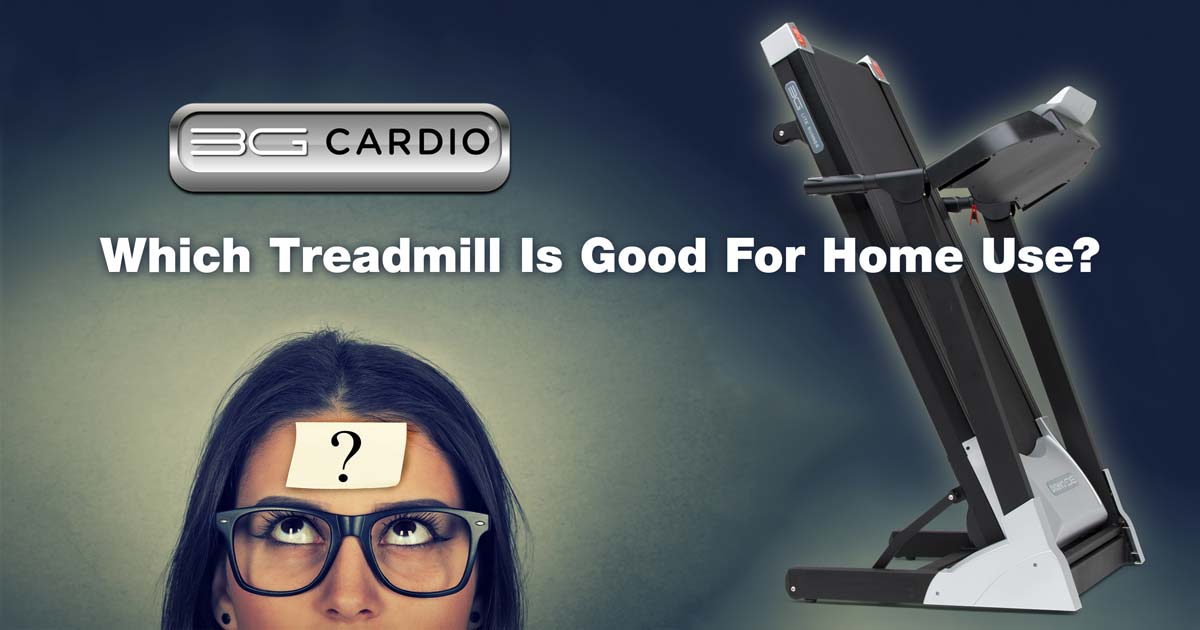 By AARON DORKSEN – 3G Cardio Fitness Editor
We've all heard the saying, "One size does not fit all."
That's more true than you might think when it comes to treadmills, which are the most popular machine choice for home gyms.
Many people would probably correctly surmise that someone training for a marathon needs a more powerful, sturdy treadmill than a user who will only walk on it.
However, some common assumptions about treadmills are way off base.
Because you enjoy running on a certain treadmill model at your commercial gym doesn't mean that would be the best choice to purchase for a home gym. Commercial treadmills are engineered for constant, hard use, while also carrying a high price tag.
Just like you wouldn't choose a dump truck to drive for pleasure, you'll get a better workout on a home treadmill by choosing a model that's designed for comfort and durability.
So which treadmill is best for home use?
The 3G Cardio Company based out of Phoenix, Ariz., has treadmills to fit every workout and space need, starting with the 3G Cardio Elite Runner Treadmill ($3,399) and continuing with the 3G Cardio Pro Runner Treadmill ($1,899), 3G Cardio 80i Fold Flat Treadmill ($1,799) and 3G Cardio Lite Runner Treadmill ($999).
Full Comparison Chart
The 3G Cardio lineup of treadmills, vibration training machines and exercise bikes has won a plethora of awards and garnered a long list of recommendations from respected reviewers.
WHAT THE EXPERTS ARE SAYING
Don't just take this fitness reporter's word about the quality of 3G Cardio equipment.  Here are some of the review comments regarding 3G Cardio products:
"Recommended Buy." — Top Consumer Reporting Magazine
"Head of the Class Best Buy Treadmill under $3,500." — FitProf.net
"Comfortable and reliable workout experience that is easy on the joints." — TreadmillReviews.net
"I was extremely impressed with 3G Cardio's customer service. This is a quality treadmill and 3G Cardio really stands behind what they sell." – amazon.com customer
"The 3G Cardio treadmill is the smoothest and quietest treadmill I have ever used." – amazon.com
"3G Cardio has the best fold up treadmills you'll ever find to run on." – AtHomeFitness.com
"The durability and stability of this elite model is well worth the money." — TreadmillReviews.Net.
Some of the online sites that have praised 3G Cardio products include Amazon.com, VibrationMachineReviews.com, VibrationPlateReview.com, FitProf.net and TreadmillReviews.net.
THE FIT PROF WEIGHS IN
"The Fit Prof" named the 3G Cardio Elite Runner Treadmill the "2018 Head of the Class Best Buy" winner for treadmills priced at $3,500 or under. It's the fifth straight year the Elite Runner brought home the award.
The veteran fitness reviewer said the 3G Cardio Elite Runner is "unquestionably one of the very best treadmills on the market when it comes to the 'nuts and bolts'."
"While many mid-to-high priced units are nothing more than lower grade treadmills with excessive programming and built-in 'entertainment' options, the 3G Elite is incredibly robust," The Fit Prof wrote in his review. "With one of the largest running surfaces available, walking and running feel comfortable and smooth at any speed thanks to the natural feeling ortho-flex shock absorption system and industrial strength 4.0HP motor."
3G Cardio was founded by two fitness industry veterans who have over 50 years of combined experience in the specialty fitness industry.
The Fit Prof said of the 3G Cardio owners, "They found themselves facing the challenge of larger brand name manufactures unable, or unwilling to quickly respond to market demand and-or remain loyal to their local retail distributors, and they decided to take their destiny into their own hands. They created a line of products that offered the durability, features, quality and value their customers demanded. They created 3G Cardio."
Among the top features of the 3G Cardio Elite Runner Treadmill are: 8 Pre-Set Programs, 2 Custom Programs, Gerkin / Cooper / BMI Fitness Tests, Contact + Wireless Heart Rate Monitoring, Speed Range of 5mph – 12mph, 22" x 62" running surface, Incline Range 0% – 15%, Unit Weight of 386 lbs.
"Add to those, one of the best warranties in the industry (lifetime on frame and motor, 10 years on parts and 2 years on labor),and it becomes very clear why the 3G Cardio Elite Runner treadmill is the 2018 FIT PROF Head of the Class BEST BUY Treadmill under $3,500 – for the fifth consecutive year time!" the Fit Prof wrote.
NOTE: Consult a doctor or certified fitness trainer before starting any new workout program to determine if it's right for your needs. This is especially true if you (or your family) have a history of high blood pressure or heart disease. If you experience faintness, dizziness, pain or shortness of breath at any time while exercising you should stop immediately.