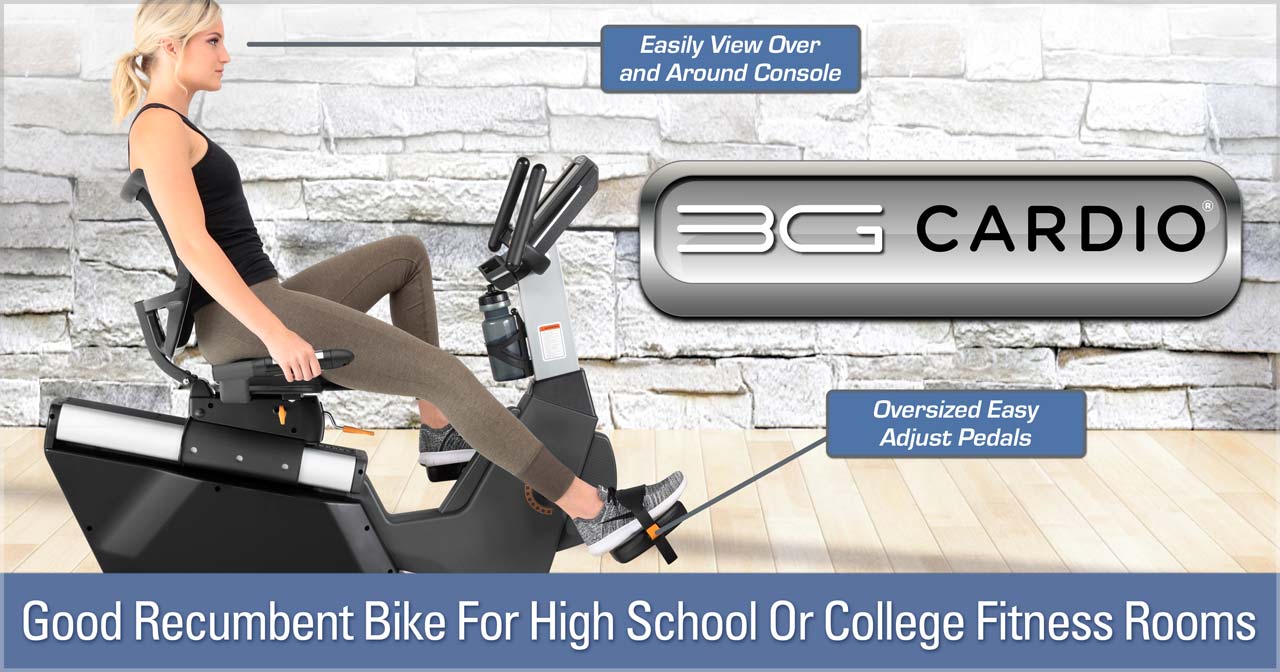 Watch our Elite RB Recumbent Bike Video:
The top-rated 3G Cardio Elite RB Recumbent Bike is a great choice for high school or college fitness centers.
The 3G Cardio Elite RB Recumbent Bike has all the features needed to be called a "Best Buy" recumbent bike and help your student-athletes improve their fitness levels.
It's a top-of-the-line bike to have in a commercial or home gym for every day, workouts. Recumbent bikes are known for helping people rehab after health setbacks, but are also great for people of just about any age for warmups or to get a good overall workout.
The Arizona-based 3G Cardio Company had its designers talk with physical therapists, trainers, coaches and athletes and the result is one of the best-designed recumbent bikes on the market.
Among some of the many highlights of the 3G Cardio Elite RB Recumbent Bike:
*Small and compact!  49" Length / 27" Width so it won't take up a lot of room in your gym
*Motorized design and belt drive make for a smooth and quiet experience
*There are 16 resistance levels
*There are 4 unique user profile options and 16 different workout programs
*Seat is adjustable 4-ways and can have the angle moved around too. This is a great feature in gyms where athletes of many different heights and weights will use it
*The seat frame slide adjustment makes it possible to accommodate user heights between 5-foot and 6-4, weighing up to 350 pounds
*Low height electronics display so you can easily view over and around the console
*Low height step thru center frame for easy access
*Narrow Q Factor distance between pedals making for an extremely ergonomically correct ride
*Easy lift rear handle / front transport wheels for easy movement of the bike. This is very helpful for moving to clean a gym, or re-position equipment.
*Hand-held heart rate contact sensors and included wireless Heart Rate strap
*Remote handle electronic buttons for easy programming
*Easily reach your water bottle during workouts
*Digital large format electronics display for easy viewing
*Simple dial control to easily set your desired programs
*Residential warranty: lifetime frame, 7 years parts, 1 year in-home labor
*Commercial warranty: 3 years parts, 1 year labor
Fitness reviewers and thousands of satisfied customers have called the 3G Cardio RB Recumbent Bike "the most comfortable recumbent bike ever," or words to that effect.
The bike is rated 5 out of 5 stars on amazon.com and has won numerous "Best Buy Awards."
"Comfort is King" thanks to the 3-way, adjustable mesh back seat rest and ultra-comfortable seat pad.
In addition to the three-way multi-position adjustable seat, there are 25 Up/Down height positions and five seat-tilt positions.
The seat curves to adjust to the contour of a user's back, while offering just the right amount of stability and cushioning.
It's extremely easy to adjust the seat to your desired position.  The Infinite Airflow Mesh Flex adjustable back rest reclining feature is easily adjusted to a comfortable position during your workout.
If you're looking for a top quality recumbent bike for your high school or college fitness room, look no further than the 3G Cardio Elite RB Recumbent Bike.
Watch our Elite RB Recumbent Bike Video:
Elite RB comes with light commercial warranty