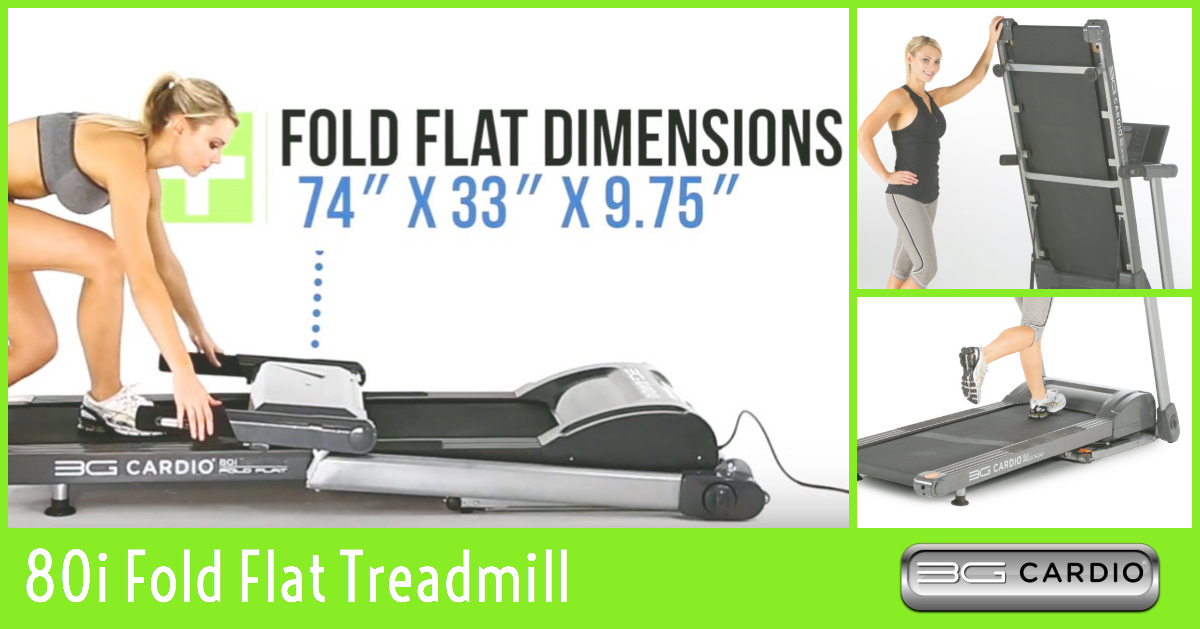 Updated 8/7/18 – There's virtually no reason you can't walk when you want to with the 3G Cardio 80i Fold Flat Treadmill.
People who previously thought their house, apartment, garage or even RV camper was too small to have a treadmill should think again thanks to the 3G Cardio 80i Fold Flat Treadmill.
It's the only treadmill that can fold both flat and vertically and its 3.0 hertz motor is the biggest among fold flat treadmills. This ingenious treadmill opens up into a 74″x33″x49″ machine, with plenty of room to get a good run or walk in.
However, when you're done it can fold flat or vertically to just 9.75 inches and can easily be stored flat under a bed or vertically in a closet.
Walking is one of the best and most natural forms of exercise there is. It helps you burn off extra calories and get a light to moderate aerobic workout. Only 30 minutes of walking three times a week can give you a good level of cardiovascular fitness.
Walking can help you realize improved health. Numerous studies have shown that walking regularly can lower risk factors for things like high blood pressure and high cholesterol.
It's also an excellent stress reliever and can help strengthen and tone muscles and lose weight.
The award-winning 3G Cardio 80i Fold Flat Treadmill has the strongest motor among fold flat treadmills and is also excellent for runners.
To make a workout go by faster, many people enjoy the 3G Cardio 80i Fold Flat Treadmill's preprogrammed workouts, built-in speakers and audio iPhone/MP3 connections.
The 3G Cardio 80i Fold Flat Treadmill makes walking easier, and more fun to do, than ever. Get on board today. The 3G Cardio 80i Fold Flat Treadmill is well worth its MSRP of just $2,099.
For more information compare the dimensions and specs of the 3G Cardio 80i Fold Flat Treadmill at www.foldflattreadmill.com and you'll see that it brings high-end quality and sturdiness into what's often considered an economy class of treadmills.