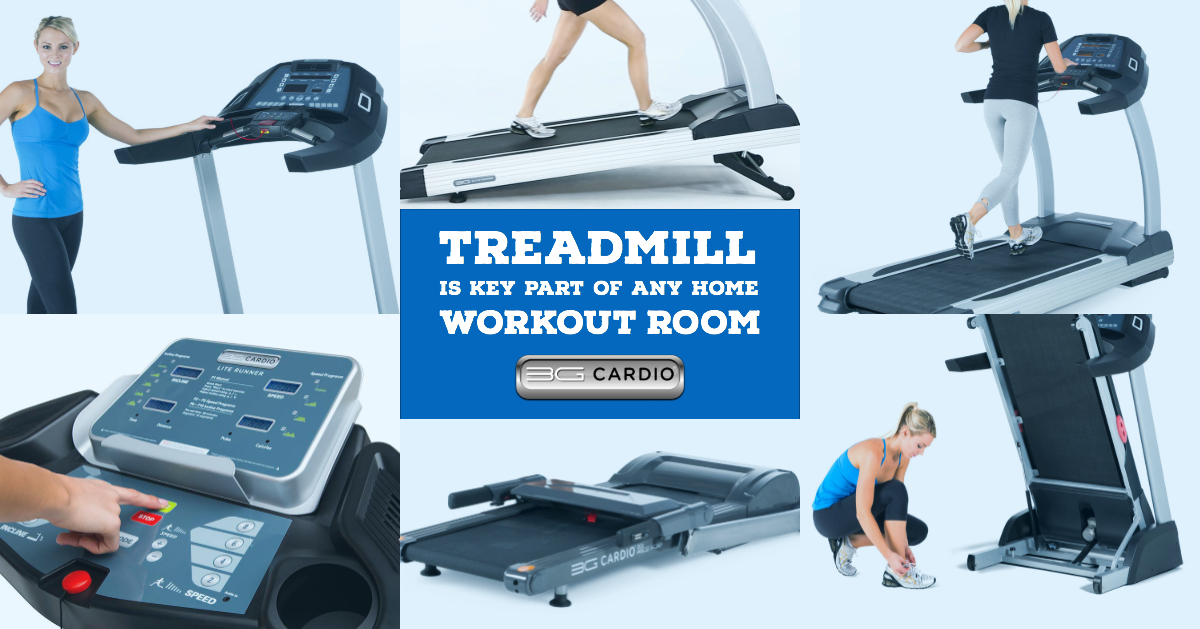 26 Jul

Treadmill is key part of any home workout room

By AARON DORKSEN – 3G Cardio Fitness Editor
Many people probably don't realize that they have enough space for a workout room in their home or even apartment.
"The bottom line is that you can use whatever space you can find in your house," said Bryan Dorksen, co-owner of the At Home Fitness chain in Arizona, to azcentral.com. "If you're thinking about dedicating a room to fitness, most of us have only about a 10-by-10 or 10-by-12 area to work with."
At first glance, a 10-by-10 room may seem way too small to put in a workout room, but think again.
Treadmills come in all different sizes and you could also add workout mats, kettle bells or free weights, or a TV — suddenly you have your own personal improvement room.
A spare bedroom, oversized master bathroom, or garage may be just the spot to set up your workout room.
Of course, in addition to space many people will understandably have money concerns when it comes to transforming a room in their home into a personal gym.
However, the investment will pay major dividends.
Not only is a home gym a great way to improve your health, but it can also add re-sale value to your home. Setting up a home gym can also be a lot cheaper in the long run than paying a flat monthly fee at a commercial gym.
A basic renovation of a small existing bedroom, including flooring, two machines and repainting, will cost a person about $4,000 if you do some of the work yourself, azcentral.com estimated.
Of course, adding fancy extras like mirrors, tiling, a speaker system, wet bar, etc. will drive up the price.
Rubber floor padding is recommended to protect the floor, equipment and also cut down on noise.
Install rubber floor mats so that equipment won't wear through tile or hardwood flooring. Other types of sturdy flooring can work, but it's recommended to use squares of whatever material you select so that damaged areas easily be replaced.
If you're unsure what kind of wiring is in the area you plan to set up a workout room, talk to an electrician to make sure a treadmill or elliptical machine can be plugged in.
WHY BUY A TREADMILL?
Treadmills are the most popular home gym equipment. According to numerous sources, 60 million people own a treadmill.
Walking is the most natural form of exercise and can benefit people of all ages. Regular walking burns calories and tones muscles. Running can obviously allow a person to work the body harder in a shorter amount of time than walking.
If you have a treadmill in your home gym, it allows for great versatility. You can vastly change the speeds, incline or decline and easily get intervals in. You can walk, jog or sprint. Treadmills can benefit anyone from a rehab patient to an elite athlete trying to push themselves in high-impact running.
If you own a treadmill you can decide where, when and how you want to work out. Set up the treadmill in front of a TV and watch your favorite show, place a book or magazine on its rack or play the home stereo while you walk or run.
Treadmills are safer than running outdoors because you don't have to worry about stepping in a hole outside, inclement weather, etc.
3G Cardio treadmills are one of the highest ranked brands of machines on the market.
BONUS TIPS
Here are five bonus tips I'd advise people to consider before setting up a workout room. Some of these ideas you might think of on your own, while others might help spark some new ideas:
LIGHT IT UP
Try to pick a room with as much light and airflow as possible. A room with windows and a door that allow natural light to come in is ideal.
If getting natural light into the room isn't an option, make sure to add ample electric light sources.
POWER PLANTS
Adding some plants will literally add some energy as they'll boost the oxygen level in the room.
Bamboo palms, ferns, rubber plants and Golden Pothos are some of the most popular indoor air purifiers, according to goodhousekeeping.com.
CLEAR THE CLUTTER
Get rid of clutter such as gizmos, papers, gadgets or other items that will distract you from focusing on your workout.
The one item recommended to keep is a TV and DVD player if those help you pass the time while exercising on the treadmill. Just make sure to set up your TV at the proper height.
ACCESORIZE
In addition to the aforementioned rubber mats, mirrors are a good way to improve the workout environment.
They're a great way to watch your form and can also make the room look bigger and brighter.
Foam rollers are another great accessory I'd highly recommend for massaging and stretching muscles.
SLOW AND STEADY WINS THE RACE
Any trainer will tell you consistency is the key to a successful workout regimen. Rather than have a few marathon training sessions and then taking a lot of time off, it's better to exercise on as many days as possible. Five days for 30 minutes or more a week is a great goal.
Building the exercise room up slowly is OK, too!
Start with the most useful, important pieces to you and build over time.
The best home exercise rooms – no matter what the shape or size – are ones that are used regularly.