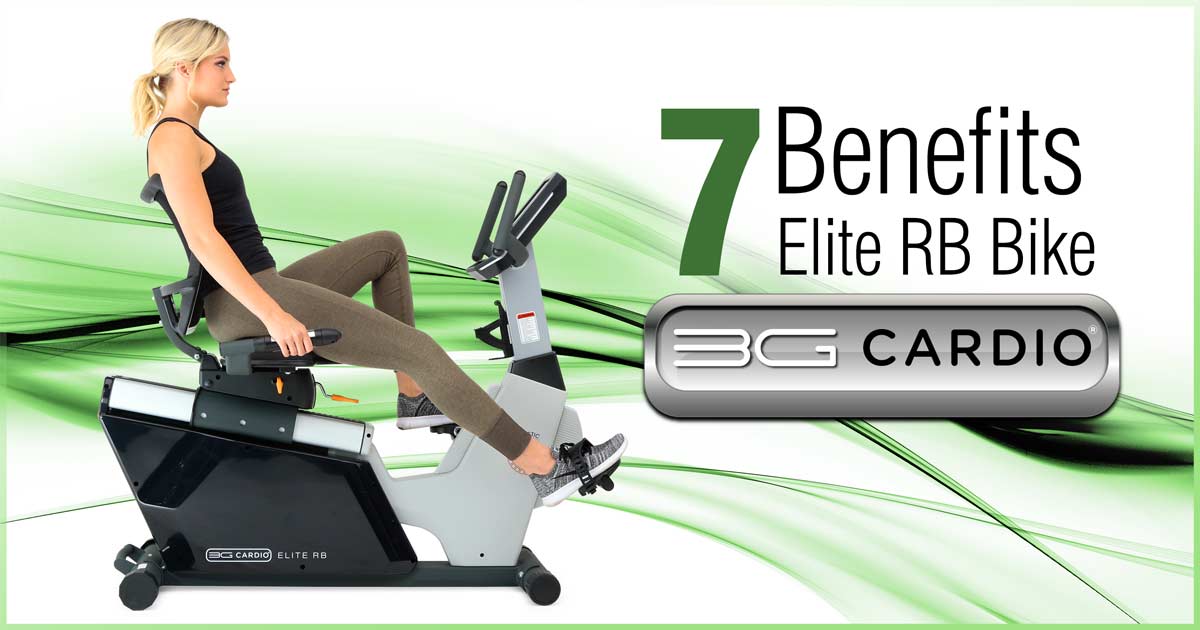 31 Aug

Seven benefits of using a 3G Cardio Elite RB Recumbent Bike
3G Cardio Elite RB Recumbent Bike
Recumbent bikes provide one of the most comfortable ways possible to stay fit. They are great for burning fat and calories, while also improving aerobic fitness.
The biggest difference between recumbent bikes and other types of exercise bikes is the bucket-type seat that's positioned lower to the ground.
The 3G Cardio Elite RB Recumbent Bike (MSRP $1,799) offers the best combination of comfort, performance and value on the market. It was called by one reviewer, "the most comfortable recumbent bike ever built."
It's a small and compact bike with an assembled size of 49 inches length x 27" width and a height of 43", but it's also extremely sturdy and durable with a 3-way adjustable mesh back seat rest.
The unit weight is 137 pounds and it will support a user weighing up to 350 pounds.
Here are seven benefits of using a 3G Cardio Elite RB Recumbent Bike:
Lower Back Support – Because of the low bucket seat, recumbent bikes are easier on the lower back. An upright exercise bike positions the user over the handle bars, but a recumbent bike allows for better spinal posture. One of the features that people love most about the 3G Cardio Elite RB Recumbent Bike is the Q factor pedal spacing, which can accommodate users of all sizes. It makes it easier to step on and off.
Joint protection – With the lower back supported by the bucket seat, the knees and ankles are also better protected from impact. It's impossible for someone to stand on the pedals on a recumbent bike, which lowers the impact on your knees and ankles.
Bigger Seat – The bigger, 3-way multi-position 3G Cardio seat offers a lot more comfort than upright exercise bikes that have tiny seats, or even some other recumbent bikes, which can be especially uncomfortable for people who have chronic pain issues or are overweight. The bucket seat of the recumbent bike allows you to be seated in comfort while you burn off the fat.
Benefits all fitness levels – Whether someone is an elite cyclist, or hasn't been to a gym for years, a recumbent bike can benefit all fitness levels. Extreme;y fit people can exercise with the 3G Cardio bike using challenging programs built into the bike. while novices or people in less than desirable health can opt for easier programs until their fitness starts to improve.
Workout variations – A recumbent stationary bike allows users to add upper body weights to their routine if they desire to increase their exercise.
Multi-task – The bucket seat of the 3G Cardio recumbent bike allows users to have their hands free. This allows someone to read a book or their iPad, text friends, or watch TV or a movie.
Safety – Recumbent exercise bikes are safer because they are lower to the ground and result in less impact on the knees and lower back.
NOTE – There are many advantages to using a 3G Cardio Recumbent Bike, but users should consult with their physician before starting a new exercise program.