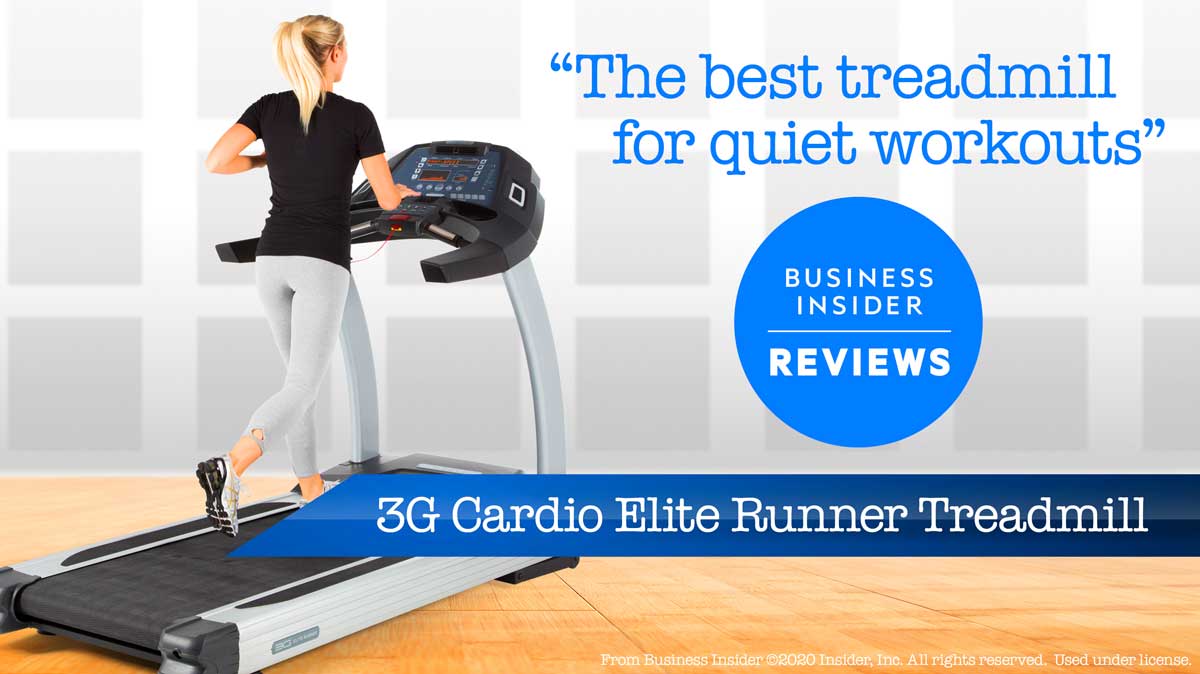 If you're looking for a sturdy, reliable treadmill that doesn't make a lot of noise, businessInsider.com recommends the 3G Cardio Elite Runner Treadmill.
"Few treadmills made for use at home will deliver the kind of quiet performance that the 3G Cardio Elite Runner Treadmill delivers," businessinsider.com reported.  "It's made for tall or heavy runners looking for a tough workout."
When buying a treadmill, you truly get what you pay for. If you buy a Big Box store "bargain" machine, don't expect a steady platform for running. And, you'd better check the warranty because that initial great deal won't seem so good if it breaks down after a year or two.
The 3G Cardio Elite Runner Treadmill is near the mid-point for pricing on treadmills with an MSRP of $3,999 (check 3GCardio.com for sales), but that's a great value considering the quality engineering and parts.
"The 3G Cardio treadmill has a 4.0 horsepower motor and 3-inch rollers for great performance," businessinsider.com stated. "Treadmill Reviews says the strong motor and the sturdy design of the treadmill ensure that it runs quietly, which is a blessing in a home gym.
"As you would expect with a treadmill with such a high price point, the 3G Cardio Elite consists of thick steel tubing in the frame. In its review, Best Fitness Equipment says both are key in providing longevity and good performance. If something should go wrong, 3G Cardio offers a 10-year parts warranty and two years of in-home repairs."
The 3G Cardio Elite Runner Treadmill has earned numerous Best Buy awards for treadmills priced under $3,500 by The Fit Prof.
The scouting report on the Elite Runner is highlighted by an upgraded commercial Ortho Flex Shock suspension system that supports an oversized 22 x 62 inch running platform. There are plenty of horses under the hood! A club-rated 4.0 HP motor powers a unit that weighs 386 pounds.
3G Cardio keeps the price reasonable by investing in the performance of the treadmill, but not going overboard on fancy electronics like other companies. The console is still fully capable for users to get a great workout and you can easily upgrade it by plugging in your iPad or other electronic devices.
This treadmill is perfect for people who want to run in their home gym. If you're looking for the best treadmill for a hotel, motel, resort, etc., the 3G Cardio Elite Runner Treadmill is also a great fit for commercial use.
"One Amazon buyer speaks for many, saying that the 3G Cardio Elite Runner Treadmill compares favorably to the types of high-quality treadmills found in professional gyms," businessinsider.com reported. "The only big downside is how big and heavy it is at 400 pounds. It's also rather expensive, so this is really only for serious runners who want a treadmill that will last a lifetime."
3G Cardio Elite Runner specs:
8 Pre-Set Programs
2 Custom Programs
Gerkin, Cooper, BMI Fitness Tests
Contact + Wireless Heart Rate Monitoring
Speed Range of 5mph – 12mph
22" x 62" running surface
Incline Range 0% – 15%
Unit Weight of 386 lbs.