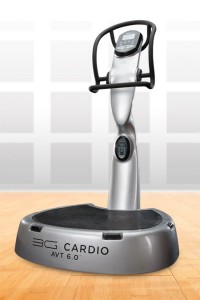 This Christmas, give the gift of Accelerated Vibration Training to someone you love.
Accelerated Vibration Training (AVT), also known as Whole Body Vibration Training (WBV), has been found in studies to help people with all of the following: Circulation, Immune system, Cardiovascular system, Muscle tone, Overall strength, Flexibility, Exercise recovery, Balance, Bone density, Mood, Pain management and Massage therapy.
How can one machine help with such a wide variety of health benefits?
Here's how accelerated vibration training works on the award-winning 3G Cardio 3.0, 5.0 and 6.0 AVT Machines:
AVT enables people of all ages and physical abilities to come closer than ever to maximizing the potential of their bodies. The machine uses an up-and-down motion to accelerate training. It allows safe exercise with a greatly increased external load compared to traditional methods.
One of the common myths is that a person just stands on a vibration plate and gets a workout. That is not true.
It does take effort to reap the benefits of vibration training, but the time requirements and injury risks are much more minimal compared to traditional strength training with free weights or machines. And the gains are much, much greater. Everyone from professional and Olympic athletes, to the couple next door, to senior citizens have enjoyed the benefits of AVT.
The person training on a vibration plate should assume and hold common positions, such as a dumbbell curl, squat, pushup or calf raise. The vibrations will cause the engaged muscles to reflexively contract. Here's the best part – whereas a normal dumbbell curl may only activate about 20-50 percent of the biceps, the acceleration trainer will allow a person to keep going and engage up to 99 percent of the muscle group. Fast-twitch and stabilizing muscles are more engaged, and become more strengthened in the process.
The 3G Cardio AVT 3.0, 5.0 and 6.0 Vibration Machines have all earned "Best Buy" awards from three major independent review sites: www.vibration-machine-reviews.com, www.vibrationplatereview.com and the Fitness Professor.
The 3G Cardio 3.0 AVT Machine ($2,499 MSRP) is smaller and less expensive than the best-buy award winning 3G Cardio AVT 5.0 ($3,999 MSRP) and 6.0 Vibration Machines ($4,999), but the 3.0 AVT still delivers high-end quality and power and great value compared to similar models.