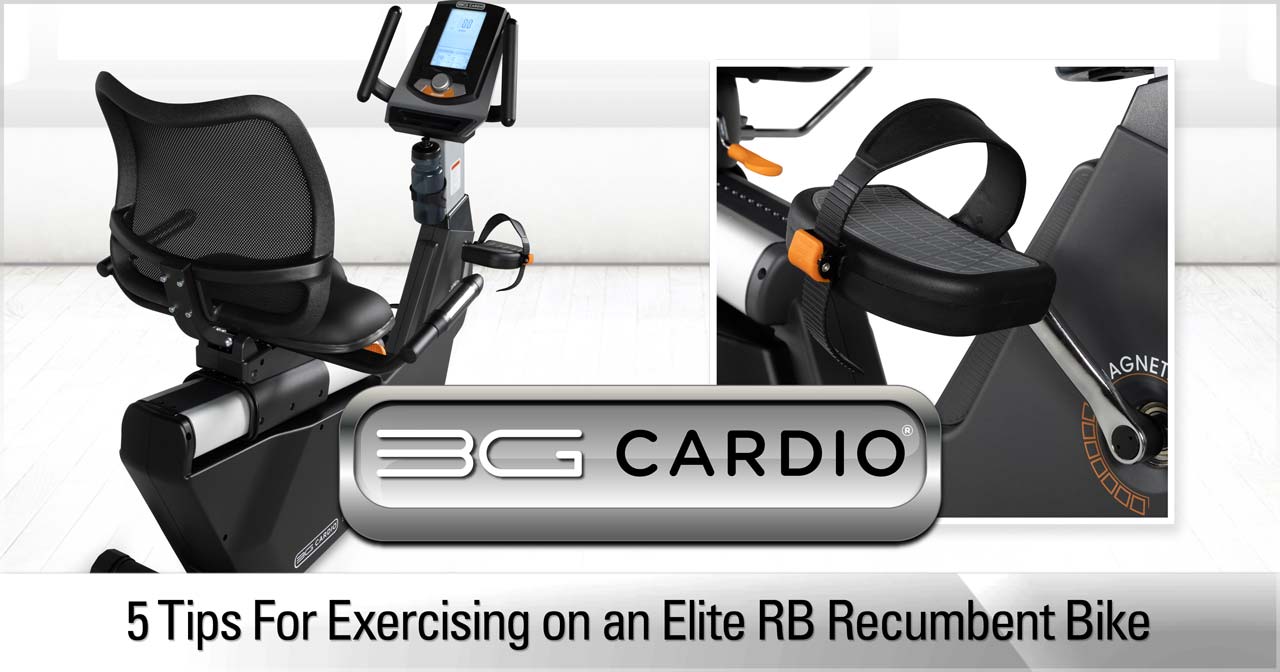 14 Oct

Five tips for exercising on a 3G Cardio Elite RB Recumbent Bike
Watch our Elite RB Recumbent Bike Video:
If you've researched the differences between a recumbent bike and upright exercise bike and decided on a recumbent bike, your next step is figuring out how to use it.
Or, maybe a doctor or trainer has recommended you get a recumbent bike.
Whatever the reason is you decided to get a recumbent bike, congratulations on making a great choice.
I highly recommend the award-winning 3G Cardio Elite RB Recumbent Bike. I'm here today to give you some ideas on how to use it.
1) ADJUST THE SEAT
In order to get a good workout, first set the seat up properly.
"Comfort is King" with a 3-way, adjustable mesh back seat rest and ultra-comfortable seat pad on the 3G Cardio Recumbent Bike.
The seat curves to adjust to the contour of a user's back, while offering just the right amount of stability and cushioning.
It's extremely easy to adjust the seat to your desired position. The seat frame tilt adjustment allow users to easily customize their body angle and position and frame slide adjustment lets you set for your height.
The Infinite Airflow Mesh Flex adjustable back rest reclining feature is easily adjusted to a comfortable position during your workout.
COMFORTABLE SEAT
The 3G Cardio Elite RB Recumbent Bike has one of the most comfortable exercise bike seats on the market.
2) WARM UP
I recommend some simple dynamic stretches before doing a workout on the recumbent bike. Spend a few minutes doing exercises such as a brisk walk, lunges, toe touches, leg swings or jumping jacks.
You can use the recumbent bike as a warmup to do other things by riding it lightly, just don't ride it full speed without warming up.
Once you're on the 3G Recumbent bike, start slow before ramping up.
3FIND THE RIGHT RESISTANCE – The 3G Cardio bike has 16 different magnetic resistance levels, 12 built-in programs, three-heart rate programs and four user profile settings to set up your workout.
4) TRY INTERVAL TRAINING
Pedal fast for a set amount of time, slow it down and then speed up again.
Interval training is a proven way to maximize your workout and get the most benefits.
5) FIND SOME ENTERTAINMENT
I enjoy my workouts more if I add some entertainment. Music, watching sports, the news or a movie on TV help it go faster.
Reading a magazine or book also works. I used to write for a newspaper, but not many people seem to buy those anymore so I'll leave that suggestion out.
Whatever you choose, do it in comfort on a 3G Cardio RB Recumbent Bike and have fun. 3G Cardio has won countless accolades for its treadmills and vibration training machines and the exercise bikes are also key parts of the Arizona based company's All-Star lineup.
Always remember to check with a doctor before starting a new workout and stop if you feel lightheaded or dizzy.
Watch our Elite RB Recumbent Bike Video:
Elite RB comes with light commercial warranty