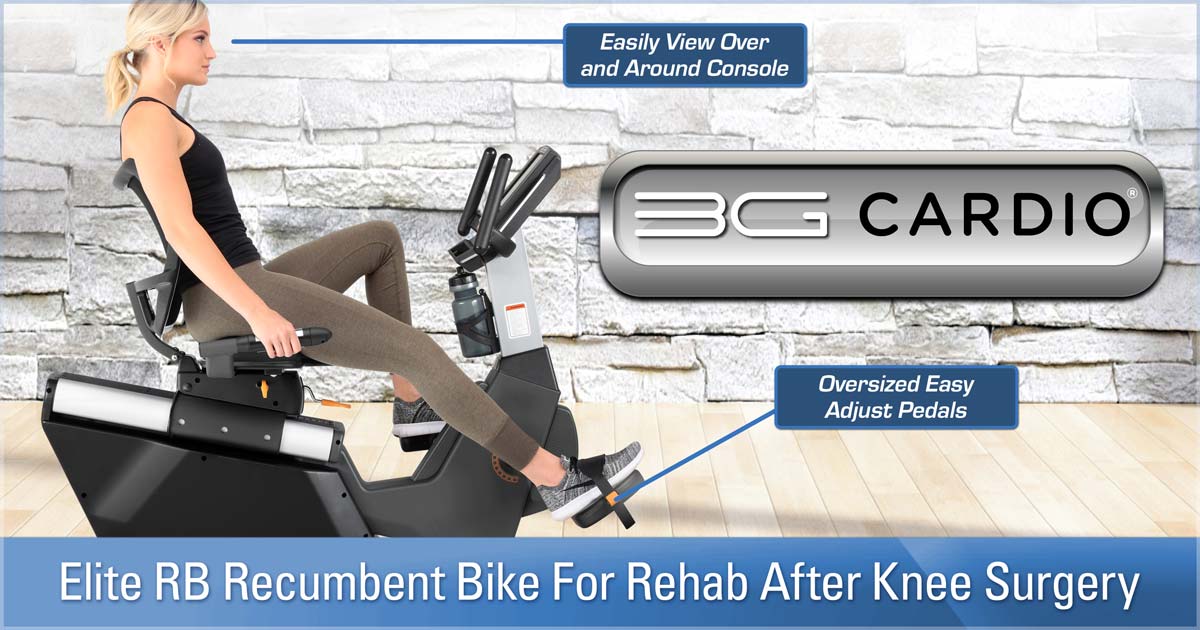 Watch our Elite RB Recumbent Bike Video:
Elite RB Recumbent Bike recommended for rehab after knee surgery or replacement
Medical centers and rehabilitation clinics across the U.S. and beyond have recumbent bikes in their inventory, as they are integral for a variety of recovery programs – from post-knee procedure to knee replacement operations.
Not only do these stationary cycles offer comfort during your physical therapy session, but also provide an effective set of exercises that promote wellness and healing.
The 3G Cardio Elite RB Recumbent Bike is the perfect choice for knee rehabilitation, as well as a great addition to any commercial or home gym.
Not only does this product offer a great workout but it also has superior quality and lasting durability, making it perfect for daily use.
Thousands of satisfied customers have praised the 3G Cardio RB Recumbent Bike with great reviews, calling it "the most comfortable recumbent bike ever."
Rated 4.5 out of 5 stars on Amazon and available at an unbelievable MSRP price tag (check www.3GCardio.com for special pricing!), this bike is a must-have if you're looking to get in shape!
If you're looking for the best way to recover after knee surgery or replacement, then look no further than the 3G Cardio Elite RB Recumbent Bike.
COMFORTABLE SEAT
The 3G Cardio Elite RB Recumbent Bike has one of the most comfortable exercise bike seats on the market.
STURDY FRAME FOR GETTING ON AND OFF
When planning for exercise and comfort, 3G Cardio has engineered recumbent bikes with maximum user support in mind. With an adjustable seat frame that fits people between 5-foot to 6-4 and a weight capacity of up to 350 pounds, the bike offers convenience for all users. Enjoy exercising without any stress on your joints as you experience a smooth ride every time!
Crafted with superior construction, this bike is supported by a lifetime frame and seven-year parts warranty. Its unique narrow Q factor distance between pedals offers an ergonomic and pleasurable ride that can't be replicated! Additionally, its low-profile engineering makes it incredibly easy to get on and off the bike – no more struggling when you need a break from pedaling!
COMFORT IS KING
Feel your worries melt away while you achieve a healthy heart rate with the 3G Cardio Elite RB Recumbent Bike! The bike features 25 height positions and five tilt settings, plus an adjustable mesh back rest and ultra-comfortable seat pad that will keep you comfortable during workouts. This is comfort at its finest – no more discomfort or aches after working out! Now it's time to experience King Comfort for yourself.
If you're looking for a seat that offers exceptional comfort and support, look no further than this ergonomic chair! Featuring an adjustable Infinite Airflow Mesh Flex feature, it can be quickly adjusted to your desired position. Whether upstanding for invigorating workouts or reclined for rest periods between sets – the contoured cushioning provides optimal support as you comfortably exercise or relax.
If you just had knee surgery, it is recommended that you push your seat away from the pedals to guarantee a full rotation. As flexibility and range of motion improve over time, progress towards bringing the seat closer until reaching an entire revolution. The adjustable sliding frame makes this practice ideal for any user ranging in height from 5-foot up to 6-4! In addition, some folks find that pedaling backward can be easier than forward before they manage to reach complete turnover.
After making super easy adjustments, the narrow Q factor distance between pedals will help provide an extremely ergonomically, comfortable ride.
EASY TO USE CONTROLS
Whether you have a specific fitness goal in mind or simply want to stay on track, this program provides both personalized and 12 pre-programmed workouts. Additionally, the electronic display facilitates your journey by tracking essential metrics such as speed, time, distance covered and calories burned. For even more accurate results regarding pulse rate, hand-held heart rate contact sensors are included along with a wireless Heart Rate strap!.
SPACE SAVER
The 3G Cardio Elite RB Recumbent Bike is extremely well built and with a small compact overall length of 49 inches, it will fit into spaces other bikes won't.
Easy roll transport wheels and a smaller, easy to see over upper console will make working out a breeze!
And, you can easily store the bike somewhere else when done if you desire.
The Elite RB Bike will feel make you like you brought the health club home.
Watch our Elite RB Recumbent Bike Video:
Elite RB comes with light commercial warranty