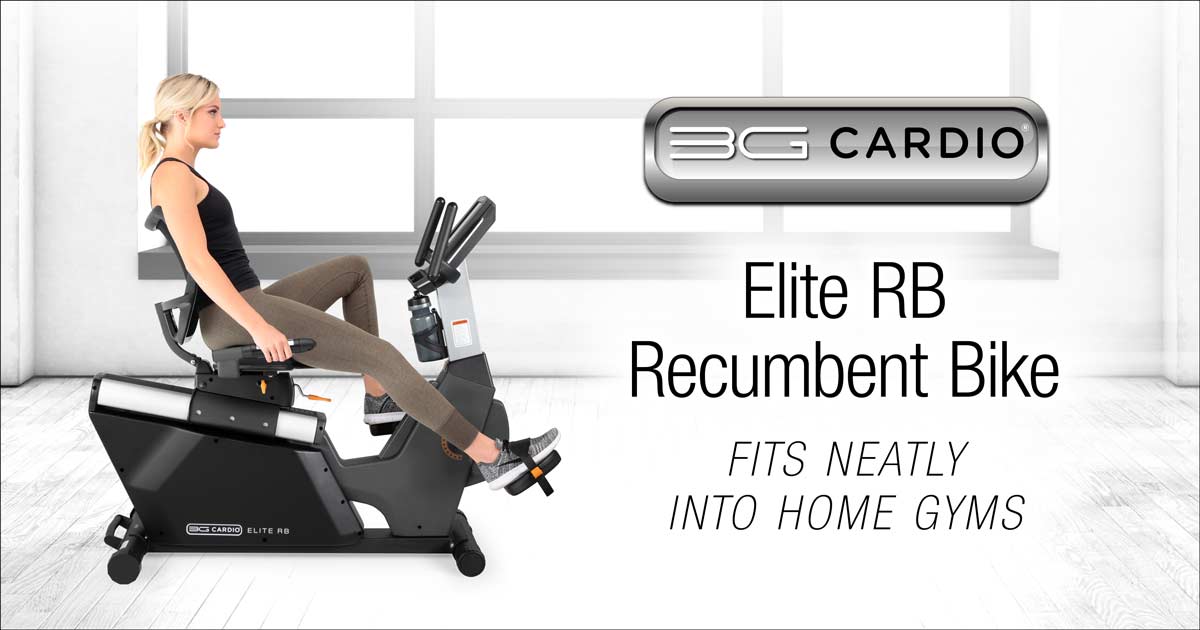 Watch our Elite RB Recumbent Bike Video:

Elite RB Recumbent Bike has small footprint
The 3G Cardio Elite RB Recumbent Bike delivers a big performance, yet can fit into even small home gyms.
How's that possible?
3G Cardio designers have used top quality parts to build an exercise bike that comes with a light commercial warranty and one of the best home warranties on the market, yet has an assembled size of just 49" (length) x 27" (width) x 43" (height).
The 3G Cardio Elite RB Recumbent Bike is sturdy, comfortable and space friendly. It's used in commercial gyms and home gyms alike.
Extremely well built with a small, compact overall length of 49 inches, the Elite Recumbent Bike will fit into spaces most other bikes won't.  It comes equipped with easy roll transport wheels and can easily be stored somewhere else when done.
With a user weight capacity of 350 lbs. and a 7-year parts warranty, the Elite RB Bike will feel like you brought the health club home.
The big reason for such a sturdy bike coming in a small package is the 3G Cardio patented Q Factor design.
Q Factor means the 3G Cardio fly wheel is under the seat and the pedals are ergonomically spaced. That unique design enables the width between the pedals to be narrower than other bikes on the market and it helps provide much better comfort.
Most recumbent bikes have the fly wheel under the pedals, which requires a wider space.
The RB Elite bike can accommodate users of nearly all sizes, ranging from 5-foot tall to 6-4. Because of the compact, low-profile engineering, users can easily step through to get on or off the bike. It's also more comfortable to pedal and easy to see over the console if you want to watch a television screen or simply enjoy the scenery.
The 3G Cardio Elite RB Recumbent Bike is a small and compact bike, but it's also extremely sturdy and durable with a 3-way adjustable mesh back seat rest and super comfortable seat pad. Light commercial personal training gyms, hotel or motel workout rooms or home owner's association fitness centers are some of the most common commercial homes for the 3G Elite Recumbent Bike.
3G Cardio has won countless accolades for its treadmills and vibration training machines and the exercise bikes are also key parts of the Arizona based company's All-Star lineup.
Watch our Elite RB Recumbent Bike Video:

Elite RB Recumbent Bike has small footprint