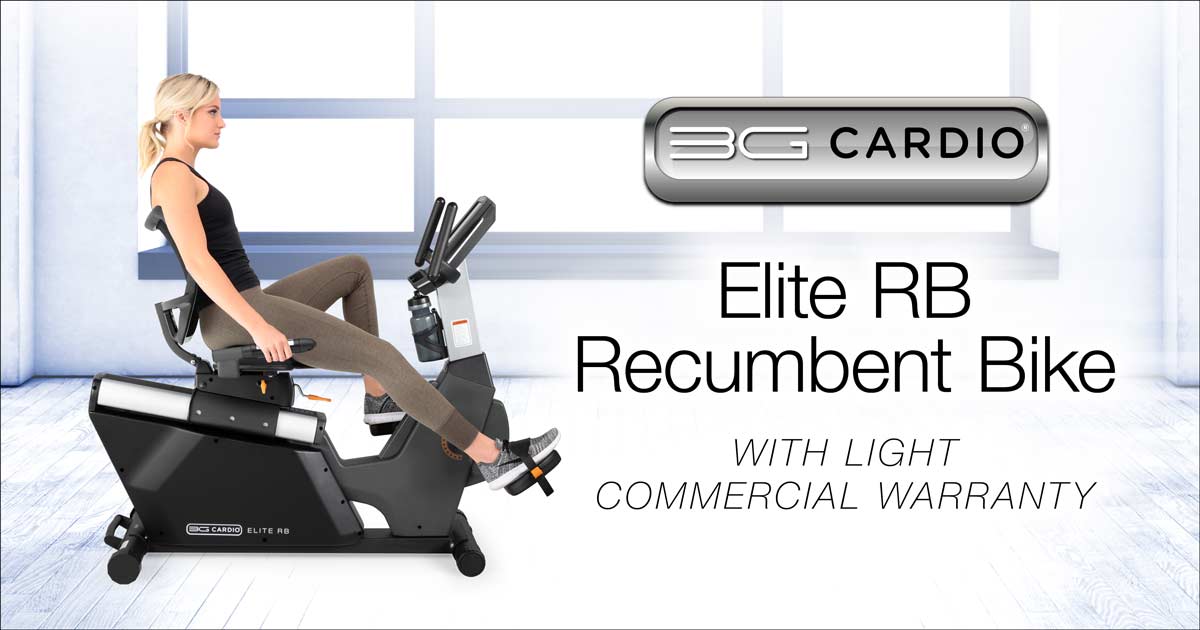 Watch our Elite RB Recumbent Bike Video:
Elite RB Comes With Light Commercial Warranty
The 3G Cardio Elite RB Recumbent Bike is a great choice for a small commercial gym or personal home gym.
https://www.3gcardio.com/shop/elite-rb-recumbent-bike/
This award-winning recumbent bike delivers commercial durability and performance at a price that can fit into a personal budget.
3G Cardio stands behind its product with one of the best warranties on the market at its price point:
*Residential Warranty – Lifetime Frame, seven years, one year in-home labor
*Commercial Warranty – three years parts, one year labor
 "Comfort is King" with the 3G Cardio Elite RB Recumbent Bike!
Most recumbent bikes have the fly wheel under the pedals, which requires a wide space. However, the 3G Recumbent Bike's Q-Factor spacing has the fly wheel under the seat, so the width between the pedals is narrower and provides better comfort.
"Big" Mike Sullivan, who's been a longtime sales associate at Arizona's leading company for specialty fitness equipment, said the 3G Cardio Recumbent Bike is At Home Fitness' top selling recumbent bike. And it's the best-seller by a wide margin.
"The 3G Cardio recumbent bike has been called the most comfortable recumbent bike ever and it also comes at a great price," said Sullivan, during a YouTube review of the 3G Cardio Recumbent Bike. "It's a great exercise bike."
The 3G Cardio Recumbent Bike is small and compact with an assembled size of 49 inches length x 27" width and a height of 43", but it's also extremely sturdy and durable. The unit weight is 115 pounds and it will support a user weighing up to 350 pounds.
There's a custom program option as well as 12 pre-programmed workouts to help reach your goals.
The electronic display will keep track of speed and additional target goals such as time, distance, calories and pulse.
The Elite RB Recumbent Bike will fit into spaces other bikes won't. Easy roll transport wheels and a smaller, easy to see over upper console will make working out a breeze!
Having easy to use electronics will make exercising on the 3G Elite RB fun to do.
3G Cardio has won countless accolades for its treadmills and vibration training machines and the exercise bikes are the newest additions to the Arizona based company's All-Star lineup.
Because the electronics are positioned low enough, users can easily see out over them and into the room to view a TV monitor or simply enjoy the scenery.
Sometimes people associate a recumbent bike with rehab patients or senior citizens, but Sullivan said that people of all ages can benefit from a recumbent bike.
"Recumbent bikes are typically used for people who are nursing ailments, but you can also get a killer workout on them as well," said Sullivan, who works out of the At Home Fitness-Gilbert store located at 2810 S. Market St. Gilbert, Arizona.
Watch our Elite RB Recumbent Bike Video:
Elite RB comes with light commercial warranty