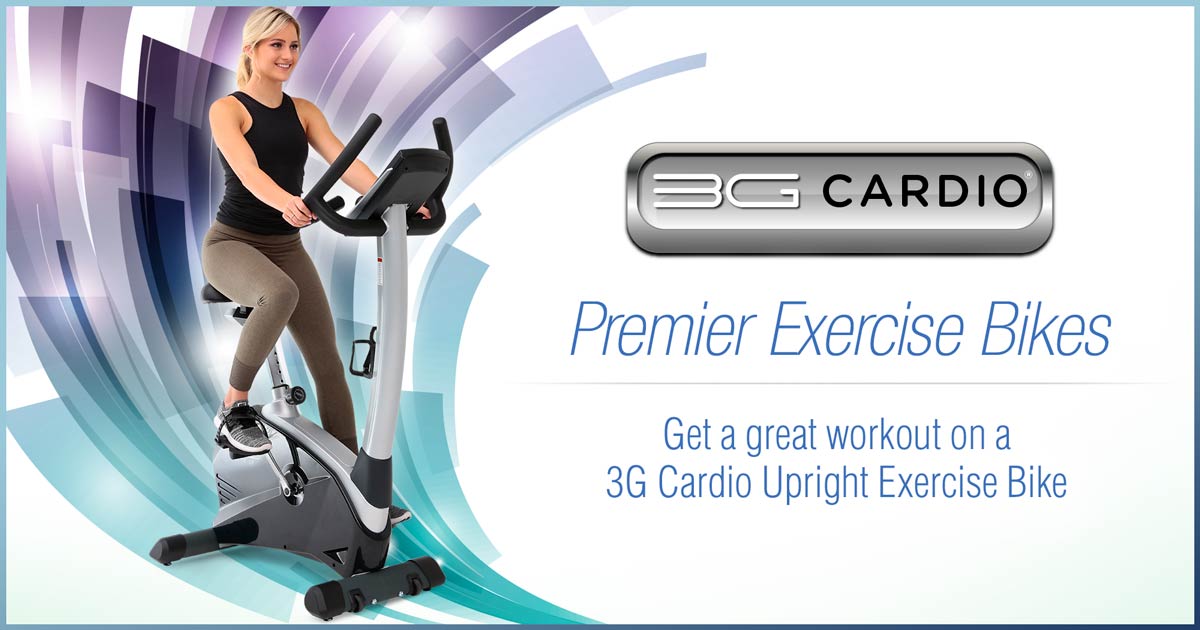 09 Feb

Can you get a good workout on a 3G Cardio upright exercise bike?
Yes! Climb on and get ready to work.
People often ask if an upright exercise bike is as good as an indoor exercise class bike for burning calories and building muscle.
The answer is "yes!"
In fact, many people prefer an upright bike like the 3G Cardio Elite UB Upright Bike over the popular exercise bikes used in indoor group classes.
Indoor exercise class bikes are made to simulate riding on a real outdoors exercise bike.
The rider leans forward while cycling, with the handlebars positioned slightly lower than the seats.
A person can also stand while pedaling to make the workout harder.
Indoor exercise class bikes use flywheels instead of actual wheels. Because of the heavy flywheels, it simulates the feel of pedaling a road bicycle.
On a 3G Cardio Elite UB Upright Bike, the handlebars are positioned higher. You only need to lean forward a little bit. The seat is wider and has more padding than on an indoor exercise class bike.
The 3G Upright Bike has magnetic resistance system, allowing users to adjust to 16 levels of resistance. The flywheels are lighter, allowing a person to easily adjust to different resistance settings unlike on an exercise class bike that requires a knob to be adjusted.
Whether you choose to exercise on an indoor fitness class cycle or an upright exercise bike, you can get a great workout on either.
Some people consider the exercise class style bike to be more "hard core" because it feels like you're riding a road bike.
However, many people prefer the more comfortable position of the upright bike.
For the most comfort possible, and least stress on the joints, some people opt for a 3G Cardio Elite Recumbent Bike. Its chair-like seat offers outstanding support for your back, and the reclined position of your body means you won't feel any strain at all.
One of the features that people love most about the 3G Cardio Elite RB Recumbent Bike is the Q factor pedal spacing, which can accommodate users of all sizes.
Most recumbent bikes have the fly wheel under the pedals, which requires a wide space. However, the 3G recumbent bike has the fly wheel under the seat, so the width between the pedals is narrower and provides better comfort
ABOUT THE 3G CARDIO ELITE UB UPRIGHT BIKE
The 3G Cardio Upright Bike has a variety of features to enhance your workout, while selling for an affordable price.
Ergonomically correctly upper handle bars and an adjustable seat make it one of the most comfortable bikes on the market.
Small upper electronic displays make it easy to see over and around the bike and, best of all, you can watch a TV on the wall. There are 12 pre-set, built-in programs and three built-in heart-rate programs. Up to four different user profiles can be saved.
The console displays time, RPM, watts, distance, calories and heart rate.
3G Cardio's Upright Bike is one of the sturdiest on the market, yet it doesn't take up a lot of room. A heavy duty, steel reinforced upright column provides strength and stability. A compact step-through frame allows users to get on and off the bike with ease. An oversized, fully adjustable seat provides optimal comfort and stability.
The dimensions are 41 inches length x 22.5" width and 55" height. The machine weight is 100 pounds.
The 3G Cardio Elite UB Upright Bike transport wheels allow it to be easily moved from room to room with the built-in transport handles.
The bike also comes with heart straps compatible for wireless heart rate monitoring, and it has an integrated SmartFan for keeping you cool.