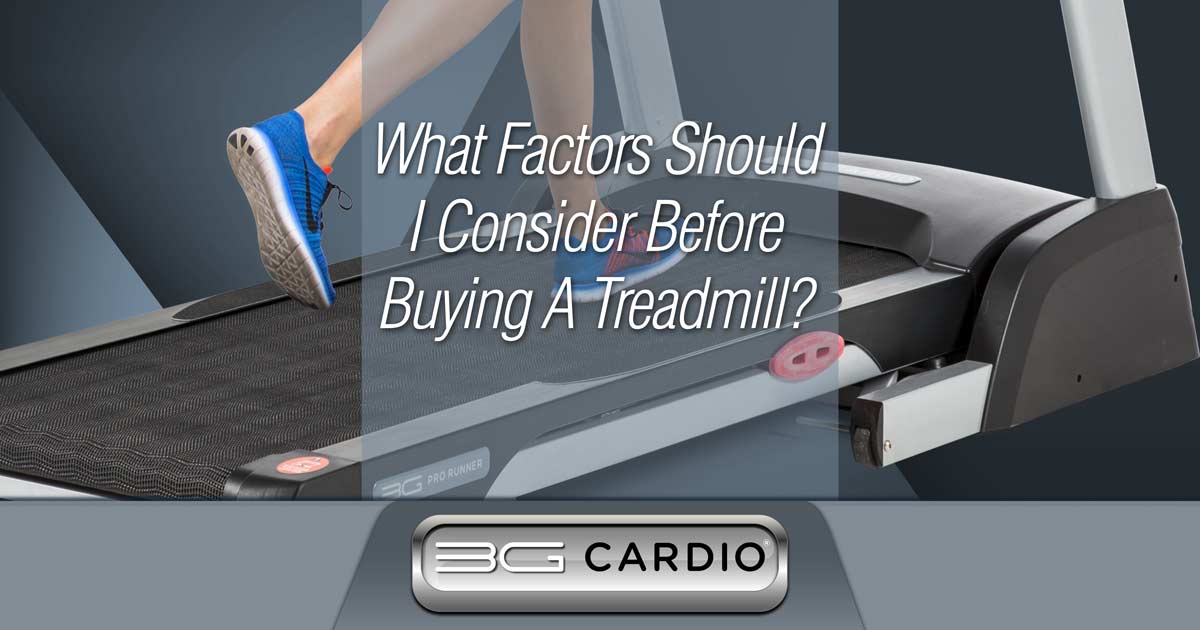 By AARON DORKSEN – 3G Cardio Fitness Editor
If you want to improve your fitness level and overall health, you may have thought about purchasing a treadmill for your home.
You certainly wouldn't be alone if you buying a treadmill.
Treadmills sales account for approximately 40 percent of the estimated $3.5 billion spent annually on retail fitness equipment in North America. Treadmills can benefit everyone from professional athletes to senior citizens and can range in price from $300 all the way up to $10,000 or more for commercial-grade models.
What factors should a person consider before buying a treadmill for their home?
WILL YOU USE IT?
The first thing to decide is "will you use the treadmill?"
View Product Videos
You certainly don't want to purchase a treadmill that will wind up getting shoved into a corner and have clothes draped over it, or boxes stacked on it.
If you buy a good treadmill, chances are you will in fact use it.
People of nearly all ages and physical abilities can get at least get some use out of a treadmill. As long as you can walk and keep your balance, you can benefit from a treadmill.
Based on that kind of versatility and the impressive sales statistics, obviously a great number of people feel like treadmills are a good investment.
The convenience and availability of a home treadmill are also important reasons why a person is likely to use it. If it's raining or dark outside, or you don't have time to go to a health club, just step onto your home treadmill.
You can exercise when, where and how you want to on a treadmill. The user has total control of the environment, ranging from where the machine is set up, to the temperature and surroundings of the room. Electronics that come with a 3G Cardio treadmill can be linked via a smart phone or iPad and allow users to customize workouts.
All aspects of the actual treadmill workout can be controlled by the user – speed, incline, warm-up period, cool-down period and energy expended.
A lot of us don't like to run or walk for 20-30 minutes at a time, but it's a great way to stay healthy and fit. If you can watch NetFlix or YouTube while exercising, or crank tunes over your home stereo in a workout room, it can help pass the time a lot faster.
Another great benefit of treadmills is that they're safer than running outdoors because you don't have to worry about stepping in a hole outside, inclement weather, etc. A treadmill has a predictable surface that is much easier to walk or run on than roads, sidewalks, curbs, trails, etc., where the risk of tripping or suffering an injury such as a sprained ankle is greater.
WHAT ABOUT THE COST?
There might be a little sticker shock for some people when they see that a good treadmill can cost between $3,000-$5,000 or more.
However, a typical high-end treadmill should last 10 -15 years, while a $50 per month gym membership for two people can easily cost $1,200 or more a year.
In the long run setting up a home gym with a treadmill is a lot less costly than paying a monthly gym membership.
Make sure not to buy a cheap treadmill from a "big box store." Chances are it will be shaky and unstable to run on and won't be a machine you enjoy using.
WHAT TREADMILL SHOULD I BUY?
The 3G Cardio Elite Runner Treadmill and 3G Cardio 80i Fold Flat Treadmill were recommended on RunnersWorld.com for being among Amazon's Best Black Friday Deals.
3G Cardio treadmills are solid, reliable machines. The 3G Cardio company based in Phoenix, Ariz., has earned positive customer feedback and accolades such as being recommended by Runner's World and getting Best Buy Awards from the Fit Professor.
Runner's World praised the 3G Cardio Elite Runner Treadmill by writing:
"Get this gym-rated treadmill to turn up your home gym. It features details catering to runners with an oversized deck, 4.0 HP motor, thick and soft orthopedic belt, and pre-programmed courses."
When it came to the 3G Cardio 80i Fold Flat Treadmill, Runner's World wrote:
"Runners living in tight quarters will love this super compact treadmill that folds down to almost nothing (can even fit under a bed!) and has wheels so you can easily push out of the way."
3G Cardio Elite Runner Treadmill
The 3G Cardio Elite Runner Treadmill ($3,399) is a full-size, commercial quality machine that sells for thousands less than comparable models.
The 3G Cardio 80i Fold Flat Treadmill sells for $1,799 and there is also a Pro Runner ($1,899) and Lite Runner ($999) model to choose from.
3G Cardio also has award-winning recumbent and upright bikes, as well as vibration training machines.