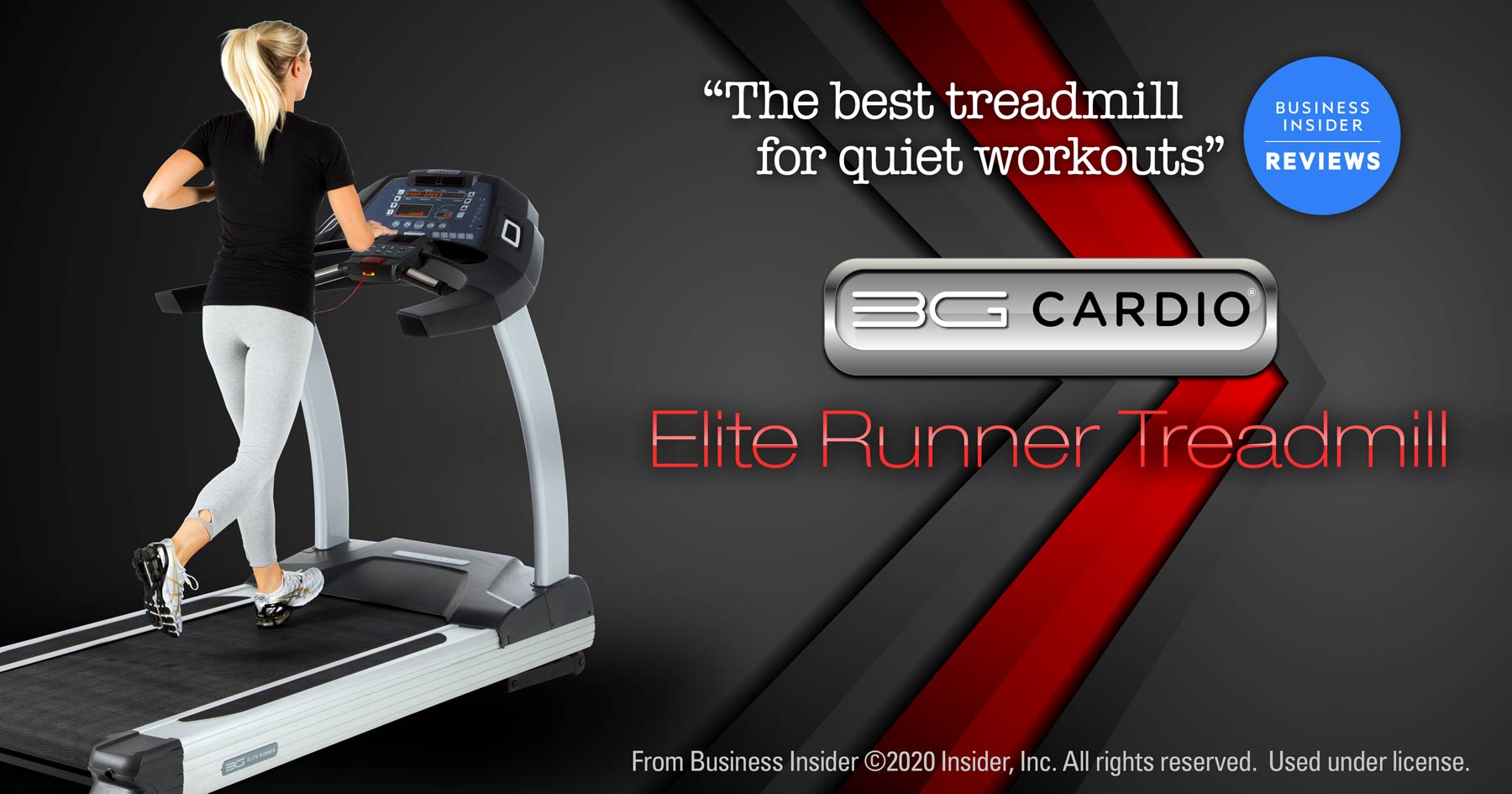 With the 3G Cardio Elite Runner Treadmill, people can walk or run on a quiet machine that features a big, sturdy frame.
That combination will help users go a long way toward achieving their fitness goals.
Let's face it, if a treadmill is sturdy, well put together and quiet, people are more likely to want to use it regularly. With the 3G Cardio treadmill, you can enjoy things you want to hear – like music or the TV – and not have to listen to a noisy machine.
The highly acclaimed BusinessInsider.com awarded the 3G Cardio Elite Runner Treadmill (MSRP $3,399) a big honor, calling it "The Best Treadmill for Quiet Workouts."
"Few treadmills made for use at home will deliver the kind of quiet performance like the 3G Cardio Elite Runner Treadmill," BusinessInsider.com reported in its annual review of top treadmills. "It's made for tall or heavy runners looking for a tough workout, but you'll pay more than $3,000 for the kind of quality that this 3G Cardio unit delivers."
Read Business Insider Review
BusinessInsider.com was impressed with the design stability and quality parts used by 3G Cardio, a company based out of Phoenix, Arizona that also produces exercise bikes and vibration training machines.
"It has an Ortho Flex Shock suspension system to minimize the stress of impact for runners, and the 22 by 62-inch platform is perfect for running," BusinessInsider.com stated. "The 3G Cardio comes with many pre-programmed workouts and a fitness level test.
"You have access to speed and elevation settings, heart rate control, and workout customization.  This treadmill also has a 4.0 horsepower motor and 3-inch rollers for great performance.
You get what you pay for with a treadmill and the 3G Cardio Elite Runner is well worth the investment for people who are serious about fitness.
On the flip side, if you buy a $999 "bargain" treadmill from a big box store, you'll likely get a machine that's flimsy and noisy. 
"The 3G Cardio Elite treadmill consists of thick steel tubing in the frame," BusinessInsider.com stated. "This is really only for serious runners, who want a treadmill that will last a lifetime.
"The pros (of the 3G Cardio treadmill include a) strong steel frame that will support a lot of weight, unit runs quieter than most treadmills, large treadmill belt area for tall runners, includes a large motor to compare favorably to gym treadmills."
3G Cardio Elite Runner specs:
8 Pre-Set Programs
2 Custom Programs
Gerkin, Cooper, BMI Fitness Tests
Contact + Wireless Heart Rate Monitoring
Speed Range of 5mph – 12mph
22" x 62" running surface
Incline Range 0% – 15%
Unit Weight of 386 lbs.