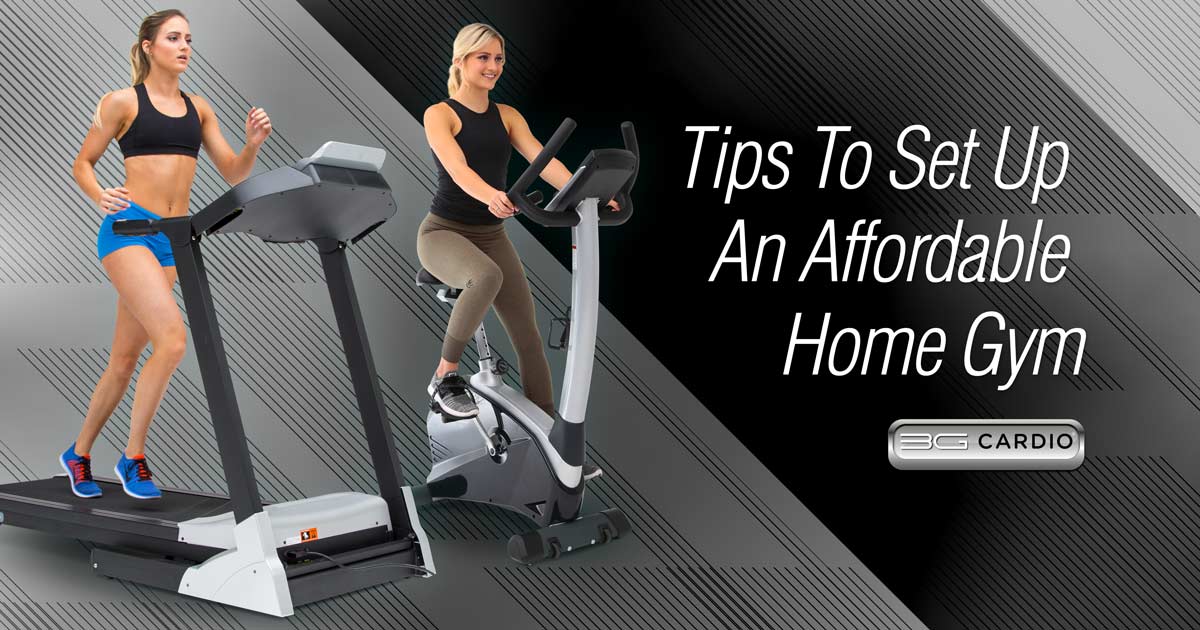 3G Cardio Will Help You Before And After The Sale
By AARON DORKSEN – 3G Cardio Fitness Editor
Before we know it spring will soon be here. For a lot of us that means swimming pool season. But how can you shake off the winter rust and added weight?
Setting up a home gym, or upgrading your current space is a great way to get in shape and shed pounds.
A home gym gives you countless options and provides optimum convenience.
You could roll out of bed and tune up the heart, lungs and muscles. Or, exercise more around midday or at night.
However, thinking about setting up a home gym can lead to lots of questions.
What machines should you buy? How big a space is required? Where should the gym be set up? How much should you spend?
Don't stress about it. Here are some tips to set up your own home gym:
SPACE RACE
It doesn't take as much space as you'd think to set up an effective home gym.
If you're thinking about dedicating a room to fitness, a 10×10 or 10×12 room will work out fine. Many people have that sized room available.
A spare bedroom, a super-size master bath with lots of extra room, or a garage or basement space could all be good choices.
If possible, consider adding a ductless mini-split air-conditioner for around $2,000.
This might add value to your home when you sell it.
FIXTURES
Add things like mirrors, exercise mats, cabinets or racks for storage in your home gym. Mount a TV for entertainment.
EQUIPMENT
The staples of any home gym are a treadmill or an exercise bike.
Exercising on a treadmill can help increase your metabolism, whether you're running or walking. Combined with healthy eating, how much cardio activity you do and other factors like age and weight, you could lose 2-4 pounds a week after starting a walking program
Other must-haves include an upright bike, rowing machines and free weights.
3G CARDIO ADVANTAGE
Few names in the fitness industry are trusted like "Runner's World" magazine.
And, the 3G Cardio Elite Runner Treadmill and 3G Cardio 80i Fold Flat Treadmill were recommended on RunnersWorld.com for being among Amazon's 2017 Best Black Friday Deals.
3G Cardio treadmills are solid, reliable machines, which create positive customer feedback in order to receive accolades like being recommended by Runner's World.
Runner's World praised the 3G Cardio Elite Runner Treadmill by writing:
"Get this gym-rated treadmill to turn up your home gym. It features details catering to runners with an oversized deck, 4.0 HP motor, thick and soft orthopedic belt, and pre-programmed courses."
When it came to the 3G Cardio 80i Fold Flat Treadmill, Runner's World wrote:
"Runners living in tight quarters will love this super compact treadmill that folds down to almost nothing (can even fit under a bed!) and has wheels so you can easily push out of the way."
The 3G Cardio Elite Runner Treadmill ($3,399) is a full-size, commercial quality machine that sells for thousands less than comparable models. The 3G Cardio 80i Fold Flat Treadmill sells for $1,799 and there is also a Pro Runner ($1,899) and Lite Runner ($999) model to choose from.
3G Cardio also has award-winning recumbent and upright bikes, as well as vibration training machines.
COST
If you've read this far, you're also probably really wondering about the price tag by this point.
A treadmill can range in price from $1,000 to $10,000. Around $1,000 is also the starting point for a good quality exercise bike or vibration machine, but you can spend thousands more on those machines as well.
Consider what your goals are when buying equipment. A competitive athlete or marathon runners will require a better treadmill than a retiree who just wants to walk on it.
A basic conversion of a small bedroom might cost around $4,000-$5,000 for new flooring or mats, paint and two pieces of equipment.
It's highly recommended to install a floating rubber floor, similar to what's found in commercial gyms. This will prevent equipment from wearing through the hardwood or tile floor. Other types of tough flooring will also work, but make sure to install in squares of whatever you select so that worn areas can be replaced quickly and easily.
Buyer beware when it comes to purchasing exercise equipment in big-box stores. You want to buy from someone who can explain how machines work and all the electronic settings.
3G Cardio has highly trained sales associates available by phone 888-888-7985 or email support@3gcardio.comto answer questions before and after the purchase.
NOTE: Consult a doctor or certified fitness trainer before starting any new workout program to determine if it's right for your needs. This is especially true if you (or your family) have a history of high blood pressure or heart disease. If you experience faintness, dizziness, pain or shortness of breath at any time while exercising you should stop immediately.