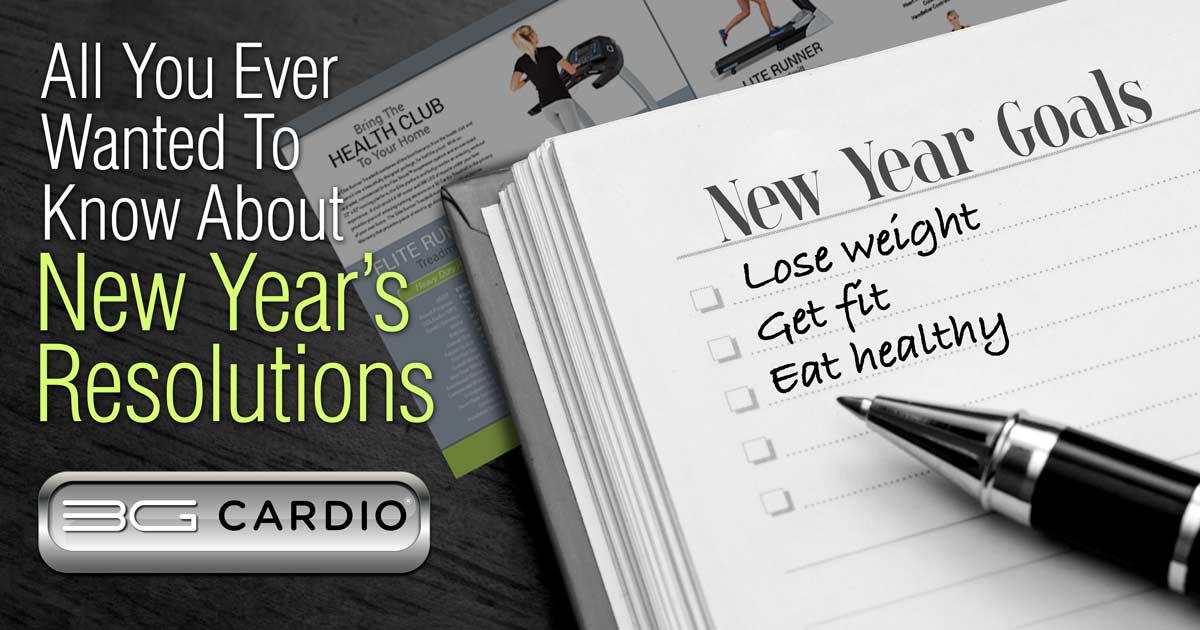 And how to reach your fitness goals
By AARON DORKSEN – 3G Cardio Fitness Editor
When I arrived at my office this morning, a giant box of donuts was left in our break room.
"Who brought these in?" I asked.
A co-worker replied, "I did. We're gonna eat up before I start my new diet next week for my New Year's resolution."
This is the time when many people come up with a New Year's resolution. Some take it very seriously, give it a lot of thought and vow to keep it. Others set one hastily without a lot of thought.
Unfortunately, most people do not wind up keeping the New Year's goal they set for themselves. I didn't want to be a "Debbie Downer," so I didn't tell my co-worker that approximately 80 percent of New Year's resolutions fail by the second week of February (source, U.S. News).
PICK AN ATTAINABLE GOAL
This time of year makes a lot of people do a lot of reflecting. It's time to look back, but more importantly look ahead. What kind of person do you want to be in the coming year?
Decide on a reasonable goal.
A guy telling himself he wants to get washboard abs if he has a size 40 waist, or a woman saying she wants to get a figure like a super model is probably an unattainable goal.
Instead, set something realistic, like vowing to lose a reasonable amount of weight, or that you'll exercise three to four times a week. Be open to adjusting your resolution some if it's not quite working out – that's a lot better than quitting altogether.
And don't set resolutions that you've made in the past and always seem to fail – unless of course you really believe this is the year.
If you are trying to take on a really major resolution that's failed in the past, like quitting smoking or drinking, then this time seek professional assistance. If you've failed repeatedly in weight loss or other fitness goals, then maybe working with a dietician or trainer will help get you over the hump.
MOST COMMON RESOLUTIONS
Here are 20 of the most common New Year's resolutions as listed by Wikipedia:
 Lose weight
 Pursue a Satisfying and Fulfilling Career
 Get a better job
 Get fit
 Eat right
 Get out of debt
 Become more organized
 Save money
 Improve grades
 Get a better education
 Drink less alcohol
 Quit smoking
 Reduce stress
 Take a trip
 Volunteer to help others
 Be less grumpy
 Learn something new (such as a foreign language or music)
 Try to get up early in the morning
 Time management
 Help the poor
GET FIT AT HOME
If fitness is part of your resolution, consider setting up a home gym or improving the one you have.
3G Cardio has a great lineup of treadmills, exercise bikes and vibration training machines to fit just about any workout or budget needs.
If you are shopping for fitness equipment, visit www.3GCardio.com to find a machine that suits your needs. For the home, office, professional gym or elsewhere, 3G Cardio sales associates can help you find the right treadmill. Call 1-888-888-7985 or email support@3GCardio.com for more information.
Treadmills offer great versatility for anyone from a rehab patient to elite athlete trying to push themselves in high-impact running.
The award-winning 3G Cardio treadmill lineup consists of 3G Cardio Pro Runner Treadmill (MSRP $1,899), 3G Cardio Elite Runner Treadmill ($3,399), 3G Cardio 80i Fold Flat Treadmill ($1,799) and 3G Cardio Lite Runner Treadmill ($999).
If you have a home gym you can decide where, when and how you want to work out. Set up the treadmill in front of a TV and watch your favorite show, place a book or magazine on its rack or play the home stereo while you walk or run.
By working out in the privacy of your own home, you don't have to worry about walking outside and having people in the neighborhood staring as they drive by. Some people feel more comfortable at home than exercising in a health club gym, either.
Treadmills are safer than outdoors because you don't have to worry about stepping in a hole outside, inclement weather, etc.
BONUS TIPS
*Most resolutions are lost before January is even a few weeks old. The most crucial time to keeping a resolution is the first two weeks, so be tough on yourself the first two weeks even if it's really hard. If you can get through those two weeks you're obviously still not home free, but it will be a lot easier.
*Create a gameplan to keep your resolution.
Write down ideas on how you'll be able to follow through and you can write down some of the hurdles you expect will present themselves. If you've set fitness goals, keeping a daily workout log will be a huge help.
NOTE: Consult a doctor or certified fitness trainer before starting any new workout program to determine if it's right for your needs. This is especially true if you (or your family) have a history of high blood pressure or heart disease. If you experience faintness, dizziness, pain or shortness of breath at any time while exercising you should stop immediately.