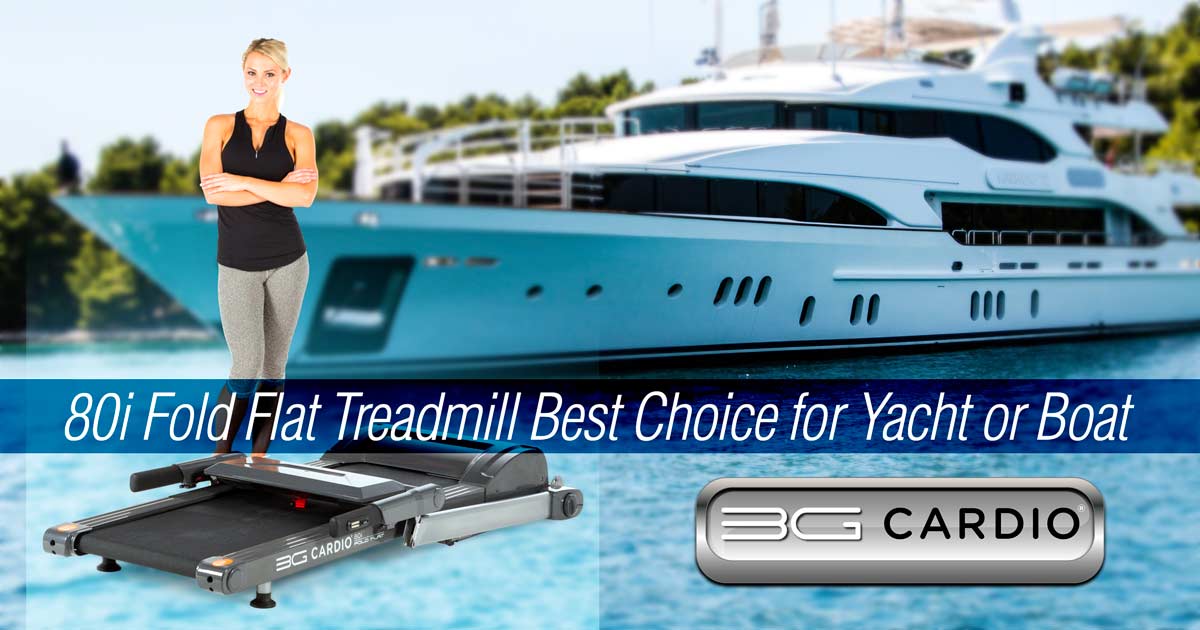 Updated 10/15/19
Space is limited on a yacht or boat and fortunately the 3G Cardio 80i Fold Flat Treadmill is the best boat treadmill that comes in a small package.
It's the best "under the bed tread" on the market and the only one that you can get a good running workout on.
The 3G Cardio 80i Fold Flat Boat Treadmill can fold down to a height of just 9.75 inches and easily be rolled under the bed, pool table, etc., for storage. Or, if you prefer, store it vertically. It can be folded up and stored upright in a closet, corner of the room, etc.
On a yacht or boat, sometimes ceiling height is just as much of an issue as floor space.
The 3G Cardio 80i Fold Flat Treadmill has a low step-up height of just 6 inches, meaning your feet are closer to the floor and you'll be farther away from the ceiling than on most other treadmills. Those few inches the 3G Cardio 80i Fold Flat Treadmill saves can make all the difference.
The biggest difference one will notice with the 3G Cardio 80i Fold Flat Treadmill compared to other fold-up treadmills is its power and stability.
The vast majority of fold down treadmills don't allow users to go past 4 mph, but the 3G Cardio 80i fold down treadmill has speeds that range from 0.5 to 11 mph. It has a heavy duty 3.0 HP motor and a running surface of nearly 60 inches, providing the stability of a treadmill nearly twice its size that will even impress experienced runners.
The 3G Cardio 80i can be set for a maximum incline of 15 levels. Most fold down treadmills are meant for low-impact walking and will feel extremely slow and flimsy if you try to run on them.
The 3G Cardio 80i is the only fold-up boat treadmill that you can get a good run on.
Reviewers have definitely taken notice. 3G Cardio has been named the 2016 Treadmill Brand of the Year by the esteemed Fit Prof, has received many five-star ratings from Amazon.com and a host of other awards.
"The 80i Fold Flat treadmill is a perfect example of (3G Cardio's) approach to manufacturing," reported the Fit Prof, who named the 80i the Best Treadmill under $2,000. "With its ingenious, dual action folding ability, the 3G Cardio 80i can fold upright into a vertical storage position (like most folding treadmills), as well as fold flat to the floor for storage under a bed.
"In addition, the console can also be folded while in use for those who prefer to watch television or to have access to their laptop while exercising," the Fit Prof continued. "Add in an absorbent 58-inch long surface, 11 mph max speed, 15 levels incline, audio inputs with built-in speakers and one of the best warranties in its category, the 80i Fold Flat 3G Cardio is one of our favorite treadmills, at any price point."
The 3G Cardio 80i Fold Flat Treadmill also has some of the best "extras" among fold flat treadmills. It features built-in speakers that you can hook an iPhone or MP3 player up to. It comes with a super warranty: Frame/Motor Lifetime Warranty, Parts 5 Years Warranty and Labor 1 Year In-Home Labor Warranty.
If you are looking for a fold down treadmill for your yacht, boat, small apartment, office, etc., the 3G Cardio 80i Fold Flat Treadmill is for you. 3G Cardio treadmills and vibration training machines are carried by respected dealers all over the nation. Award-winning 3G Cardio products are also available online at www.3GCardio.com.