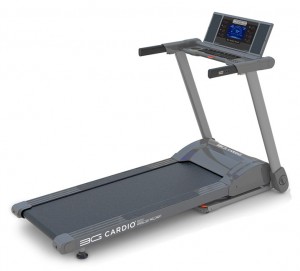 If you need to conserve space, but still want your own personal treadmill then 3G Cardio has just the machine for you.
Call it the "Under the Bed Tread."
The 3G Cardio 80i Fold Flat Treadmill (MSRP $2,099) has one of the most powerful motors among fold flat treadmills and is sturdy enough to provide an excellent workout whether you're walking or running.
This ingenious machine is the only fold flat treadmill that can support people enough to run on.
Most fold flat treadmills don't go past 4 mph, but this machine has speeds that range from 0.5 to 11 mph.
It can accommodate people who weigh up to 325 pounds. If you're short on space in your home, garage, apartment, camper or wherever else you want to have a treadmill, the 3G Cardio 80i Fold Flat Treadmill should fit your needs. It can fold flat to a height of just 9.75 inches and easily be rolled under the bed, pool table, etc. for storage, or it can be folded up and stored vertically.
The 3G Cardio 80i Fold Flat Treadmill has built-in speakers that you can hook an iPhone or MP3 player up to. It comes with a great warranty: Frame/Motor Lifetime Warranty, Parts 5 Years Warranty and Labor 1 Year In-Home Labor Warranty.
3G Cardio products are carried by respected dealers all over the nation and also available online at www.3GCardio.com.