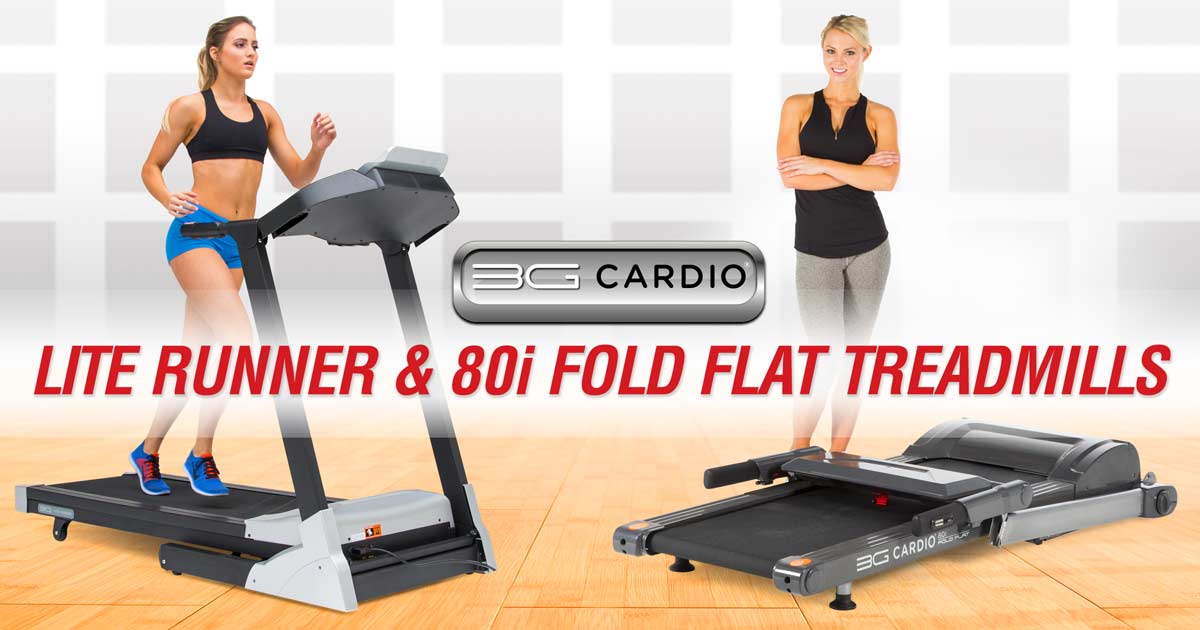 By AARON DORKSEN – 3G Cardio Fitness Editor
Even if you live in a small space, you can keep pace when it comes to exercise.
The award-winning 3G Cardio Company has two great fold flat treadmill options: the 3G Cardio 80i Fold Flat Treadmill and 3G Cardio Lite Runner Treadmill.
That's right, you can stay in your own small place and train for a race. Or, you can simply go for a walk on the 80i or Lite Runner.
The beauty of these ingenious machines is that they're ideal for people who have small workout spaces. They can fit into apartments, offices, trailers, RVs, garages, or anywhere else where space is scarce. When you're done exercising, simply fold them up and store.
The Lite Runner folds up and can be rolled through a door way and stored in the corner of a room.
The ingenious design of the 3G Cardio 80i Treadmill allows a user to not only fold the treadmill upright, but also fold the treadmill flat to the floor and store it away under a bed. When folded flat to the floor, the 80i Treadmill has an extremely low height of only 9.75″.
Both machines have been honored by The Fit Prof as Best Buy winners. Not only are they ideal for small spaces, they're also budget friendly.
WHAT SETS THEM APART
3G Cardio 80i Fold Flat (2016 Best Treadmill under $2,000) — The 3G Cardio 80i Fold Flat Treadmill is hands down the best Fold Down Treadmill on the market. It's the only "under the bed tread" that you can easily store and then pull out, unfold and also get a quality running workout.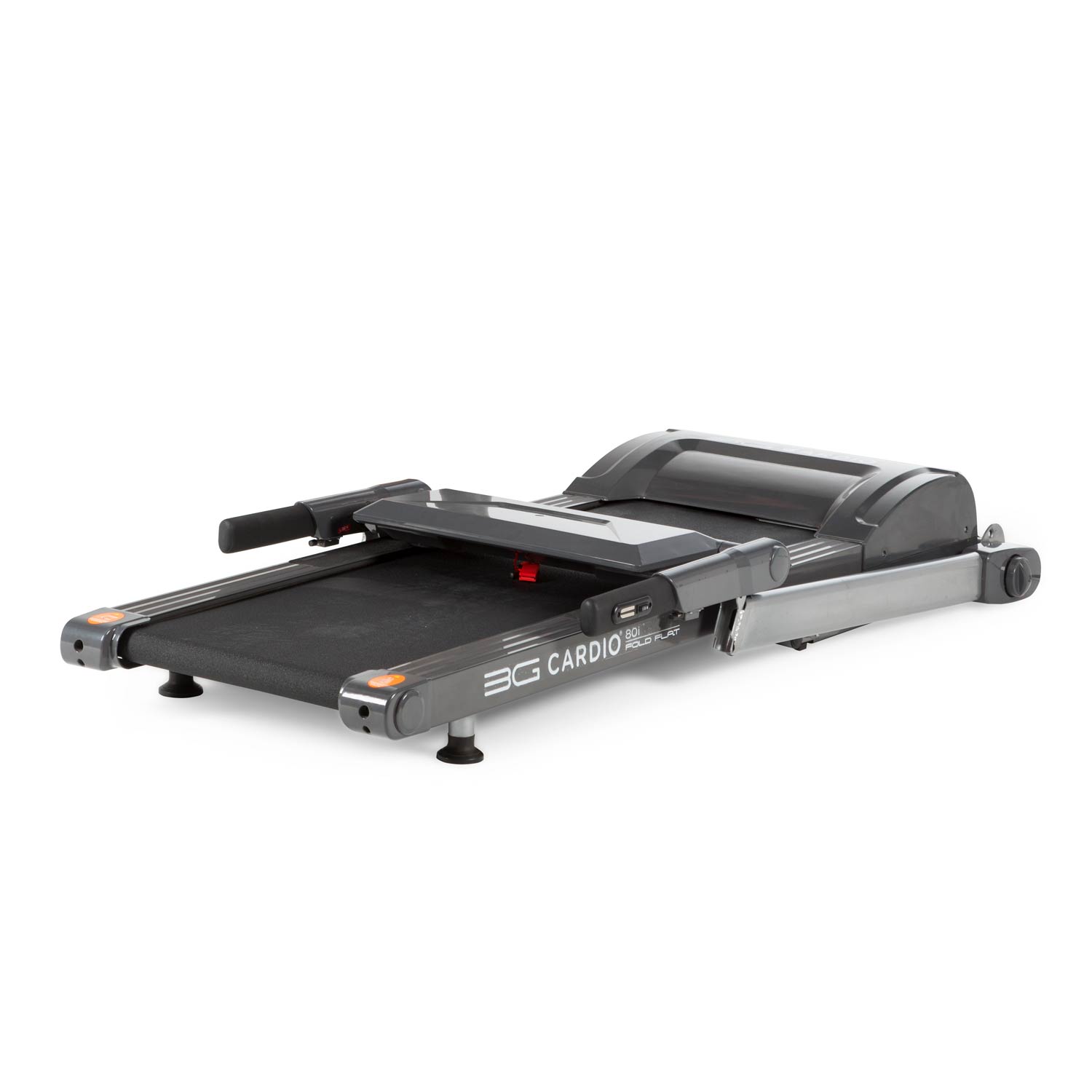 80i Fold Flat Treadmill

Users can also fold this treadmill down horizontally to a height of just 9.75 inches and roll it under the bed, pool table, etc., or fold it vertically and store it in the corner of a room or closet. Whether you choose to store it on the floor or standing, either way it's easy to quickly convert to use.

Most fold down treadmills don't have the capability to go past 4 mph. The ingenious 3G Cardio 80i fold down treadmill allows users to exercise at speeds ranging anywhere from 0.5 to 11 mph. Additionally, it can be set for incline 0 – 15 levels.
The 80i Fold Flat Treadmill measures just 74 inches (length) x 33" (width), but is still engineered to allow users to get a big-time running workout on their own personal treadmill.
The Fit Prof stated: "The 80i Fold Flat treadmill is a perfect example of (3G Cardio's) approach to manufacturing. With its ingenious, dual action folding ability, the 3G Cardio 80i can fold upright into a vertical storage position (like most folding treadmills) as well as fold flat to the floor for storage under a bed. In addition, the console can also be folded while in use for those who prefer to watch television or to have access to their laptop while exercising. Add in an absorbent 58" long surface, 11 mph max speed, incline 0 – 15 levels, audio inputs with built-in speakers and one of the best warranties in its category, the 80i Fold Flat 3G Cardio is one of our favorite treadmills, at any price point."
The 3G Cardio Lite Runner (2018 Best Treadmill under $1,100) – The Lite Runner is a "Might Mini."
Lite Runner Treadmill

It's perfect for people who have a small workout space in their home, apartment, or other spot, but want a sturdy treadmill.

The 3G Cardio Lite Runner Treadmill is extremely compact and can fit through a door frame. It has a small 18″ x 51″ workout surface and the streamlined fitness machine can be folded for behind-the-door storage, too.

It's sturdy enough to jog on and when you're done it can be folded up and easily rolled through the door for storage. It's one of the best treadmills priced under $1,100 you'll find anywhere. The 3G Cardio Lite Runner measures just 67 inches (length) x 29 3-4 (width) x 52 1-2 (height). It can be folded up to just 32 x 29 3-4 x 62 1-2 and rolled through most standard doorways for storage without having to disassemble.

If you want to conserve space and save money, the power and stability of the 3G Cardio 80i Fold Flat Treadmill (MSRP $1,799) and 3G Cardio Lite Runner (MSRP $999) are unmatched.
DESIGNED WITH COMMON SENSE
The designers at 3G Cardio build their treadmills the way most people would: They provide everything you need, and nothing you don't.

The emphasis is on superior function of the treadmill, not on fancy electronic "extras" that drive up the price even though you can add them yourself for a lot less cost by hooking up an iPad or smart phone.

3G Cardio is a health and fitness equipment company based in Arizona led by co-owners with more than fifty years of experience in the specialty fitness industry. They also produce award-winning vibration training machines and exercise bikes.

The 3G Cardio company states that their experience has helped them, "Design and manufacture fitness equipment that will always outperform our clients' expectations, as well as a business model that delivers the best equipment, the best prices, and the best client service and support in the industry."

3G Cardio treadmills have received numerous "best buy" awards for the treadmills and vibration machines.

The list of 3G Cardio awards includes being named "2017 Treadmill Brand of the Year" by The Fit Prof, five-star ratings from Amazon.com and many other honors.

ASICS shoe company has opened 57 new high-end shoe stores across the USA and has chosen the 3G Cardio Elite Treadmill as their "in-store" treadmill for testing and analyzing customers running style to help them select the proper running / walking shoe.

NOTE: Consult a doctor or certified fitness trainer before starting any new workout program to determine if it's right for your needs. This is especially true if you (or your family) have a history of high blood pressure or heart disease. If you experience faintness, dizziness, pain or shortness of breath at any time while exercising you should stop immediately.