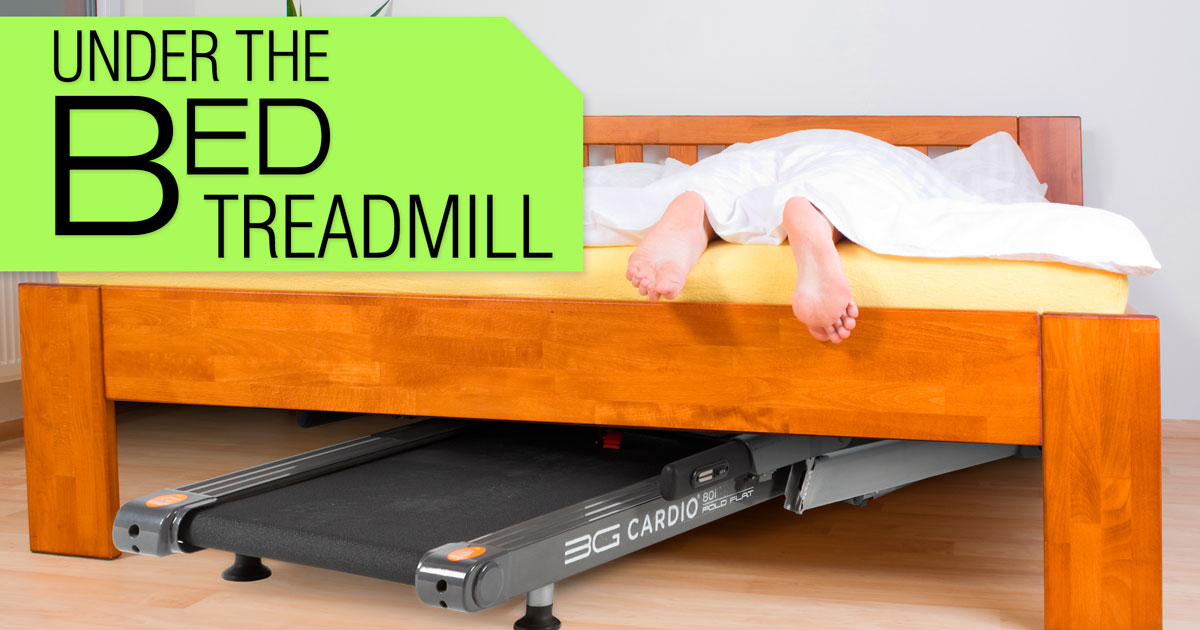 What's the smallest space you can think of to store a fold flat treadmill? The 3G Cardio Co. based out of Phoenix, Ariz., is hearing more and more success stories from customers, who never thought they'd be able to store a high-quality running treadmill in such small areas. The ingenious 3G Cardio 80i Fold Flat Treadmill is being used — and stored — in small apartments, one-bedroom homes, trailers, RVs, garages, offices and even on yachts and more. It's the best under the bed tread you'll ever use and the only one that you can get a good running workout on.
The 3G Cardio 80i Fold Flat Treadmill can accommodate people who weigh up to 325 pounds.
Only an Under the Bed Tread? No!
However, it can fold down to a height of just 9.75 inches and easily be rolled under the bed, pool table, etc. for storage. If you prefer it can be folded up and stored vertically in a closet, corner of the room, etc. No matter where you choose to store it, easy to use rollers make it easy to move back and forth.
It's now actually possible to conserve space and get a good, quality run with the ingenious 3G Cardio 80i Fold Flat Treadmill.
The vast majority of fold down treadmills don't allow users to go past 4 mph, but the 3G Cardio 80i fold down treadmill has speeds that range from 0.5 to 11 mph.
Just as impressive, the 3G Cardio 80i can be set for a maximum incline of 15 levels. Most fold down treadmills are meant for low-impact walking and will feel extremely slow and flimsy if you try to run on them.
With the 3G Cardio 80i Fold Flat Treadill, you can conserve space and still get a great workout. This 2015 Fit Prof Best Buy winner for Treadmills under $1,500 has a heavy duty 3.0 HP motor and a running surface of nearly 60 inches. If offers the stability of a treadmill nearly twice its size and will even impress experienced runners.
The 3G Cardio 80i Fold Flat Treadmill also has some of the best "extras" among fold flat treadmills. It features built-in speakers that you can hook an iPhone or MP3 player up to. It comes with a super warranty: Frame/Motor Lifetime Warranty, Parts 5 Years Warranty and Labor 1 Year In-Home Labor Warranty.
If you are looking for a fold down, fold flat, and Under the Bed Tread treadmill, the 3G Cardio 80i Fold Flat Treadmill is for you. 3G Cardio treadmills and vibration training machines are carried by respected dealers all over the nation. Award-winning 3G Cardio products are also available online at www.3GCardio.com.