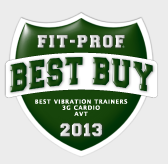 3G Cardio AVT™ Vibration Machines combine the best in design, sturdiness and value. Don't just take our word for it: the 3G Vibration Trainers have won Best Buy awards from The Fitness Professor, Vibration-machine-reviews.com and VibrationPlateReview.com.
With 3G Cardio AVT Vibration Machines available in 3.0, 5.0 and 6.0 models, there's a size that's sure to be just right for everyone's needs.
The 3G Cardio 3.0 (MSRP $2,499), 5.0 (MSRP $3,999) and 6.0 machines (MSRP $4,999) allow people to enjoy all the benefits of the increasingly popular vibration training, but at a substantially lower cost than some of the other leading machines.
The Fitness Professor explained his reasoning for giving the 3G Cardio vibration machines 2013 Best Buy Award with the top ranking in the vibration training category.
"Compare and you will find that 3G over-powers the competition with class leading platforms, commercial grade components, dual consoles plus their proprietary iTunes Vibration Training app," The Fit Prof wrote. "Whether it is the robust 3.0 AVT, benchmark setting 5.0 ATV or commercially rated 6.0 AVT, 3G Cardio cannot be beat and is once again our FIT PROF Head of the Class BESY BUY for vibration for the second consecutive year!
The Fit Prof called 3G Cardio, which also produces the award-winning 3G Cardio 80i Fold Flat Treadmill, one of the fitness industry's up-and-coming manufacturers.
"With over 50 years of combined experience and a very impressive line of vibration plates, 3G is rapidly becoming one of the most sought-after product lines in the industry," the Fit Prof said.
At a retail price of $4,999 and a weight of 267 pounds, the 3G Cardio AVT™ 6.0 Vibration Machine incredibly has the same-sized workout platform (34×28) to stand on as a popular vibration machine that sells for $12,000.
Bigger doesn't always mean better in many instances, however, that usually applies when it comes to vibration machines. The actual weight of a vibration machine is a good indicator of the quality and durability of a unit and the 3G model literally weighs in with just about any competitor.
The AVT 6.0 machine weighs 267 pounds and has a base that measures 45x36x28 and matches any other model with a Hertz capacity of up to 50. The amplitude that can be adjusted from 1-4 mm. It can be purchased in black or silver.
"Their powerful AVT (Accelerated Vibration Training) line combine sleek aesthetics, ergonomically-correct handles and large platform into stable, well priced units that feature dual control panels (for more efficient workouts)," the Fitness Professor said. "And yes, they have an instructional iPad app too!"
The 3G Cardio AVT 5.0 Vibration Machine features ergonomically-correct handles, a comfortable platform, excellent overall stability and great overall power. Despite a sleek design, the 3G Cardio® AVT™ 5.0 Vibration Machine offers the quality, durability, and performance necessary to challenge even the most advanced athlete. With a unit weight of 222 pounds it is sturdy enough for people of most sizes to exercise on.
A whole new level of quality and affordability has been achieved with the 3G Cardio AVT 3.0 Vibration Plate. It matches attractive aesthetics with power and stability, a rare combination to find on a vibration machine, especially at this price. With an overall weight of 200lbs, a Hertz range of 25-50Hz, a large oversized platform and a powerful vertical style vibration motion, the 3G Cardio AVT 3.0 Vibration Plate will compete head to head with machines twice the price.