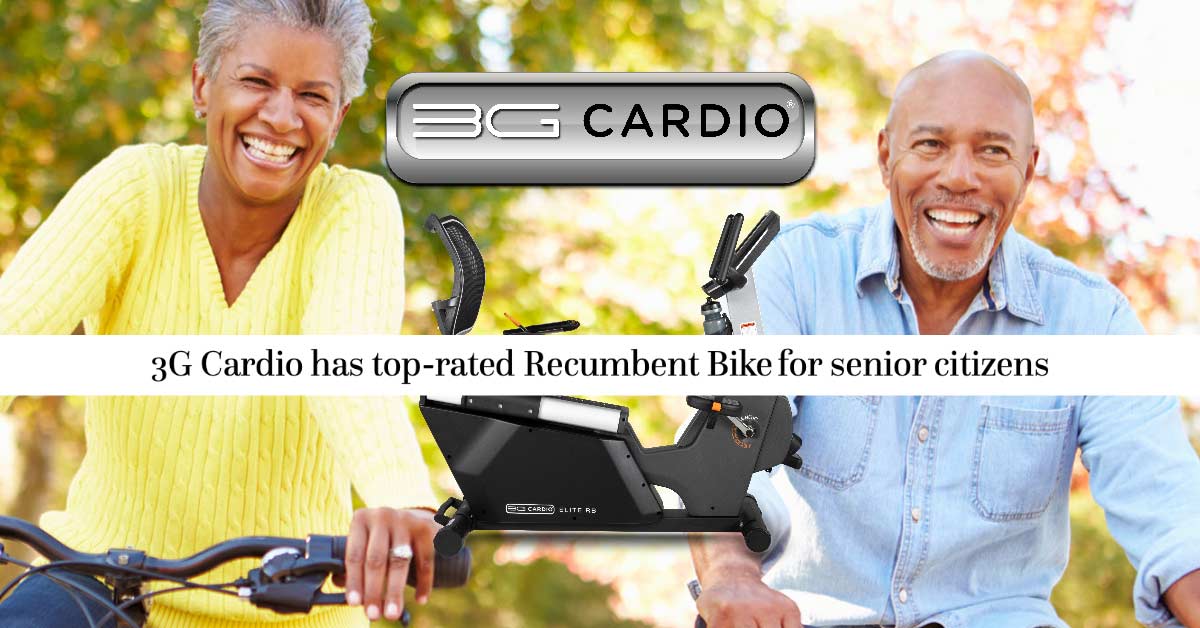 11 Jan

3G Cardio has top-rated Recumbent Bike for senior citizens
Watch our Elite RB Recumbent Bike Video:
The 3G Cardio Elite RB Recumbent Bike is without a doubt the premier choice for senior citizens and their comfortability.
Reviewers have actually declared it to be the "most comfortable recumbent bike ever built," which speaks volumes about its unique design and functionality.
The 3G Cardio Elite RB Recumbent Bike is a compact and lightweight machine that packs tremendous strength and durability. Its design includes an adjustable mesh back seat rest, plush seat pad, as well as Q-factor pedal spacing for optimal comfort.
Countless satisfied customers have expressed their satisfaction with the product's features!
This bike is tailored for riders of all heights, from 5-foot to 6-foot 4, making it perfect for just about everyone!
Its unique Q-factor pedal spacing ensures that you can find a comfortable riding position no matter your body type or age. Comfort and ease are guaranteed with this marvelous machine.
The 3G Cardio Elite RB Recumbent Bike flywheel, situated under the seat and providing a slimmer distance between pedals than other bikes on the market, is especially convenient for seniors who are prone to balance issues. Not only does this design offer superb comfort, but also improved stability by allowing users to plant their feet wider apart.
The 3G Cardio Elite RB Recumbent Bike is a great investment (check 3Gcardio.com for latest pricing and specials).
COMFORTABLE SEAT
The 3G Cardio Elite RB Recumbent Bike has one of the most comfortable exercise bike seats on the market.
With its flywheel under the pedals and an assembled size of just 49"x 27" x 43" and weight of only 115 pounds, it provides enough sturdiness to support users who measure up to 6-foot-4 and 350 pounds without taking up too much space!
For those looking for a great recumbent bike that won't take up too much space, the 3G Elite RB Recumbent Bike is ideal. Its low electronics height not only allows users to easily monitor and control their workout, but it also offers an unobstructed view of TVs or other scenic views in front of them. Thanks to its compact design, it fits into spaces where competitor's recumbent bikes simply cannot go!
Enjoy a smooth and effortless workout experience with the 3G Cardio Recumbent Bike's easy roll transport wheels and smaller, more convenient upper console.
Plus, when you're done exercising, simply wheel it away for storage. And because we know your bike might take a beating over time – don't worry! It comes complete with an extensive 7-year parts warranty to give you peace of mind.
When you work out on the Elite RB Bike from 3G Cardio, it's almost like bringing the gym straight to your home.
The Arizona-based 3G Cardio company has rightfully earned numerous awards for its treadmills and recumbent bikes.
After trying various types of recumbent bicycles, we're sure that the 3G Cardio Elite RB Recumbent Bike is the best recumbent bike for seniors, as well as anyone else who wants to take advantage of the benefits of a recumbent bike.
The 3G Cardio Elite RB Recumbent Bike is not only perfect for elderly people, but its unique design allows smooth transitions for people of al ages and fitness levels.
Watch our Elite RB Recumbent Bike Video:
Elite RB comes with light commercial warranty