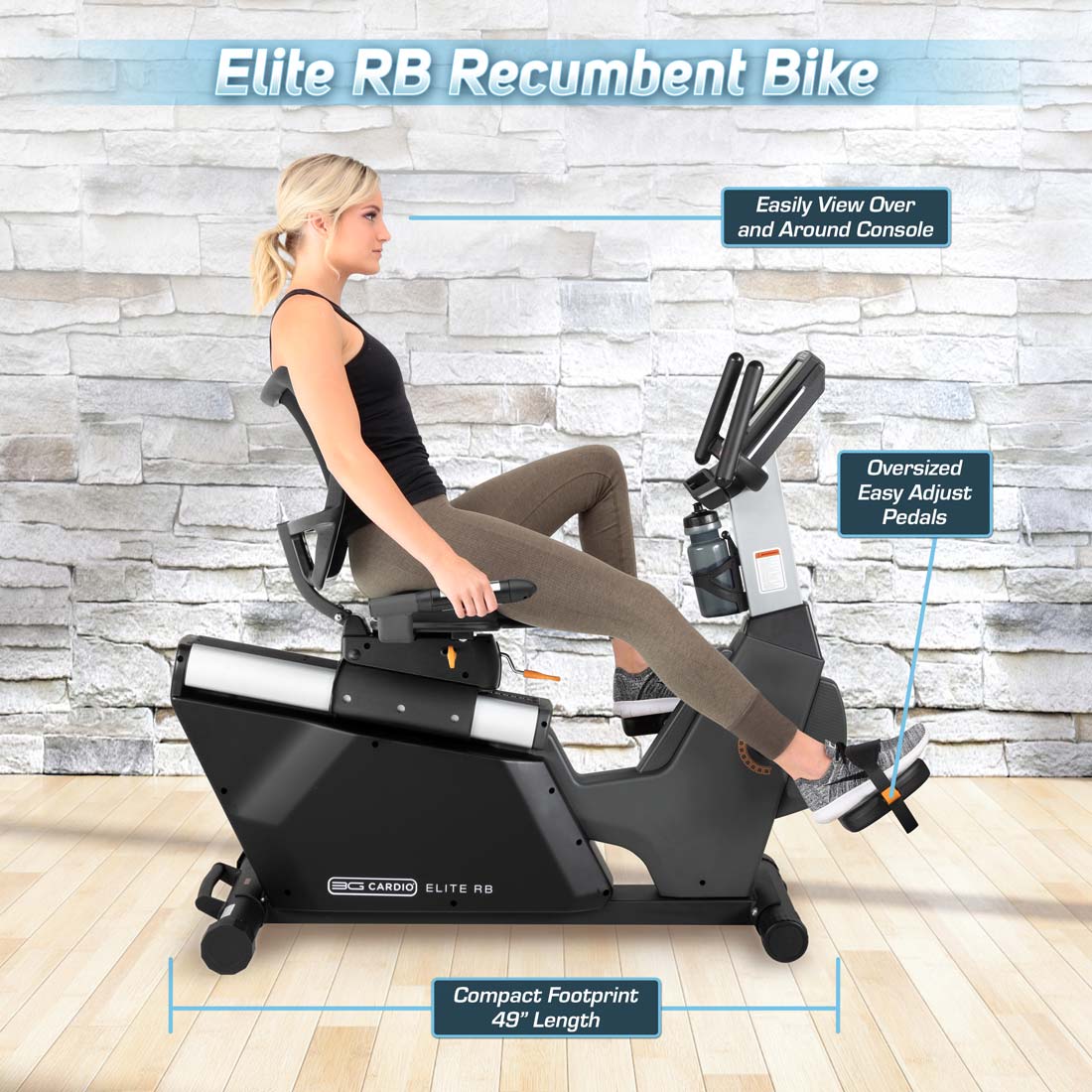 Watch our Elite RB Recumbent Bike Video:
The 3G Cardio Elite RB Recumbent Bike is arguably the best recumbent bike for senior citizens.
Several reviewers have called the 3G Cardio Elite Recumbent Bike, "the most comfortable recumbent bike ever built."
Countless satisfied customers have agreed with that statement.
The 3G Cardio Elite RB Recumbent Bike is a small and compact bike, but it's also extremely sturdy and durable. It features a 3-way adjustable mesh back seat rest, super comfortable seat pad and Q-factor pedal spacing.
It can be adjusted for people ranging from 5-foot tall to 6-foot-4 to comfortably use!
Almost everyone will find a position that feels "just right" to pedal in.
The unique Q-factor pedal spacing helps make it a bike that people of nearly all ages, shapes and sizes can use with great comfort.
The narrow pedal spacing and low seat height is especially nice for senior citizens, who are more likely to struggle with balance issues.
The 3G Cardio Elite RB Recumbent Bike fly wheel is located under the seat, a design that enables the width between the pedals to be narrower than other bikes on the market. That helps provide much better comfort.
Most recumbent bikes have the fly wheel under the pedals, which requires a wider space.
The 3G Cardio Elite RB Recumbent Bike really is the best Recumbent Bike for senior citizens.
COMFORTABLE SEAT
The 3G Cardio Elite RB Recumbent Bike has one of the most comfortable exercise bike seats on the market.
The assembled size is just 49" (length) x 27" (width) x 43" (height). It weighs only 115 pounds, but is sturdy enough to accommodate users who measure up to 6-foot-4, 350 pounds.
This small, compact recumbent bike will fit into spaces competitor's recumbent bikes won't.
But it still fits users up to 6'5″ tall! 
The 3G Elite RB Recumbent Bike's low electronics height allows a person to easily control and monitor their workout.
Because the electronics are positioned low enough, users can easily see out over them and into the room to view a TV monitor or simply enjoy the scenery. Easy roll transport wheels and a smaller, easy to see over upper console will make working out a breeze!  When finished exercising, the bike can easily be rolled away for storage.
The 3G Cardio Recumbent Bike comes with a 7-year parts warranty. Simply stated, when exercising on the Elite RB Bike you'll feel like you brought the health club home.
The Arizona-based 3G Cardio has won countless accolades for its treadmills and recumbent bikes. There is no doubt the 3G Cardio Elite RB Recumbent Bike is the best recumbent bike for seniors. It's an extremely safe and comfortable bike.
Watch our Elite RB Recumbent Bike Video:
Elite RB comes with light commercial warranty