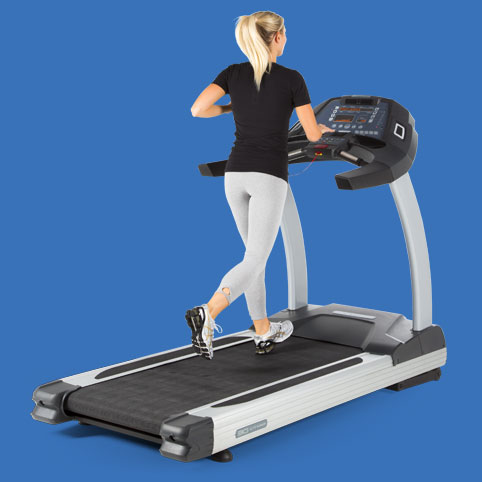 The 3G Cardio Elite Runner Treadmill gives consumers a lot more bang for their buck.
In fact, it allows people to own a club quality, commercial grade treadmill for $1,000s less than comparable models.
The Fit Prof review site has named the 3G Cardio Elite Runner Treadmill the 2017 Best Buy Treadmill priced under $3,500. It's the third time the Elite Runner has earned a "Best Buy" award for an entire year.
Whether you want to walk, jog or run, the Elite Runner is your ticket to getting great workouts on a sturdy, comfortable to use treadmill. It features an upgraded commercial Ortho Flex Shock suspension system that supports an oversized 22 x 62 inch running platform. The Ortho Flex Shock™ suspension system provides plenty of cushion over the powerful motor. 3G Cardio orthopedic treadmill belts are thicker and more comfortable to exercise on than most other top-rated models from competitors. You get a great workout and there's less wear and tear on your body than with traditional belts. An orthopedic treadmill belt cushions the impact when the foot strikes and will reduce some of the shock.
A club-rated 4.0 HP motor powers a unit that weighs 386 pounds. The Elite Runner Treadmill motor comes with a Lifetime Warranty that provides peace of mind to go along with all that power
The Fit Prof's review stated: "The Elite Runner is 3G's top of the line treadmill and is unquestionably one of the very best treadmills on the market when it comes to overall construction. While many mid-to-high priced units are nothing more than lower grade treadmills with excessive programming and built-in "entertainment" options, the 3G Elite is incredibly robust. With one of the largest running surfaces available, walking and running feel comfortable and smooth at all speeds thanks to to the natural feeling ortho-flex shock absorption system and industrial strength 4.0HP motor.
Additional features include:
*** 8 Pre-Set Programs
2 Custom Programs
Gerkin, Cooper, BMI Fitness Tests
Contact + Wireless Heart Rate Monitoring
Speed Range of 5mph – 12mph
22" x 62" running surface
Incline Range 0% – 15%
Unit Weight of 386 lbs.
"Add to those, one of the best warranties in the industry (lifetime on frame and motor, 10 years on parts and 2 years on labor), it becomes very clear why the 3G Cardio Elite Runner treadmill is once again a Best Buy winner," The Fit Prof added.