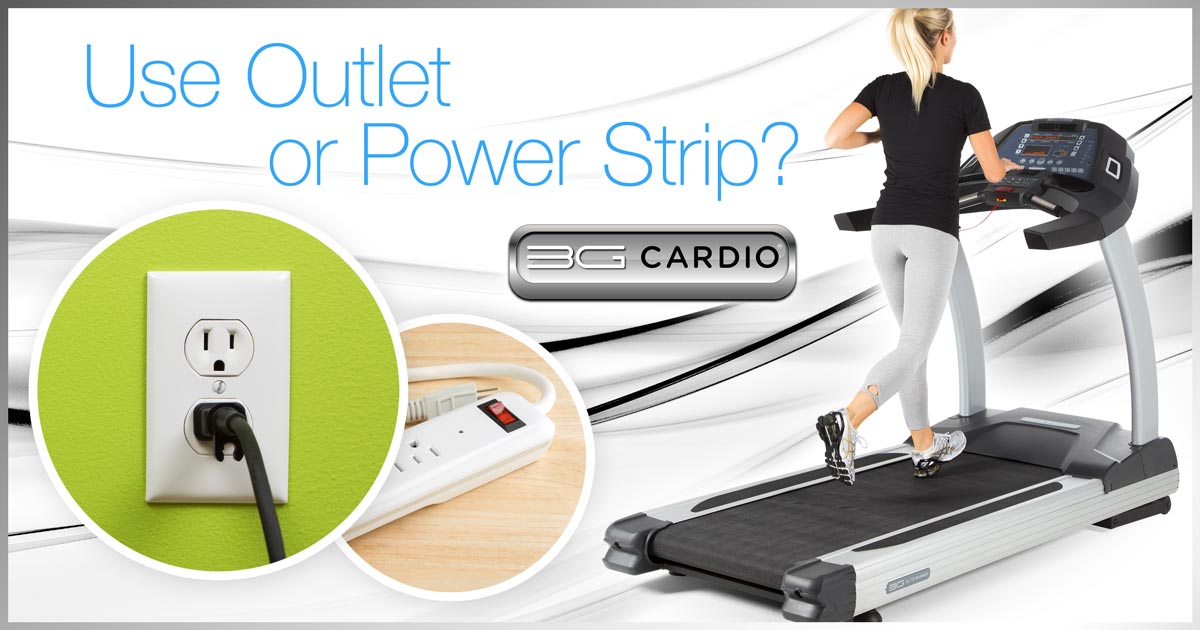 Plus, more good operating and safety tips
By AARON DORKSEN – 3G Cardio Fitness Editor
Recently we were asked this question regarding our 3G Cardio treadmills and protecting them: "Should you unplug the treadmill after each use, or it OK to have it connected to a power surge strip?"
The short answer to this without going into a lot of detail about electricity and how it's used by a treadmill is ALWAYS unplug your treadmill after each use.
A good quality power surge strip can usually protect the electronics in your treadmill from transient fluctuations in voltage, similar to how it would safeguard your computer or TV.
However, the power demands of a treadmill can vary greatly when in use depending on the size and speed of the user, along with the treadmill make, model and age. This can actually result in the power surge protector to trip and cut off the power supplied to the treadmill when in use.
That in turn could cause the treadmill to stop abruptly in the middle of the workout and possibly even result in an injury for the user if they misstepped after the treadmill belt suddenly stopped.
Power strips can also result in error messages being sent to the treadmill electronic board when there's nothing actually wrong with the machine.
The best rule of thumb is to avoid using a power surge protector and instead unplug the power cord from the wall outlet after each use.
VOLTAGE, GROUNDING INFO
Make sure that the voltage requirements in the home, gym, office, etc., match the voltage of the treadmill that you plan to purchase. Use of the wrong voltage will damage the treadmill.
Improper connection of the equipment-grounding conductor can result in a risk of electric shock. Check with a qualified electrician or service provider if you are uncertain whether or not the treadmill is properly grounded.
Never operate the treadmill in damp or wet locations.
OPERATING SAFETY TIPS
If there are small children in the household, put the power cord in an area where they won't be able to grab it.
Do not place the treadmill with the back against a wall.
Place the safety shut-off key out of reach of children (you don't leave car keys in the car, right?!)
Do not let children play on the treadmill
Make certain children and pets are out of the vicinity when you're on the treadmill. A good number of treadmill accidents happen when children's hands get caught in the back of the machine.
Get a medical exam before beginning any new workout regimen.
If at any time while exercising on the treadmill you feel faint, or dizzy, or experience pain, stop and consult a physician.
Use the emergency stop button to immediately stop a workout for any reason. Don't just try to jump or hop off with the treadmill belt still going.
Schedule annual maintenance for treadmills to help prevent problems.
Avoid looking down at your feet while you walk or run because this can lead to a loss of balance. Instead, look straight ahead.
Where proper shoes and attire to exercise on the treadmill. This will help ensure your safety, comfort and support.
The hand rails are a nice safety feature, but if at all possible don't hold onto them. Instead, swing arms at your side.
According to TreadmillReviews.net: "It's fine for a walker to use the handrails while they are getting used to the machine's movement, but using the handrails for an extended period of time can strain shoulders and elbows. It is also a sign that the speed or incline is set too high and should be adjusted to a more comfortable level. Using handrails can also throw off an exerciser's balance and make them more prone to leg and foot injuries."
Treadmills are great machines to have in the comfort of your own home. By following these simple, but highly important safety tips you should have a more enjoyable and healthy experience on your treadmill.
3G Cardio fitness editor Aaron Dorksen's blog deals with a variety of fitness topics, ranging from workout tips, motivational ideas and feature stories on how exercise impacts people's lives. Consult a doctor before making any significant changes in your exercise routine or diet. E-mail him with comments, questions or ideas for future blogs at aaron@3Gcardio.com.